Summer Externships for Educators
The STEM Action Center, in partnership with the Workforce Development Council, is providing K-12 classroom teachers and college and career advisors the opportunity to extern with local businesses over the summer. This program will place selected externs with companies related to their area of certification and require them to complete 200 hours of on-site, experiential learning. The hours must be completed between June 1, 2021, and August 31, 2021 (days/times to be determined by the teacher and the employer). Externs will earn $5,000.00 and also professional development credit, if they so choose. The goal of the program is to give classroom teachers and college and career counselors the opportunity to expand their skill set so that they can better prepare students for life beyond high school.
Business Testimonials
"The externship program fills an important link that can help students know what "tomorrow" will look like." Brian Cronin, Senior Vice President, Strategies 360
"Her time here was very valuable to our team. Maggie did an awesome job with her work and we all learned from her in the process. We have already talked about visiting her classroom this fall!" Justin Bailey, Western States Equipment
"It was a great opportunity for Lainey to see the many diverse jobs in healthcare and get to meet with managers or at least interact with them - all skills and information she can take back to the classroom and share with her students." Roxanne Ohlund, St. Alphonsus
"I really like the [externship] program; it's the most tangible approach to communicate back to the students what life in an actual company looks like that I have ever seen." Markus Nigrin, CEO Blocksmith VR
STATUS: Closed

Schedule for Businesses
Scroll down for the interest form.

Open: January 4, 2021
Close: February 12, 2021
Notification: April 1, 2021
STATUS: Closed

Schedule for Educators
Open: January 4, 2021
Close: February 12, 2021
Notification: April 1, 2021
Contact Information

Matthew Thomsen
Business Partnership Manager
Phone: 208.488.7562
Email Matthew Thomsen
Idaho Workforce Development Council
https://wdc.idaho.gov/

John McFarlane
Externship Program Coordinator
Phone: 208-231-1466
Email John McFarlane
Idaho STEM Action Center
Idaho STEM Action Center 2020 Externship Partners
2020 Externship Archives
Idaho STEM AC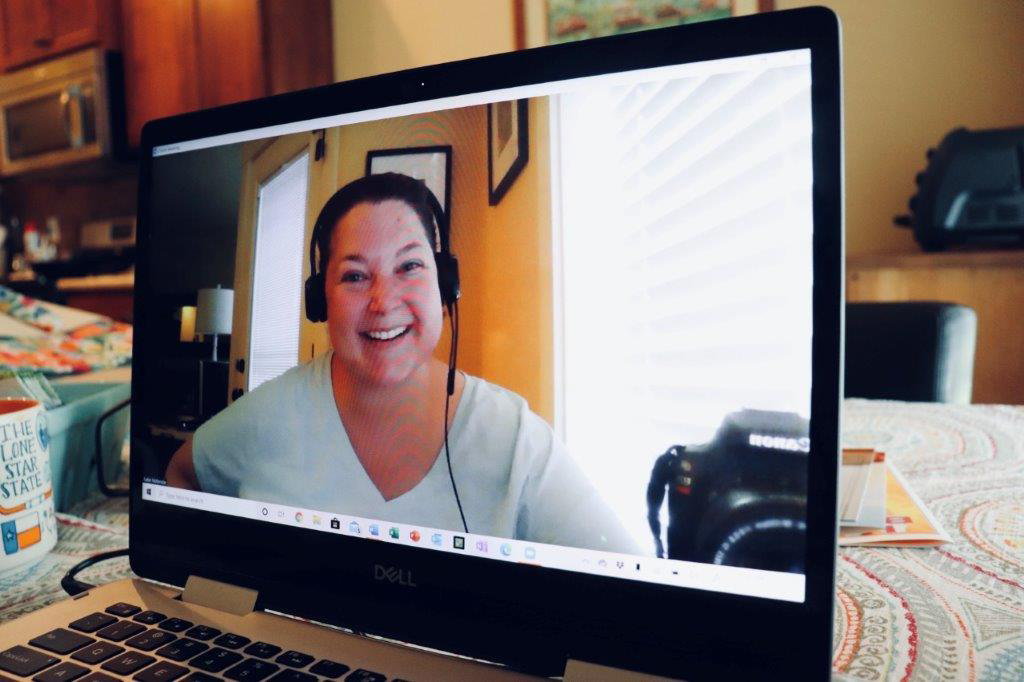 Because of COVID-19, my experience as an extern has looked a little different. The majority of my externship with the STEM Action Center has been working from home. But, thanks to technology, it hasn't prevented me from feeling welcomed and a part of the team.
The first half of my externship was spent learning about the STEM Action Center, working with the team on video scripts and helping with office work and data input. I was able to start making contacts with fellow externs and businesses to produce a promotional video.
I've been able to get a small glimpse of the broad array of amazing STEM related businesses Idaho has to offer. Each business that I've interviewed has been very welcoming and kind. I've felt a strong sense of community between businesses and teachers wanting to work together to provide a better future for our students.
My two favorite tasks from this summer were both filming related. I was able to get out of the house and take a tour of House of Design in Nampa. I had no idea that there was a company that made life size robotics in the same town where I teach! I can't wait to tell my students about House of Design and the neat things the produce, and hopefully one day take them on a tour.
My other favorite moment from this summer was taking a trip up to Idaho City to work with Channel 2 to produce a video. We were able to film three interviews and meet with some awesome teachers and students. I loved hearing what other schools are doing with the help of the STEM Action Center. The student told us about his favorite STEM lesson from the past year, which was a Rube Goldberg project. And the teachers lit up talking about the students' excitement working in their Maker Lab.
The last portion of my externship was spent working with the grant team. I've been doing research to help the team prepare a grant proposal and I continued work with data entry. I'm amazed to see the amount of work that's being put into their grant writing process. I have a greater respect for the behind the scenes hard work that goes on with the STEM Action Center.
Overall, this externship has been memorable. I've learned a lot about what our community has to offer. I've seen passionate businesses and teachers with the same drive to make our state better for our students. I can't wait to get back into the classroom and share what I've learned with my students and coworkers.
-Katie McKenzie
Idaho National Laboratory (INL)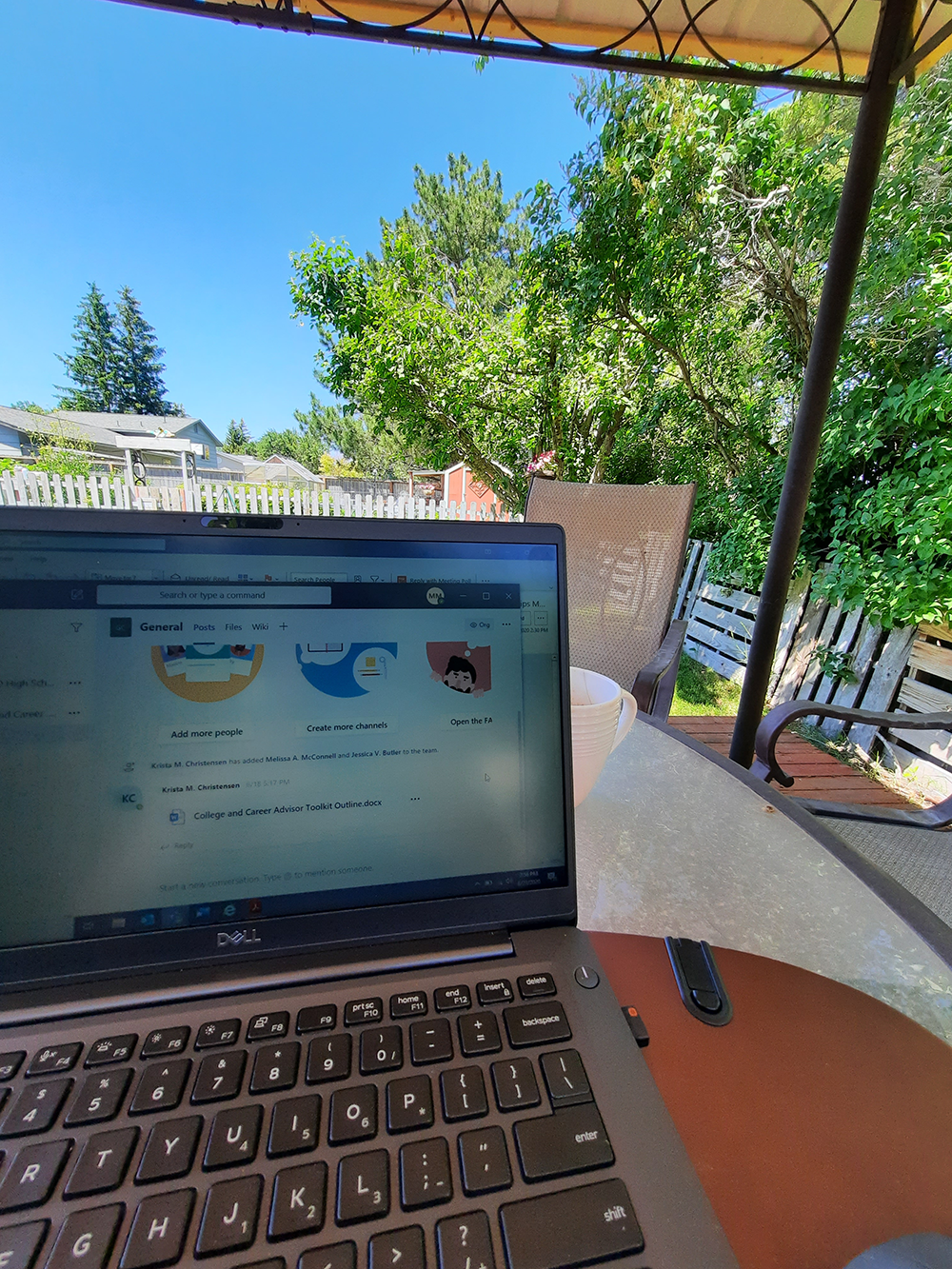 Week 2 on my Summer Externship with Workforce Development at the Idaho National Lab has me realizing that information on STEM Education is not lacking, it is downright overwhelming. The endless amounts of online resources that are available to parents, students and educators can bury a person in days of searching, sorting and exploring. I know as I seem to have fallen down a rabbit hole filled with STEM information, activities, events and lesson plans galore.
Thanks to COVID- 19 and the challenges of social distancing, my summer externship is lacking one of the things I was most looking forward to with this experience; getting out of the house, out of the school and back into the working world outside of public education. Instead of getting out of the house to network, learn new things and make real world connections to help my students, I am doing it at home. Distance learning and social distancing are still real possibilities for next fall. I find that my experience might be even more valuable than I had thought. I am learning to utilize new technology that facilitates collaborating as a team when not in the same location. Not only will this be valuable for next fall if we continue to work remotely at times, I feel like I will continue to utilize similar technology in order to collaborate with College and Career Advisers from different schools and districts on larger projects.
I think the best part of the experience so far is the work I have been assigned to do - Make a Toolkit for College and Career Advisers! The opportunity to utilize the resources available with Workforce Development at the INL, to create a toolkit that will help me and other College and Career Advisers to direct our students towards meaningful careers after high school, has me truly excited. I never imagined that my assignment would be tied so closely to my job. I mean do you create an interactive Career Survey that helps students identify high demand careers available locally? Or a master list of the resources available to expose students and teachers to STEM in our community? Or create a Quick List of things to know and do for New College and Career Advisers? Maybe you get a great team and you do all three. I am excited to see how this Externship ends up. Yeah, I didn't get to leave my house and interact with adults, face to face in the business world, but the view from my desk has its perks too.
-Melissa McConnell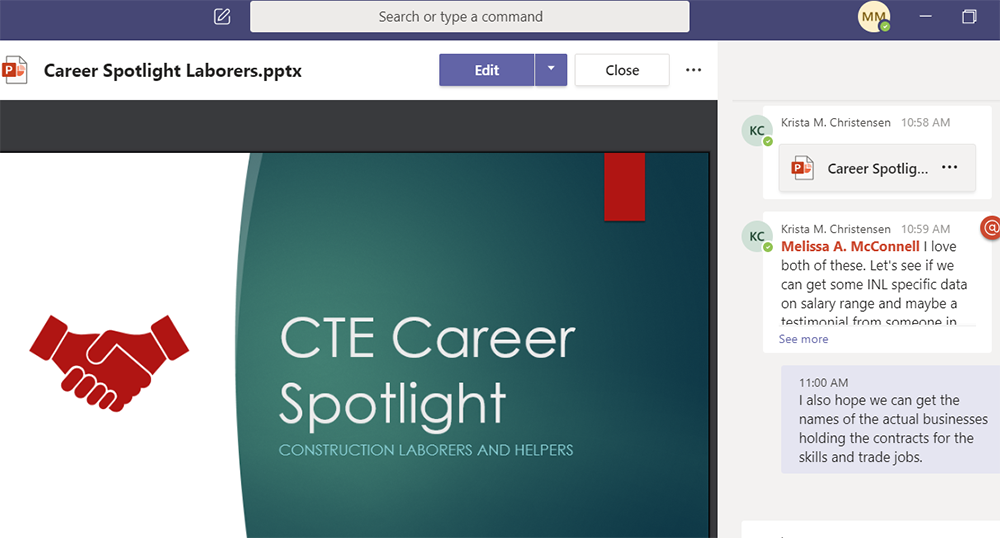 How did I not already know this stuff?
Halfway through my externship with Workforce Development at the Idaho National Laboratory and I am getting over the challenges of working from home and realizing that sometimes we need to do things differently to get better at our jobs. My current project is making "Career Spotlights" for CTE jobs at the INL that have positive job outlooks. These careers require a High School Diploma, but training and education may be required to obtain higher-paying, more desirable positions.
I am excited to be working on these tools, and I am even more excited to have these tools when I help students plan and prepare for life after high school. I have always felt that my current "toolkit" lacked the tools needed to advise students who wanted to go straight into the workforce. I could talk resumes, advise they obtain part-time employment, mention CTE classes available at my high school, but I could not provide them with a clear path of how to obtain employment that would support them in adulthood. Time and time again, I would run into a previous student working in a local fast-food restaurant or at a local retail store. When students engaged in conversation, they usually explained that it was one of their multiple jobs, and they were currently trying to save money to go to school, or they were still trying to figure out what they wanted to study. I could not help but feel like I had failed these students.
Taking a Gap year or working while you are figuring out what you want to do is not a bad thing. But working the same low wage jobs that they were working while in high school makes me wonder how the experience is helping them decide what they want to study or helping them to save money. What if I had identified those students earlier and said: "Great you want to join the workforce, here are ten job categories that have high demand in our area lets see if any of them interest you." And just like my students that are planning on attending a University, I give career-bound students an action plan, with a To-Do Checklist. College-bound students will write scholarship essays, and career-bound students will customize resumes to local job postings. Instead of joining clubs to increase their opportunity for admission into a university program or to be awarded a scholarship, career-bound students will gain the specific skills needed to obtain the desired job. Instead of providing them email contacts to local University recruiters and helping them to visit college campuses, I link them to professional organizations and local industry leaders looking to hire entry-level workers. You may be asking why I was not already doing these things; I am a College and Career Adviser. Career is in my job title. Here is my excuse/reason/explanation: I did not even know where to start. The workforce is huge; jobs vary so much. I lacked the experience required, or the connections needed to advise students appropriately on being career-ready. At the end of the school year when I have to report my numbers to the state, every student who did not apply to college or complete a FAFSA counts against me on my annual reports. I wonder how much time I wasted encouraging a student to complete these forms when the time could have spent differently? It is not that I did not try to assist them, we had conversations, we looked up information together, I referred them to job search engines and sent them on their way, without a map to make sure that they remembered all the steps.
This externship has provided me with tools to advise students on how to prepare for high demand and higher-paying jobs in our area. I can hand them a clear map with specific steps they can do to prepare for the chosen career. I am excited and motivated to make more of these "Career Spotlights." I hope that the INL will allow the use of the template created during this Externship to generate more "Career Spotlights" to address careers in demand throughout the region. I hope that I can do more to make connections with employers who would be willing to talk to students and share with them the opportunities available with their company. I hope companies could utilize the template to highlight the jobs they need to fill, so I have even more choices to present to my students. I am hoping to encourage my district and surrounding school districts to make the contact information easier to find for their College and Career Advisers so that industries know who to reach out to with career information. I am grateful for this opportunity to work with the INL Educational Outreach program and to create tools to help students prepare for careers. Hopefully, in 5 years my previous students can be the ones coming to the school to talk to students about how to be career-ready, and I can thank this externship experience for that.
-Melissa McConnell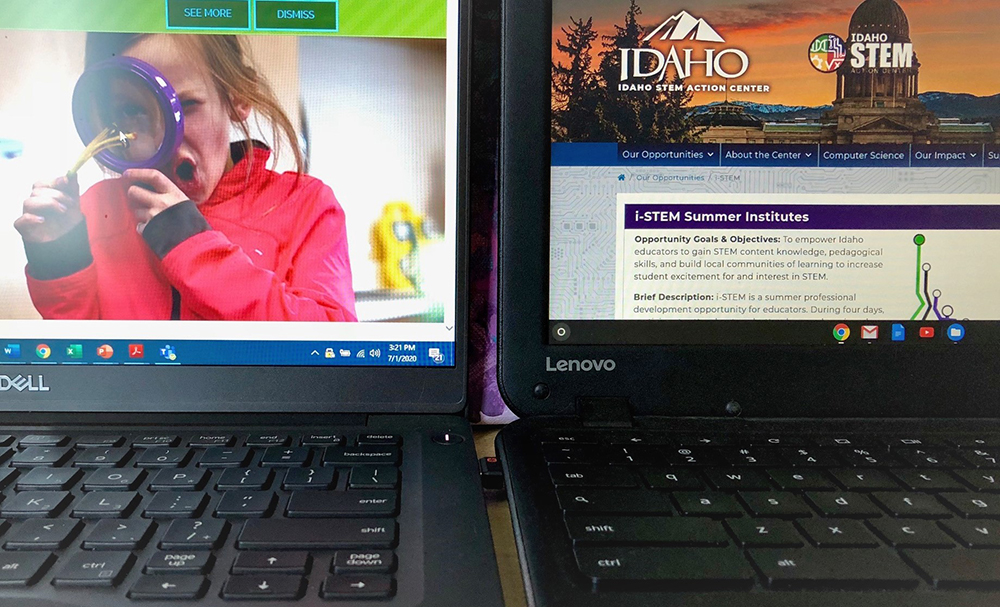 As I imagine is the case for many of my colleagues in education or advising, I often have conversations with my students about the importance of having a growth mindset and the (incredibly cool) concept of neuroplasticity. When I applied for the externship program back in January, I saw it as a great opportunity to "practice what I preach" in terms of growth mindset--challenging myself to step outside of the known and the comfortable in the pursuit of new learning and growth. Little did I know Covid-19 would soon be providing the ultimate test of flexibility, creativity, and adaptability—a societal "pop quiz" on growth mindset delivered via route of global pandemic.
As I am approaching the end of week two of my externship at Idaho National Laboratory, I find myself drawing many parallels between my experience and the experiences of our students in adjusting to a whole new way of learning, communicating, and connecting. While there have been moments of discomfort and uncertainty, I can say without reservations that the struggles have been productive.
INL has provided a fantastic model for adapting to a remote and/or a blended working environment while still maintaining critical operations and progress towards the laboratory missions. My mind is reeling with all the new learning I have participated in over the past two weeks and the numerous ways that learning can be translated back to my students and colleagues. I am excited to also have the opportunity to play a small role in providing support to a larger audience outside of my school through the development and delivery of resources our extern team is working on this summer. This has already been an invaluable opportunity to glean shared wisdom from a diverse network of stakeholders, within INL and the larger community, that all share a common vision to provide students with engaging and relevant education experiences that ultimately lead to fulfilling careers in high-demand fields. I am pleased to see the progress happening in STEM education and the rich opportunities made possible through closer partnership and alignment between industry and education. The extensive and ongoing support and outreach provided by INL's K-12 Education program alone is impressive— to say nothing of the incredible research and development taking place within the larger directorates. I am grateful for this opportunity and look forward to the weeks to come.
-Krista Christensen
*****************************
As I write this, I am wrapping up my final week as a STEM extern for Idaho National Laboratory, and I am struggling to put into words precisely how the experience has changed my way of thinking about STEM learning and education in general. The public education system was instituted with the goal of providing students with the knowledge and skills necessary to be "contributing members" of an informed and prosperous society. I would argue that while that founding goal is still relevant, the educational processes to produce the desired outcome (contributing members of society) have grown increasingly complex in our modern world. As educators (and counselors/college and career advisors), we should be able to say with confidence that the instruction and experiences we provide are, in fact, equipping students with the knowledge and skills they need to be successful in their personal and professional futures. A STEM education framework provides the vehicle to do so in an authentic and engaging way. (The dreaded question of "When am I ever going to use this is real life?" becomes void when content is delivered in a manner that provides the context and real-life application organically!) I see STEM as a means to inspire and motivate apathetic students, increase equity and access, challenge and engage advanced learners, and promote development of 21st century learning skills for all. Within my role as a school counselor, I am excited about the opportunity to integrate career and educational planning and address social/emotional skills within STEM content—which, with a deeper understanding of the holistic philosophy and practices of a true STEM education framework, I am finding is not a stretch in the least. Had you asked me prior to this externship why it is important to promote STEM learning, I think I could have made a pretty good case. If you were to ask me now, well you might need to clear your calendar…
-Krista Christensen
The amount of information we as College and Career Advisors could obtain as we work to help students prepare for their futures can be overwhelming. During the school year the frenetic pace of the work does not leave much time for researching the multiple opportunities and possibilities for students to pursue. Thus, when I applied for an externship possibility with the Idaho STEM Action Center, my hope was that this would give me the chance to research and learn more about career pathways, especially in those subject areas that I see a great need for in our community and beyond – CTE and STEM.
Imagine my delight when given the opportunity to extern with the Idaho National Lab – not only a tremendous economic resource to our community, but an absolute critical player in our nation's nuclear research and energy security. Plus, they are invested in STEM education for students of all ages, so much so that they have a team of educators dedicated to the task of promoting and proving STEM education to the K-12 level. I get to be a part of that team this summer!
The only constant in our lives right now seems to be the COVID-19 pandemic. The worsening of the pandemic in our state and communities can feel a bit discouraging. Yet, the opportunity to work with the INL provides tremendous hope as we look towards the future to prepare materials we can share either in person or digitally with a wider audience. How lucky I am to work remotely with a great team as we explore CTE opportunities in our region and research ways to promote STEM education and employment opportunities with the support of the INL. I look forward to sharing with the school-aged students, faculty and administration in our region the tremendous educational and employment opportunities we have with the INL. They are nothing short of an amazing STEM partner!
- Jessica Butler
****************************
My time as an Extern with the INL and Idaho STEM Action Center is quickly winding down. It has been so rewarding to be a part of the INL's K-12 Education Team for a few short weeks. I have been able to attend meetings with the larger Education Team as a whole and find what amazing projects they as individuals and smaller teams are working towards. In my team we have been creating a Counselor/College and Career Toolkit focusing on encouraging STEM mindsets in students and advising students on STEM and CTE career paths. As a team we have created guides, infographics, presentations, and lesson plans to assist other counselors and college and career advisors in their work. This Took Kit will be housed within the INL's website where it can be accessed easily by those who need it to further their work with advising students as they prepare for their time after high school.
Perhaps, most excitedly, we will organize, and with INL, facilitate a continuance of College, Careers and Coffee in Regions 5 and 6. Our first meeting will be held virtually (thanks COVID-19) and we will introduce those in our region to the Tool Kit we have created, as well as coordinate with state agencies and industry professionals to provide updates and other important information. It is our hope the event will continue to grow. We have three more events in the works for this school year.
Working from home has been challenging to really create the environment I would hope for in an Externship, but it has been well worth every minute as we prepare for the future in providing more resources for our jobs and further resources to help students. I feel like we are just getting started on this project. There is still so much more that could be done, but I am thrilled with what we have created.
-Jessica Butler
This summer I had the opportunity to extern at INL with the education outreach group. I have always known that INL is very supportive to schools and gives generously. What I didn't know was to what extent they are working to support us. I was able to become familiar with all the projects they are working on and participate in their efforts. I was so excited to hear about some of their coding grants that I decided to present to my district administration and principals to let them know of the opportunities provided.
-Deryk Barrett
St. Luke's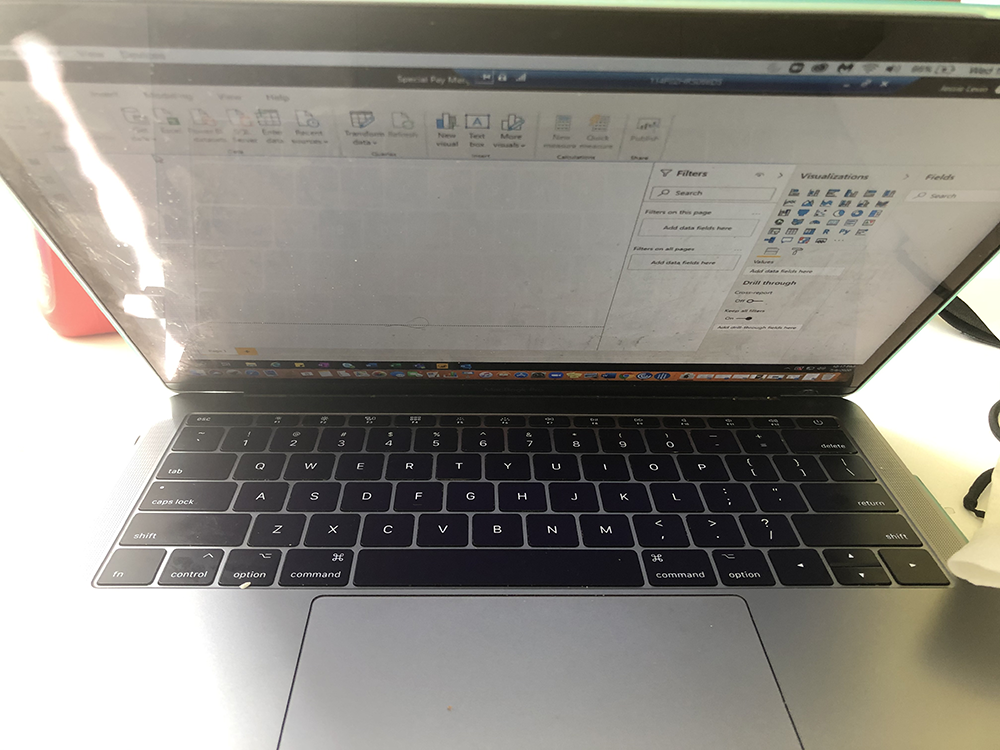 Almost three weeks in, I've felt welcomed both in-person and virtually at St. Luke's! During the first two and a half weeks, I was going into the office and learning about the complex world of HR Compensation. Although I am now working from home-- the learning and collaboration continues! Through these formal and informal conversations, I've learned that compensation is a balance of ethics, HR, attracting and retaining talent, and managing the financial health of the organization. Beyond getting to truly know the compensation team, I've dived into the following data visualization projects: combining special pay information, highlighting important trends in the calculation of offers, and designing a visualization for the Annual Compensation Review.
In these short 3 weeks, I've highlighted the following takeaways that I want to bring back to my classroom:
There are so many different healthcare professions beyond nursing and being a doctor
How different companies determine your compensation
Data visualization with PowerBI is interesting and powerful! I'll try to see if we can integrate it into our curriculum or use it as an extension activity.
-Jessie Levin
What a great time it was to meet the Digital Adoption Team with St. Lukes Health System this week! It consists of 5 members who work on creating educational materials and provide technical support throughout the hospital. The goal is to transition the facility to Office 365 cloud tools. West Ada school district adopted this system a few years ago and I've had experience training staff on using the tools. I was able to meet in the office with Molly Zimmer (project manager) and she shared with me amazing tutorials the team has created to help with the transition. It was awesome to explore how the systems of West Ada School District and St. Lukes have similar goals on how to fully integrate Office 365 and am looking forward to learning how collaboration can enhance the productivity of both systems.
The focus my second week was on "Champion" training. It is similar to West Ada School District's leadership roles. The Team trains leaders throughout the hospital that can help other staff members become more productive with the tools available. I attended a "Team Live Event" and researched how to create my own live event when it could be beneficial. I think it would be great for Virtual School House meetings. The information is presented in a clean way, and the questions that attendees may have are filtered to the manager, rather than interruption of the flow of the meeting. Therefore, it is more productive for members of the event who may not need to have certain questions answered. The delivery was excellent and I'm excited to manage my own Live Event when school resumes.
Most recently the focus was on Microsoft 365 tools SharePoint Sites and Planner. The team is looking at developing skill paths for SharePoint sites. I created a "sandbox" site to learn the features. I also researched the features of Planner. I learned about how Planner can be used to make "buckets" of tasks for students that are assigned, in progress, and completed. Both tools will be extremely beneficial in the coming school year. I met with members of the Team in West Ada that are preparing Virtual Digital Curriculum and shared my new knowledge. I have learned a ton thus far on how to utilize Microsoft 365 more than we already have and looking forward to the next few weeks.
-Amy Bass
Boise WaterShed
It has been an extremely rewarding experience to be an extern at Boise WaterShed. Due to COVID we started out the summer virtually, but after a couple of weeks were able to open up the WaterShed to staff and visitors. Cindy and the staff at the WaterShed took me in right away and it was like I was a part of the team from the first day. Cindy introduced me, virtually, to several people that she thought would be good resources for me as a teacher. I talked with state and federal resources as well as those local to Caldwell where I teach. I was able to greet visitors to the WaterShed and interact with families through WaterShed Wednesdays. We would plan out activities around a theme, like the water cycle, and then families would sign up to come and learn, play games, create art and engage in activities to learn about the water cycle. Many families attended and I was able to get to know several that came each week. It was so much fun to interact and teach families about science this summer, even though it was at a limited capacity. I was also able to take part in webinars, teacher workshops, Project Wet, and learn about the Water Renewal Facility that is right next door to the WaterShed. I was able to tour the water testing lab, which was an incredible experience and make videos that were posted to YouTube. Through the WaterShed, I was able to teach children about seismographs and what it takes to be a Meteorologist with Scott Dorval from News Channel 6. There were so many things I learned about nature, water renewal and watersheds that I did not know. I will be able to use so much of what I experienced this summer in my classroom with my students. I am so grateful to the STEM Action Center, Cindy and the staff at the WaterShed for the opportunity to work, and learn with them this summer.
-Tara Daniel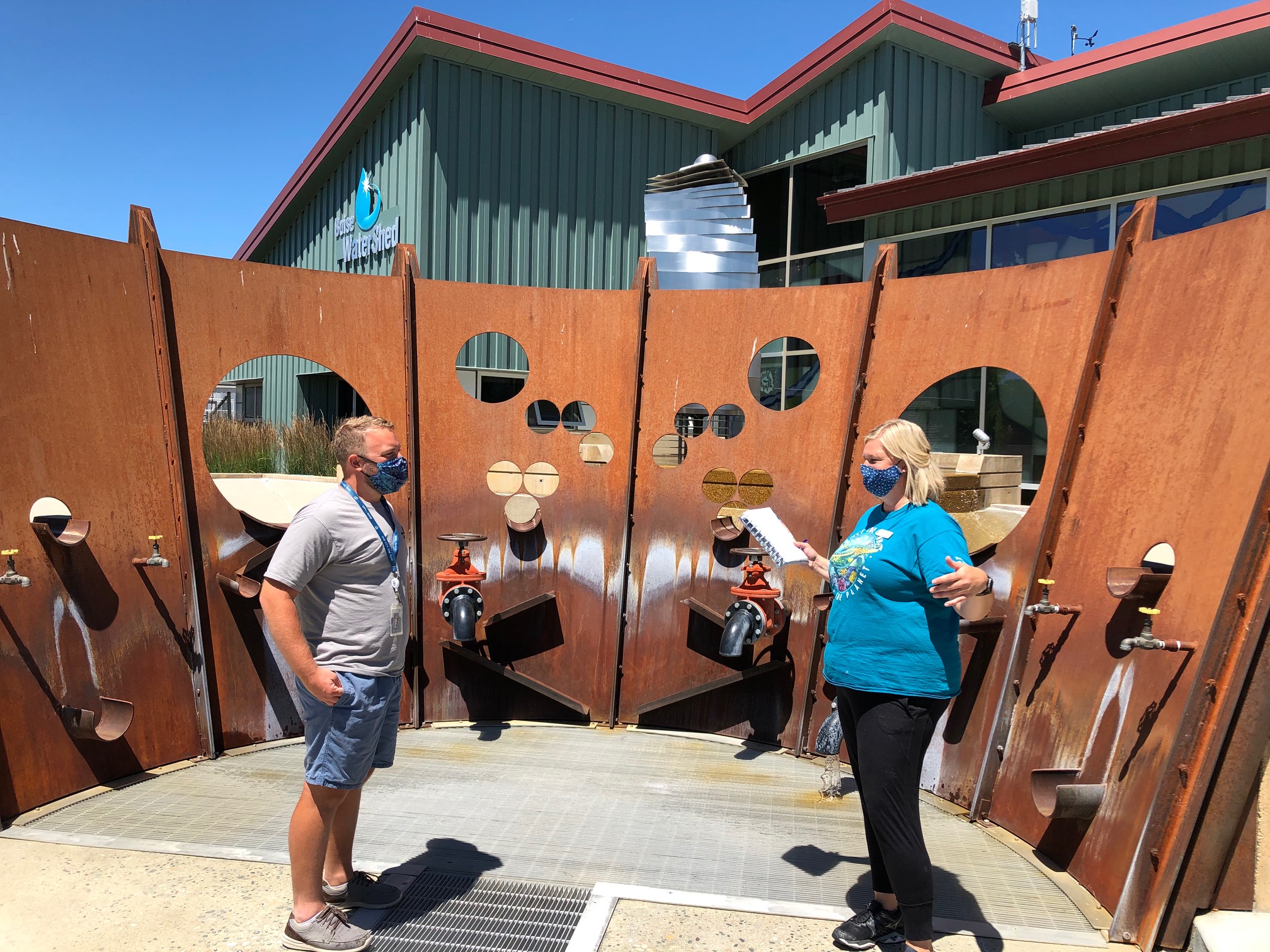 The Boise WaterShed is so fortunate to host Tara Daniel at our site! She was eager to get started even while our facility was shut down due to coronavirus. She contributed ideas toward new lesson plans and programs, especially within her expertise of earth science, which is a perfect tie to our programs. Now that the facility is open, she's been able to produce a video for our weekly educational programming. She also has jumped right in to being an ambassador to visitors!
One of Tara's goals is to interview a variety of professionals in STEM careers at the City of Boise and in her school's hometown. She has already interviewed five individuals and will continue to conduct more throughout her externship. She is working on putting together a career booklet for our education staff to hand out at school fairs and put on our web site. We're gaining insight into what teachers and students look for in terms of career education. Tara is a rock star!
-Cindy Busche, Boise WaterShed
ACHD Commuteride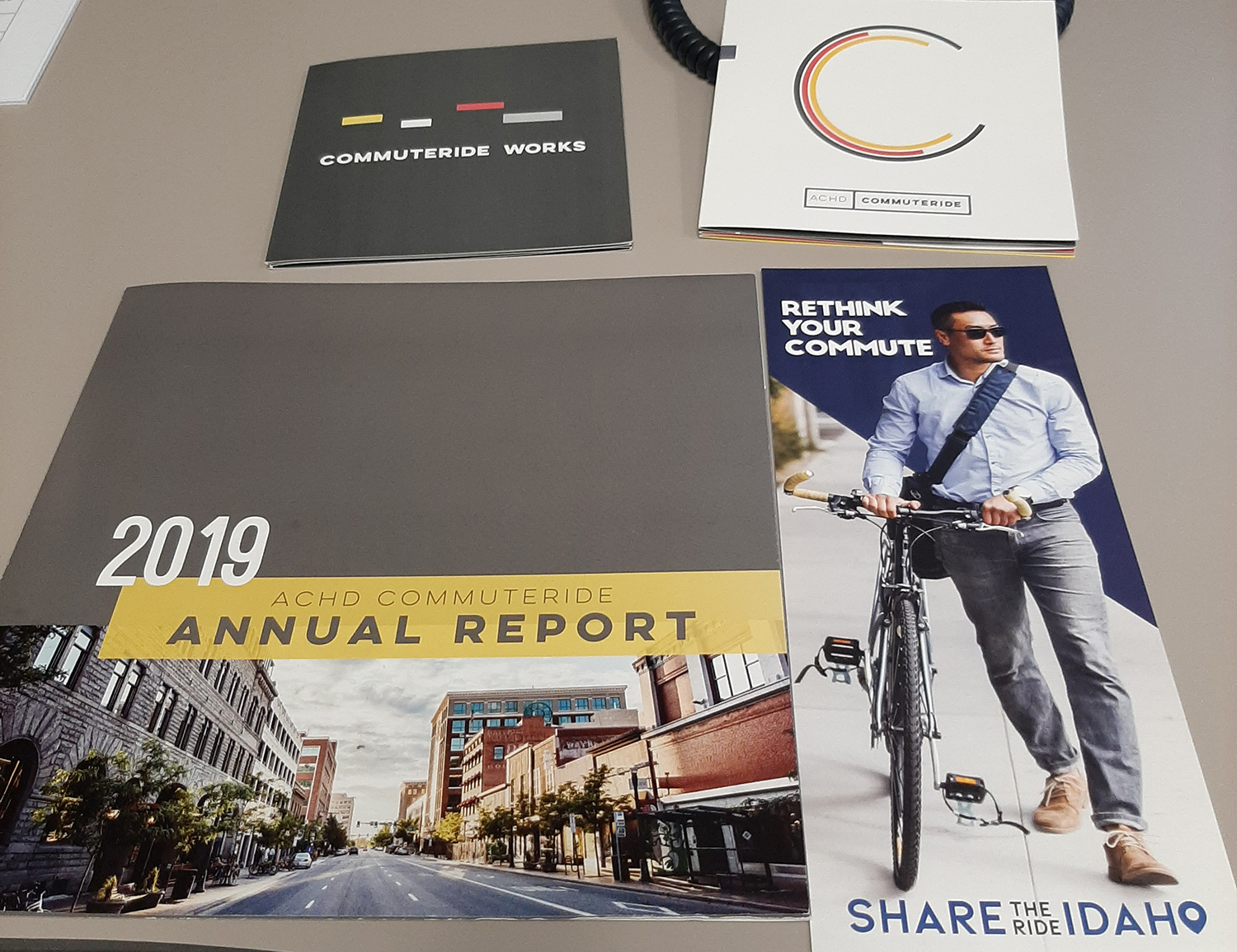 Around the Treasure Valley in 80 minutes
Transportation Demand Management... prior to starting at ACHD's Commuteride program, it was a term that wouldn't have struck a chord with me. It was a term I'd heard thrown around in city council posts and news articles, but not one I could honestly say I knew much about. That all changed when I started working with Ada County Highway Disrtrict's Commuteride team.
Transportation Demand Management means reducing single occupancy commuter vehicles to work with existing infrastructure to reduce emissions, traffic, and ultimately, make life better for citizens of a city. Here at Commuteride, that means organizing ClubRed Vanpools, which transport 5 to 11 people to and from work, managing Park and Ride lots for public transit and carpool users, marketing the website ShareTheRideIdaho.com, and promoting alternative transportation methods like biking and walking. In addition to these important facets, COVID-19 has added another challenge to transportation and Commuteride's goals, making many of these tasks that much harder.
In my first three days, I have sat in on meetings regarding marketing, counted parking spots, learned about CityGo services, looked at various methods of commuting and their impact, and learned about the various effects of single-occupancy vehicles - not just on the environment or community, but on the individual driving the car as well. I cannot wait to develop a stronger working knowledge of these topics, and begin implementing these into schools, both through lesson plans and through aiding with the development of school carpool programs!
-Nicole Walker
Schweitzer Engineering Laboratories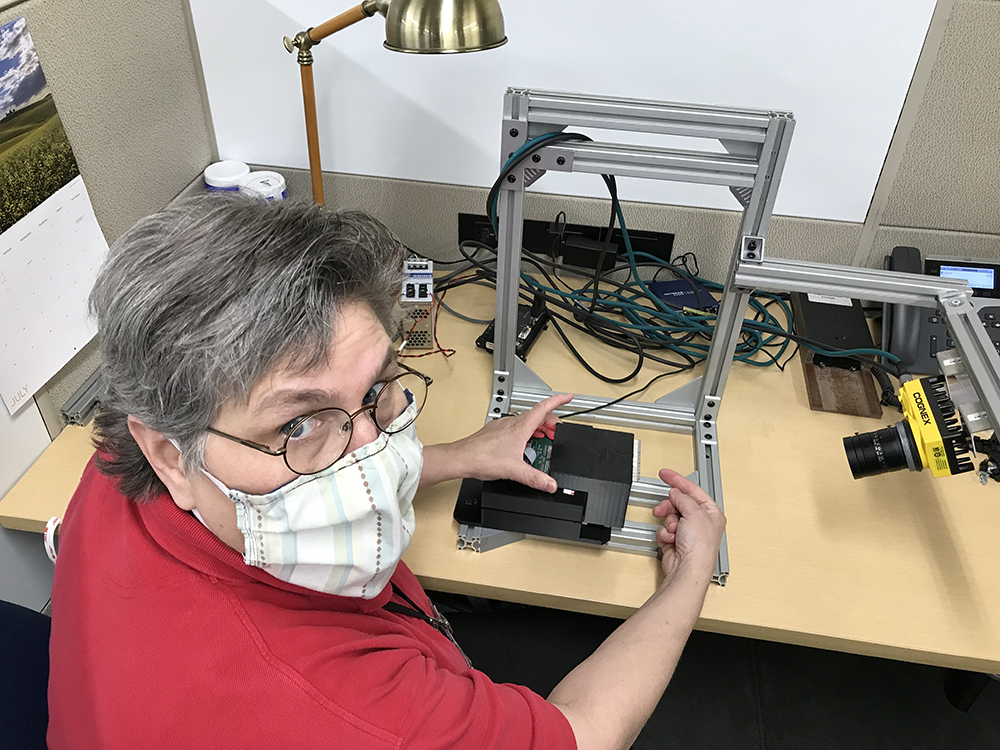 I am enjoying working with an incredible team of engineers, technicians, operators, and consultants at Schweitzer Engineering Laboratories' Lewiston, Idaho campus.
The first part of my project has been Engineering Design and Development. My focus is implementation of digital vision inspection into robotic applications in the Plastics Department. This is where the injection molding process is automated within robot work cells. While SEL has used machine vision to inspect parts for quite some time now, my job has been to investigate the possibility of machine vision…well, I can't say anymore. It's proprietary! Sorry! Anyway, I have been collecting and analyzing data, and reporting my findings to my team. Now, I'm going to learn how to program the industrial robots and integrate machine vision using the results of my research.
Working in a team at SEL is so different from teaching engineering in high school! In class, I can have my students work in pairs or small teams and they communicate their ideas face-to-face and through engineering documentation. In a global corporation like SEL, communication is key to the success of any project. There are so many ways in which you must be able to clearly express yourself: verbally, in writing, via email, chat, video conference, face-to-face, through technical sketching… SEL particularly likes whiteboards! Everyone here works together, even if they are not on your team or in your department. I am amazed by the camaraderie throughout the factory. Problems get solved together and everyone has a voice. The flow of expertise and product here is seamless.
The essence of SEL is innovation and its mission is "to make electric power safer, more reliable, and more economical." To do this, SEL designs, invents, and builds digital products and systems that protect power grids around the world. This technology prevents blackouts and enables customers to improve power system reliability and safety at a reduced cost. Inspired by his graduate school research, Dr. Schweitzer invented the SEL-21, the first microprocessor-based digital protective relay. The invention revolutionized the electric power industry! The company was founded in his basement in 1982 and today employs more than 5, 200 people around the world. SEL manufactures its products at its four state-of-the-art manufacturing facilities located in Pullman, WA, Lewiston, ID, Lake Zurich, IL and West Lafayette, Indiana.
So, you know when your power blinks off and then comes right back on? Next time that happens, think SEL! The digital relay provides feedback to computers in order to make split second decisions to shut down or reroute power through the grid. Before the SEL-21, this process took hours and sometimes days to identify and repair. I couldn't have asked for a more perfect match for my STEM AC Teacher Externship!
-Terri Varnado
Idaho Drone League (UofI)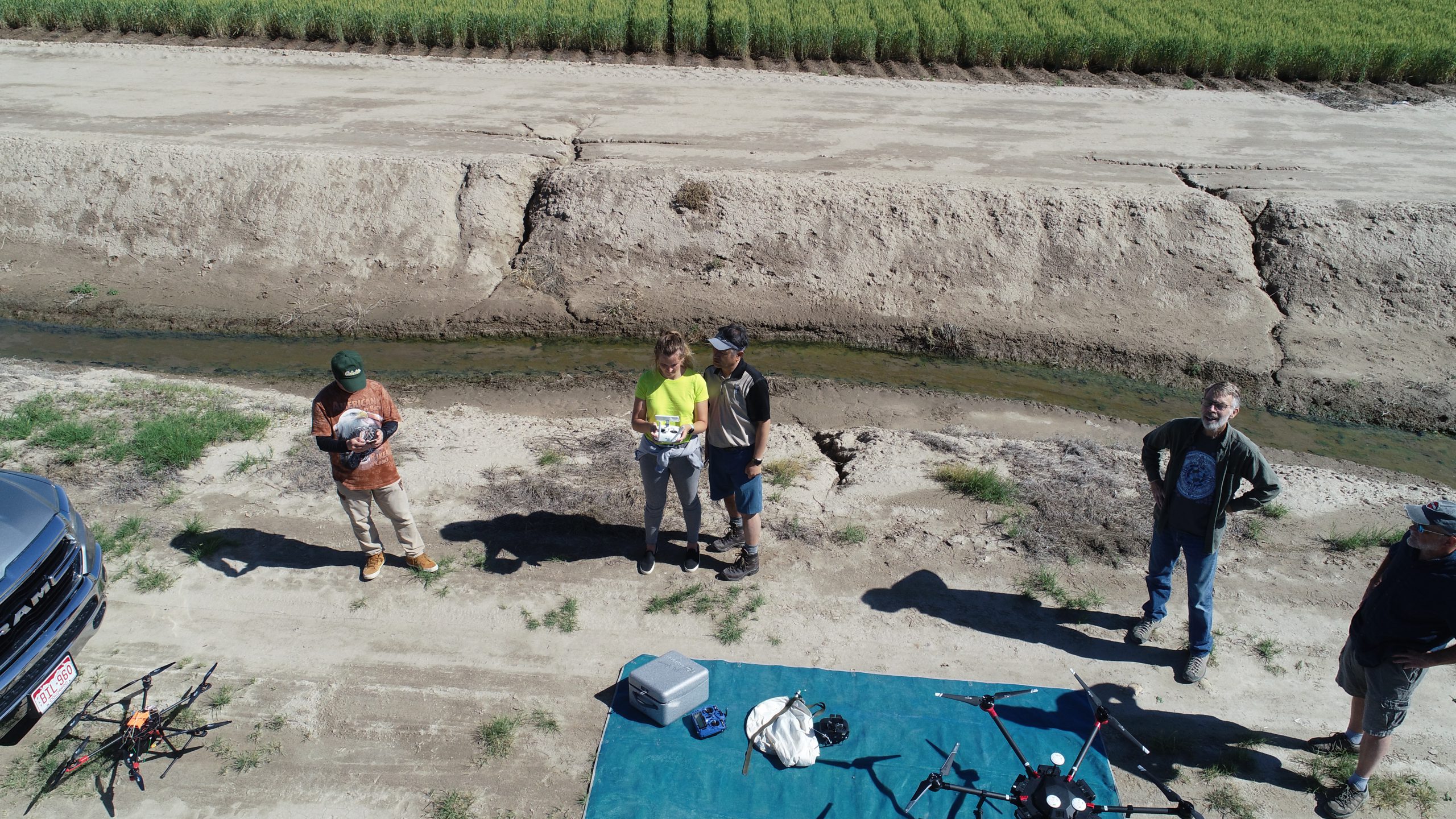 My work with iDrone started at home but has taken me outside the office several times since then! I have toured the Idaho Water Center and learned about each of the drones and their research purposes. I have my own office where, at one point in time, I had 4 separate monitors running. I have been out in the field to collect insect samples using a drone for an ongoing research project-- debugging the fields and debugging my code in the process-- and I am currently creating a flight path and headed to the Boise river this week to test it out and record an aerial view. I also learned to fly a drone manually and take pictures, as well as tons of new terminology.
Over the past month, I have been hard at work creating virtual camp content for a drone-based summer camp-- from Code-Along screencasts to Drone Build-with-Me Instructional videos to an Interactive Drone History Timeline. Jae and I are thinking of new ways to make engaging drone content every day. I've learned so much about drone technology, applications, and research already, and I'm excited to see what the rest of the summer holds!
-Maddie Dew
Children's Museum of Idaho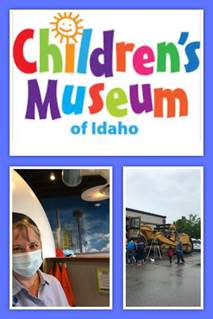 Welcome to the Children's Museum of Idaho!
It has been a great start to my Externship experience this summer and while Covid-19 precautions are in place it hasn't stopped patrons or me from exploring all that they have to offer. "Our mission is to bring children, families and the community together to engage in learning through creative play continues to drive our desire to provide the very best in hands-on interactive experiences for children ages two to eight." (CMI) It truly has an audience of all age ranges and it's been fun getting to know some of the members and see the newcomers. I have been able to support them by writing lesson plans for their daily story time and craft, weekly STEM explorations and current events. By conducting some of those story times and STEM sessions and helping out around the museum with crowd control and tidying up. In addition, I was able to participate in their "Touch a Truck" event which brought vehicles like tow trucks, construction trucks, a city bus, street sweeper, sewage pumper and delivery trucks for the kids to climb into, honk the horns and have a great time.
The museum is in the midst of its online auction and hoping to raise money to "allow the museum to update, enhance and add exhibits so visitors have a new experience each time they visit. Our goal is to keep admission prices affordable as we continue to be a treasured resource for families and schools from throughout the region." (CMI) I have been able to see first-hand the power of creative play in exploring the variety of exhibits such as the rocket ship, airplane, pirate ship, vet's office, bank, grocery store and pizza company as well as the outdoor dinosaur exhibit and barn areas. So lucky to be able to learn and grow in this fun and enriching environment.
-Lynnea Shafter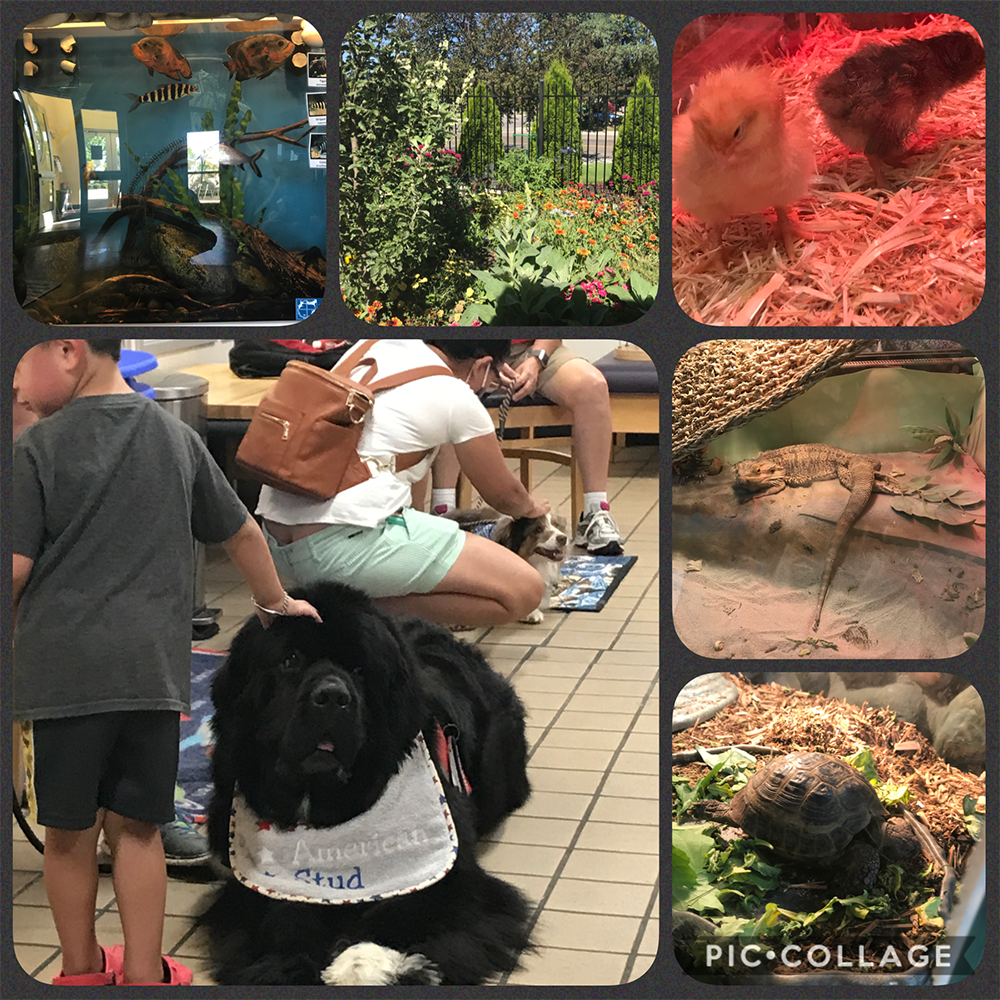 While the Children's Museum of Idaho gives children a variety of opportunities at creative play, they also provide them with an up- close look at animals and nature in this unique setting. Whether it's the fish tank as you enter, the beautiful gardens out back or the exhibits of chicks, Sammy the bearded dragon and Larry the tortoise there is so much to see and experience. This week they even brought in a group from Go Team Therapy Dogs to visit with the kids and hand out collector cards of each dog. It's been great to watch the interaction between kids and animals that many of them have never seen before and to listen to the conversations amongst families. There is a tremendous amount of learning in this unstructured setting and the kids thrive here.
-Lynnea Shafter
Idaho Public Television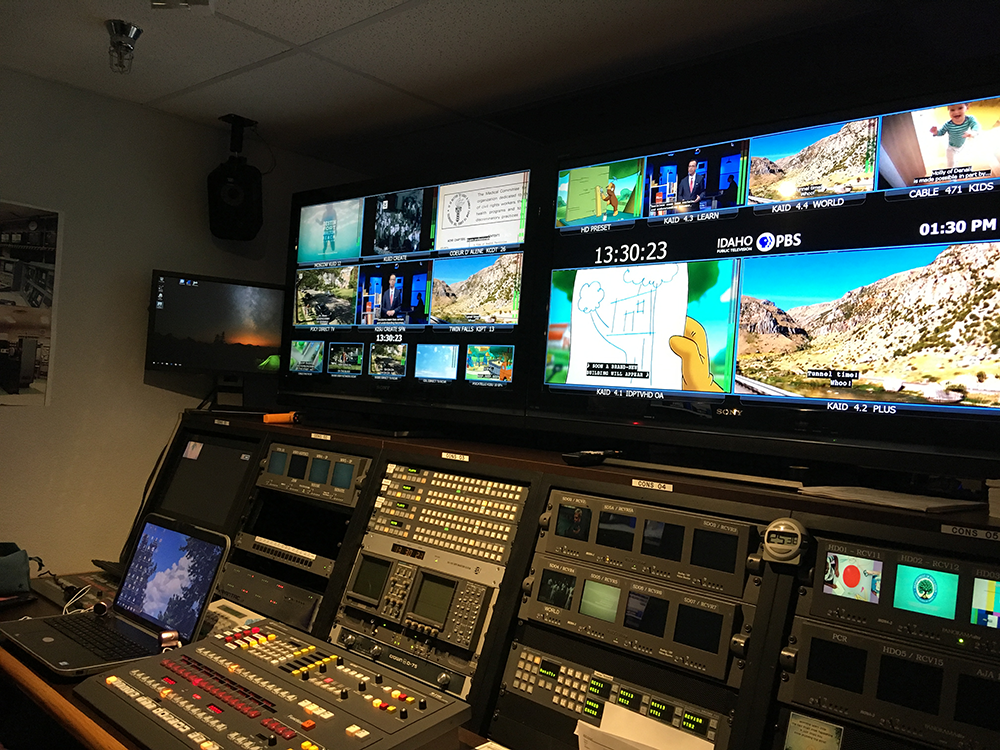 My first week with Idaho Public Television was really great. On my first day, I was invited to tour the studio, be an actor in a Science Trek show, and watch a live taping of Idaho Reports. We all know that it takes a lot of behind the scenes technology and people to put together a show and it was incredible to see what it takes to make it all happen. Just by looking at the equipment, someone who is unfamiliar would never know that most of it costs hundreds of thousands of dollars or that those that operate the equipment did years of schooling to learn how to use it. It was also interesting to see how IPTV is handling producing shows given the current pandemic. A show that in the past might have taken four people to direct/produce/run the sound/etc, now is being done by just 1 person. They have really paired it down to the bare minimum.
One of my projects has been to help obtain copyright permissions for the content that will be used on Classroom Idaho. We need to begin filming our teachers and their lessons starting early July, but we have to have approval to use the books, websites, and other materials these teachers have planned to use in their curriculum. I was shocked by how complicated and how difficult it has been to obtain the permissions to use this material. It has been a more interesting project than I originally thought because of all the twists, turns, hoops and hurdles we have had to jump through. Some publishers have stated that it will take 6-8 weeks to approve a resource- we don't have that kind of time. Oftentimes you find out that the stated publisher doesn't actually have the rights and they will direct you to a different publisher- I still don't understand why! Some content providers want to know exactly which unit, or pages, or photos a teacher will be using. And just when you have established a line of communication with a resource, and are super close to getting it approved, the teacher decides they don't want to use that resource anymore! It's been a challenge and it is a very different experience than what I currently do in the classroom.
I don't exactly know how I will incorporate all of this summer learning into my classroom. For now, I am just trying to soak in as much learning as I possibly can. The folks at Idaho Public Television certainly could have assigned me projects that utilize skills that I already have (such as curriculum development), however, they have curated projects that allow me to see the full scope of IPTV and pull me out of my comfort zone. I am grateful for the opportunity to broaden my knowledge and I am enjoying my summer externship.
-Lindley Ballen
Idaho Technology Council
From my initial interview and as of today, the five member team of the Idaho Technology Council has made me feel like one of them. Even though our meetings on a daily basis are via Zoom like many other externs, I feel like we are in one room discussing how our day has gone and what is to be achieved.
To be honest, I had no idea what the ITC was all about when I was contacted. I wasn't aware of the value and importance the council has been for Idaho's tech industry, economic development, and education for many years. The council partners with growing to mid-size companies and large corporations committed to the success of Idaho's technology system. Members include CEO's, CIO's, presidents, VP's, etc. from just about every business you could imagine all throughout the state.
After assessing areas of need and where I could best support the team, they asked me to assist with Idaho Codes which is focused on computer literacy for secondary students. Within Idaho Codes I have been able to sit in on meetings with members throughout the state who are in the process of resetting their mission and purpose when it comes to increasing career opportunities for students, particularly by promoting or supporting the skills to meet workforce needs. With that in mind, Idaho will see a computer literacy course either required or provided as an elective in all high schools in the next couple of years
Another key area I've been asked to participate in is with the Idaho Knowledge Report (IKR). It is in its third year and provides metrics within the six regions of Idaho to better allow the regions to measure success and identify prescriptive actions to assist transforming Idaho's economy into a stronger, more vibrant and sustainable one. I have been working closely with ITC member Fehoko Lui. If that name sounds familiar, he was a four year starter on the defensive line for BSU and graduated last year. Fehoko and I contact identified members in the six regions in the areas of industry, economic development, and education. We send out invitations with information about the IKR, set up Zoom meetings, then discuss the IKR. Fehoko is the lead but today he couldn't attend and I was on my own! And of course, it was with the ITC Chair. By the way, it went fine but you could guess I was a little nervous being on my own. When members are then identified, the vision teams will meet collectively in each region and provide the necessary information for the report.
I couldn't be happier in my externship with the Idaho Technology Council. Thank you Jay, Fehoko, Christina, and David. In such a short time I have learned so much and really feel that we are helping each other in many ways. I have met a tremendous number of individuals throughout the state so far and I'm sure many more to come. I am looking forward in seeing what lies next around the corner.
-Mike Holloway
Allata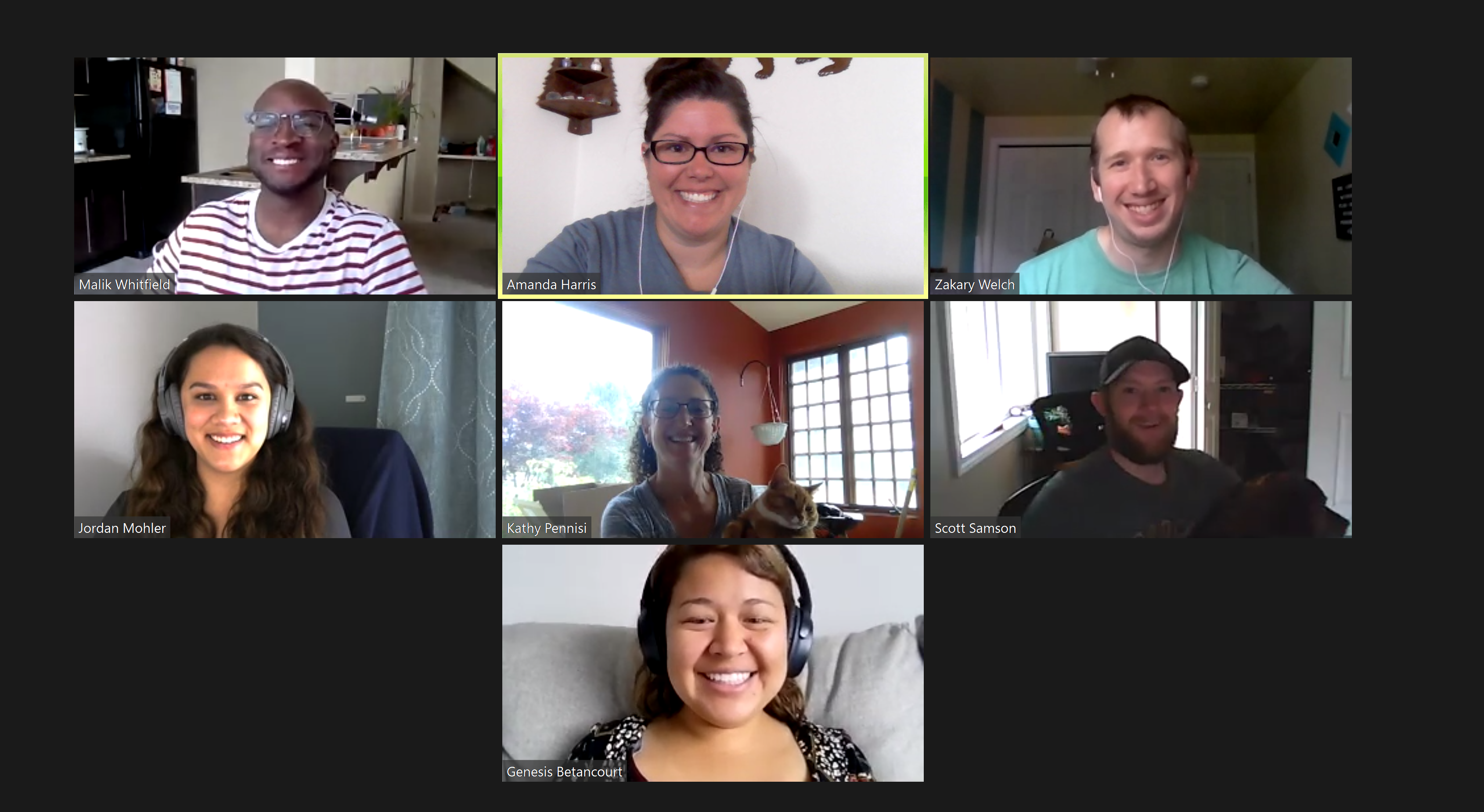 Sprinting Forward with Allata
What an incredible experience so far! I have been onboarded into a 16 person team with members across four states. It is incredible to be part of a team so large and spread out across the US. The organization of meetings and technology tools allows the team to be flexible and communicate efficiently for maximum productivity. I am lucky to be able to join part of the team at the Eagle office 2-3 days a week as they take extra initiative in providing safety in the current pandemic. Allata has set high standards for their team members and I am thankful to be able to gain insight into their effective teamwork for projects and professional growth. I have quickly adjusted to this fast pace agile team as they joke that it's like "drinking out of the fire hose". I have been able to see a full sprint and am now adding velocity to the next sprint.
-Amanda Harris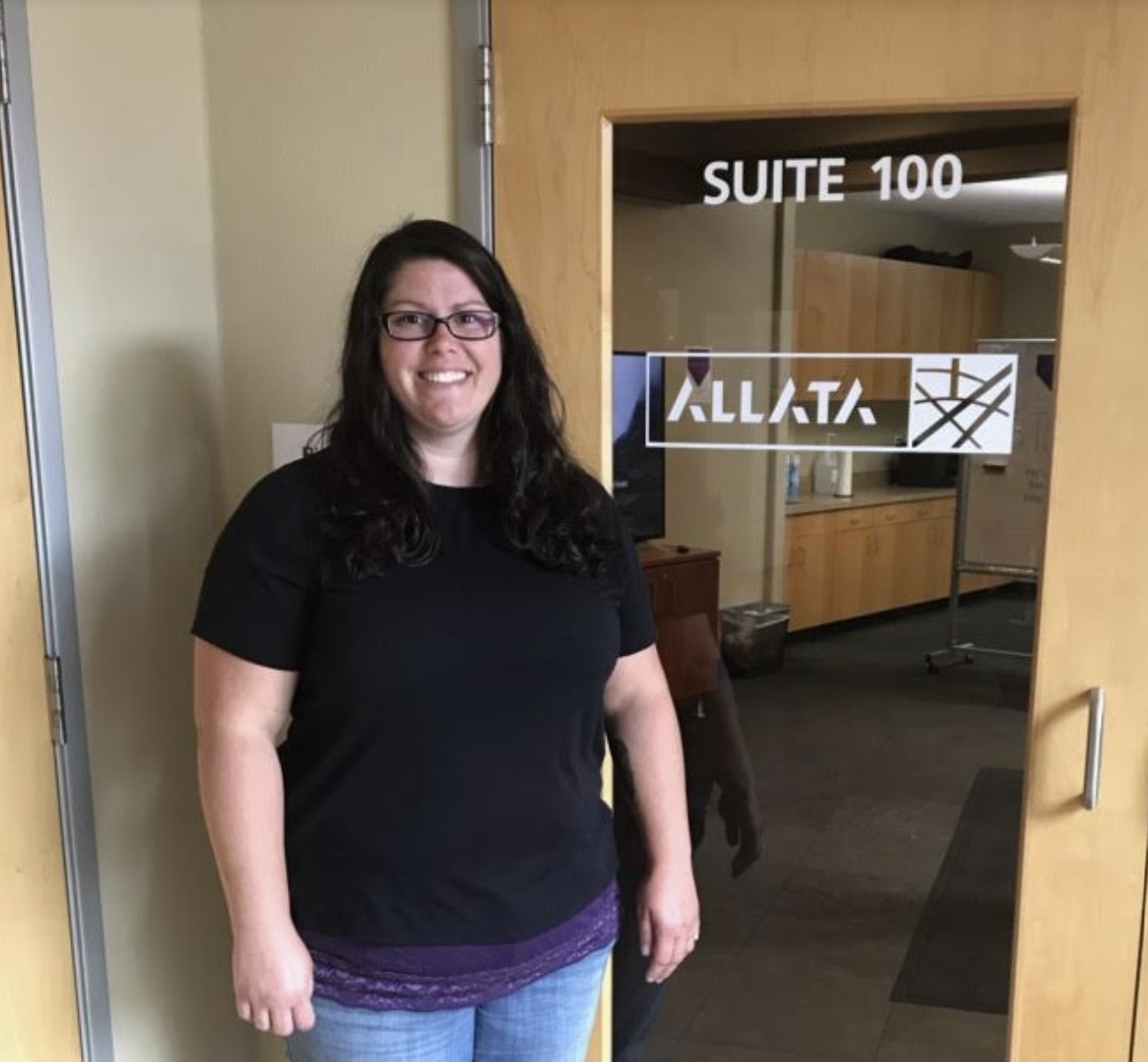 Agile with Allata
Allata is a consulting company who works side by side with the client to deliver a better product and solve the difficult technology issues their clients face. Allatians need to be strong individuals who work well independently and even better together. With skilled developers, they love solving problems for an ever-changing technology landscape. Every client they engage offers a unique problem and holds its own set of challenges and this fluid environment pushes them to adapt and rise to the challenge. To keep up with the fluctuating line of work, Allata uses the Agile methodology. The agile methodology is a type of project management process used for software development, where demands and solutions evolve through the collaborative effort of self-organizing and cross-functional teams and their customers. I created a Schedule to shed light on all of the meetings that help provide velocity to meet the demands and needs of each Sprint for the specific client/project team I am working on with Allata. Each meeting is important and provides a foot forward for the entire team and stakeholders in development processes, planning, designing, developing, testing, and release. While Agile, Sprints, and this entire process is all new to me, it relates back to my classroom in many ways! It is important that we are constantly communicating with all parties (students, parents, teachers, community, etc.) and assessing our goals to be able to provide the best education for all of the different students and their needs in the classroom.
-Amanda Harris
Workforce Development Council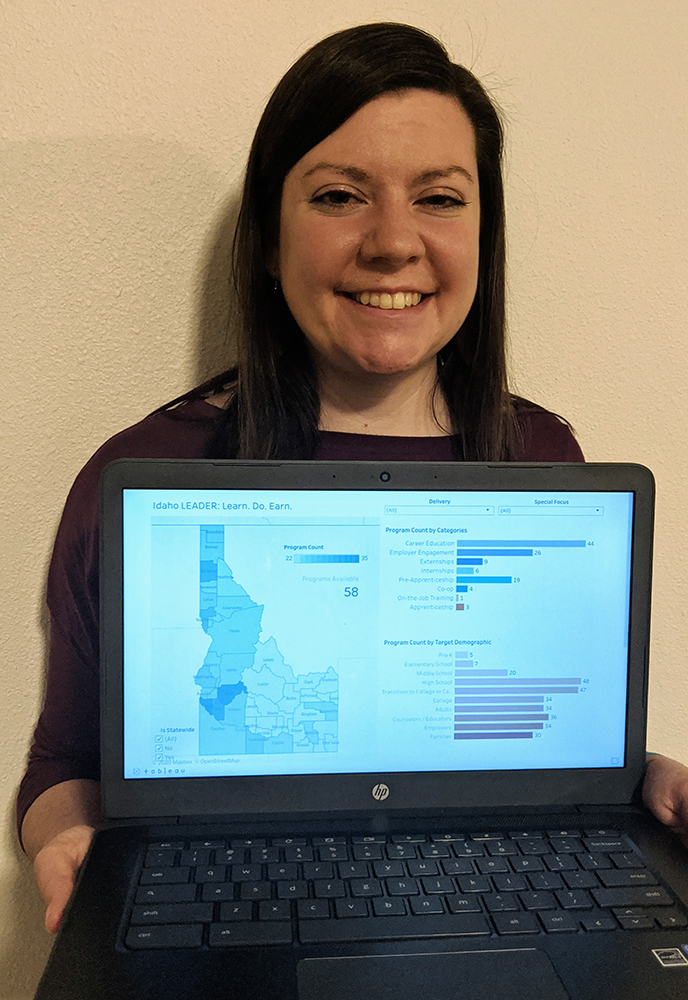 ¨School doesn't prepare us for the real world.¨ ¨When am I ever going to use this after graduation?¨ ¨This class is a waste of time!¨ Have you heard any of these statements as a teacher? I definitely have! (As a Biology teacher, I think learning about the way living organisms function is always relevant…but that isn't my point today!)
We can make school more relevant to the ¨real world.¨ Academic learning in classrooms should correlate to authentic tasks that professionals do in their fields. And by high school, students should have opportunities to observe and/or experience what a career of their interest is actually like!
During my externship with the Workforce Development Council, I have learned so much about work-based-learning opportunities! There are so many strategies to give students a window into what their future could hold: from learning about work through career counseling and industry speakers, to experiencing a work environment through an internship, to being paid to learn a trade as an apprentice. My project this summer is to help develop and compile resources for educators to start implementing more work-based-learning (WBL) opportunities in their schools. This is an area I am passionate about for so many reasons! First, I think WBL opportunities can greatly help students to know more about a career before deciding to jump in. I was one of the college students who changed majors twice before discovering that I loved teaching; many college students don't understand what theyŕe getting into with their major and may end up investing thousands of dollars and 4+ years of their life, only to find they don't love the career for which they've studied.
Second, not all careers require a four-year degree. College is expensive, many students are unable to work while also taking a full load of classes, and many students just don't thrive in a classroom environment. Apprenticeships are a great alternative to a four-year degree! This summer, I've been able to sit in on virtual meetings and learn about how apprenticeship programs are growing across the country. So many career fields can incorporate apprenticeships, beyond well-known industries such as electricians. Many young people can save themselves from student debt while training for a well-paying career and receiving wage increases as they gain skills. This sounds so awesome! In Idaho, we have a huge percentage of students who do not go on to post-secondary education; apprenticeships seem like a valuable strategy for increasing post-secondary training without requiring young people to leave a rural area that they know as home. I am excited about the potential for Idaho businesses and schools to develop new apprenticeship programs!
Work-based-learning opportunities can combat the disconnect that students experience between school and career. I am excited to spend the summer learning about these opportunities and developing some practical steps for myself and other teachers to implement them!
-Carissa Hale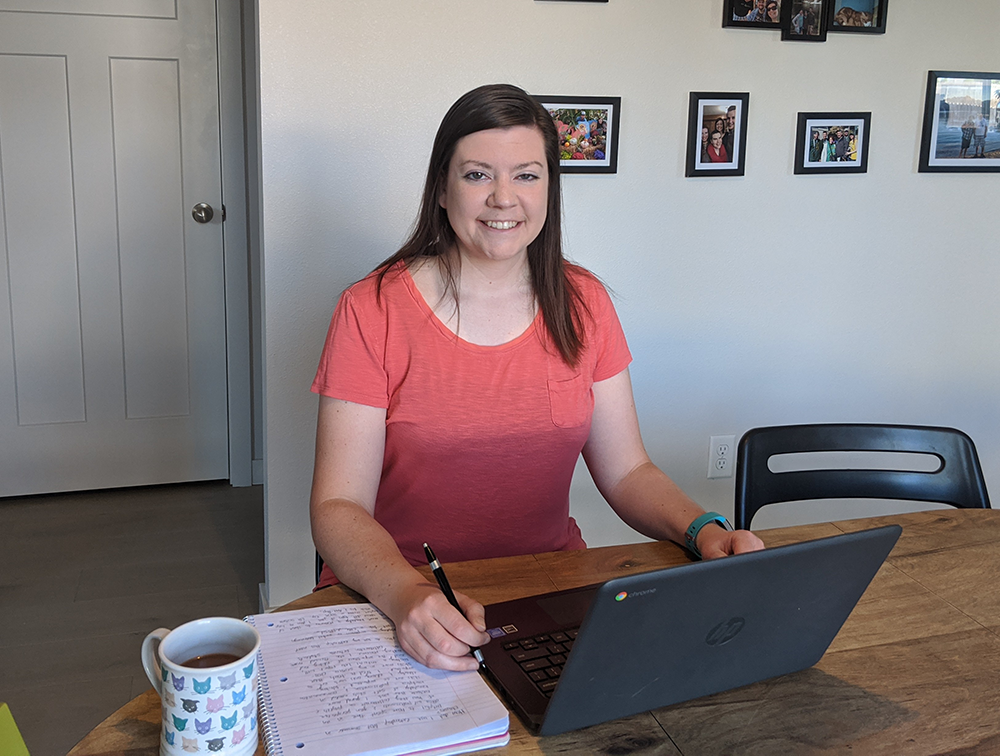 I wrapped up my summer externship this week, and while it was a bit disappointing to complete it all from home, it was overall a great experience!
I learned so much about resources for helping students determine which careers they are interested in as well as resources for helping them plan a pathway to their career. As a science teacher, I don't do much career advising, but students often ask me questions about careers in science, especially healthcare. I am excited to have more understanding of different types of careers in healthcare and other fields. I also feel more confident in my ability to help a student track down information about careers they are interested in.
One mini project I got to help out with was providing feedback from an educator's perspective on Rural Career Flyers for schools. The Workforce Development has been developing flyers about several career clusters in which students could expect to find employment in their local area. They include some basic information about what the job is like, including aspects that could make it difficult, which young people need to be aware of when choosing a career! The flyers also have some statistics about salaries to expect and education or training needed. I am excited about these flyers being available in schools, because they will provide a clear snapshot of career basics that can help inform students about options.
Hoping you all have a wonderful end to your summer and a peaceful transition back to school!
-Carissa Hale
Idaho Central Credit Union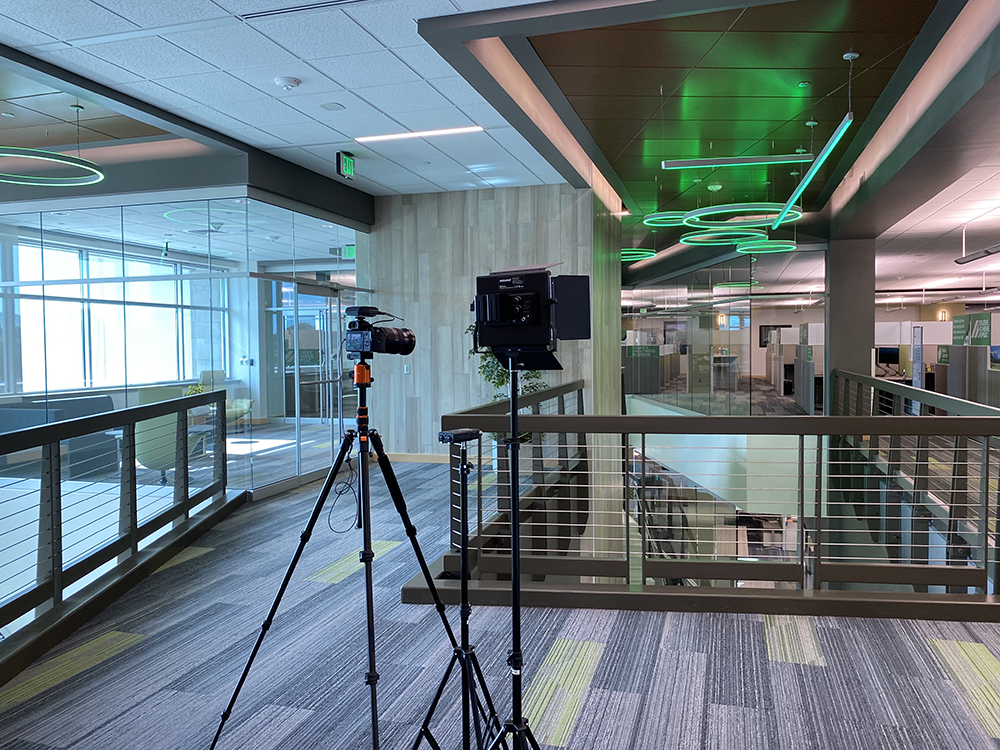 Thanks to COVID-19, I have been doing the majority of my externship with Idaho Central Credit Union from my house. Initially I thought this would be a challenge, but the employees at ICCU have made it just the opposite.
Ever since my first team meeting, I have felt nothing but welcomed. The very first thing I noticed when I went on a tour of ICCU was how friendly and positive all the people were. Everyone smiled and greeted me when I went by. Everyone went out of their way to ask me about my day and to welcome me to ICCU. From that day on, I have noticed that this is the culture throughout the credit union.
For the first half of my externship I have been working with the training team. Sara, Ben, and the rest of the team have made me feel so welcome. I have had the opportunity to work a lot with Levi, one of the video producers on the training team. He has taken me under his wing and provided me with some amazing opportunities. With Levi, I have been able to help with the video production of a handful of training and marketing videos. We have been able to spend a little bit of time on the main ICCU campus, which is beautiful, as well as some time in the Pocatello and Chubbuck branches of ICCU.
During these video productions, I have been able to help with the setup and takedown of the video equipment and lighting. I have also had the opportunity to set up video shots and ask some of the questions we have for the interviewees. It has been amazing to see how all of the equipment works. I have also enjoyed seeing what it is like behind the scenes of making the training and marketing videos.
Another incredible opportunity I have had while at ICCU was tagging along with Ryan, another producer at ICCU, on a drone video shoot. This was extra exciting for me because I am going to be teaching an Unmanned Aircraft Class at American Falls High School this coming year. It was awesome to see Ryan fly the drone and get video shots of the ICCU campus and some of the ICCU team members. It was fun to see a drone being used in the banking industry and proved to me that there is a need for drone pilots in many different businesses and industries.
I am looking forward to the second half of my externship and am so glad that I have been able to work with the awesome people at ICCU!
-Jaxon Jensen
HDR Engineering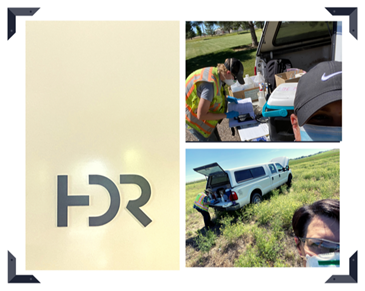 HDR Engineering
I am fortunate to have the opportunity to work at HDR, a design firm specializing in engineering, architecture, environmental, and construction services. This gem of a company has over 200 offices around the world and employs more than 10,000 people. The River Quarry Office, where I work, has approximately 90 employees and is located off Park Center Boulevard along the beautiful Boise River.
I'm in my second week and HDR and I am (happily) overwhelmed by what I have learned in such a short period of time. This setting is nowhere near my intellectual skillset so I was a bit nervous before my first day. (My biggest fear was that I would be asked to solve a math problem!) My nervousness went away when I was immediately greeted with genuine kindness and enthusiasm.
My first week was spent learning about this incredible company through various one-on-one and virtual meetings. The virtual meetings showed me how well employees network across offices, drawing on strengths and expertise of others. I am now interviewing employees (engineers, architects, accountants, geologists, hydrologists, graphic artists, designers/visual artists, etc.) to learn how they came into their careers, interests in high school, what they like about their jobs, and hopes/plans for the future.
The information I am learning is a win for both me and the students I advise. I am already giddy thinking about how this will help my students when they come to me for career and college advisement. My project is to put together a plan for HDR staff to engage with high school students interested in STEM careers, as well as a college recruiting plan.
This photo collage reflects my experiences "in the field" with Alyssa, one of HDR's geologists. I observed and then helped Alyssa collect water samples. Thankfully, she didn't ask me to help with the calculations!
-Rae Peppley, College and Career Counselor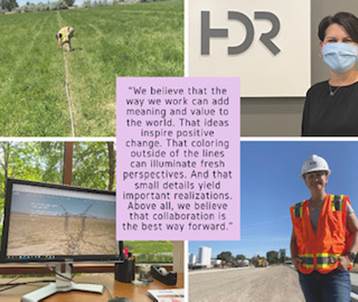 As I move into my final week at HDR, I am reflecting on my expectations going into this externship vs. what I learned. I didn't know what to expect. I had hoped to learn about careers in engineering, an area I felt I had little to offer my students. My experience at HDR, however, provided me with so much more. I interviewed 47 employees: engineers (bridge, roadway, environment, power, and water), project managers, geologists, artists (visual and graphic design), accountants, public outreach specialists, marketing specialists, civil construction inspectors, technical writers, and CAD/BIM specialists. I learned about their careers and the pathways they followed from high school to college to job(s). The cherry on top was advice they offered for high school students interested in their fields.
My second task was to assist this local HDR office in developing a college recruiting plan. I reached out to four Idaho universities and met with deans, professors, advisors, employee relation liaisons, internship coordinators, and student organization leaders. Because of that project I have new and exciting connections at the universities. These relationships and better understanding of degrees/programs are a direct result of this externship experience.
My third task was to create a proposal for how this office can engage Treasure Valley middle and high school students interested in STEM careers. The project will not only forever form a bond between this high school college and career counselor and this local HDR office, but it will also create an opportunity for other school personnel to connect with the company.
In the end, I've realized that I'm walking away with so much more than I expected. For one summer I was part of a successful employee-owned company. I saw a company that supports staff, encourages networking with offices in other states, promotes teamwork and collaboration, values community involvement, and fosters an environment of mentorship, growth, and positivity. I've joked with them that I would apply to work here if I had the right degree, certification, artistic talent, or math ability required… but, alas, I do not. Thankfully I truly love my job at my high school and can't to share my new connections and knowledge with my students!
-Rae Peppley
Franklin Building Supply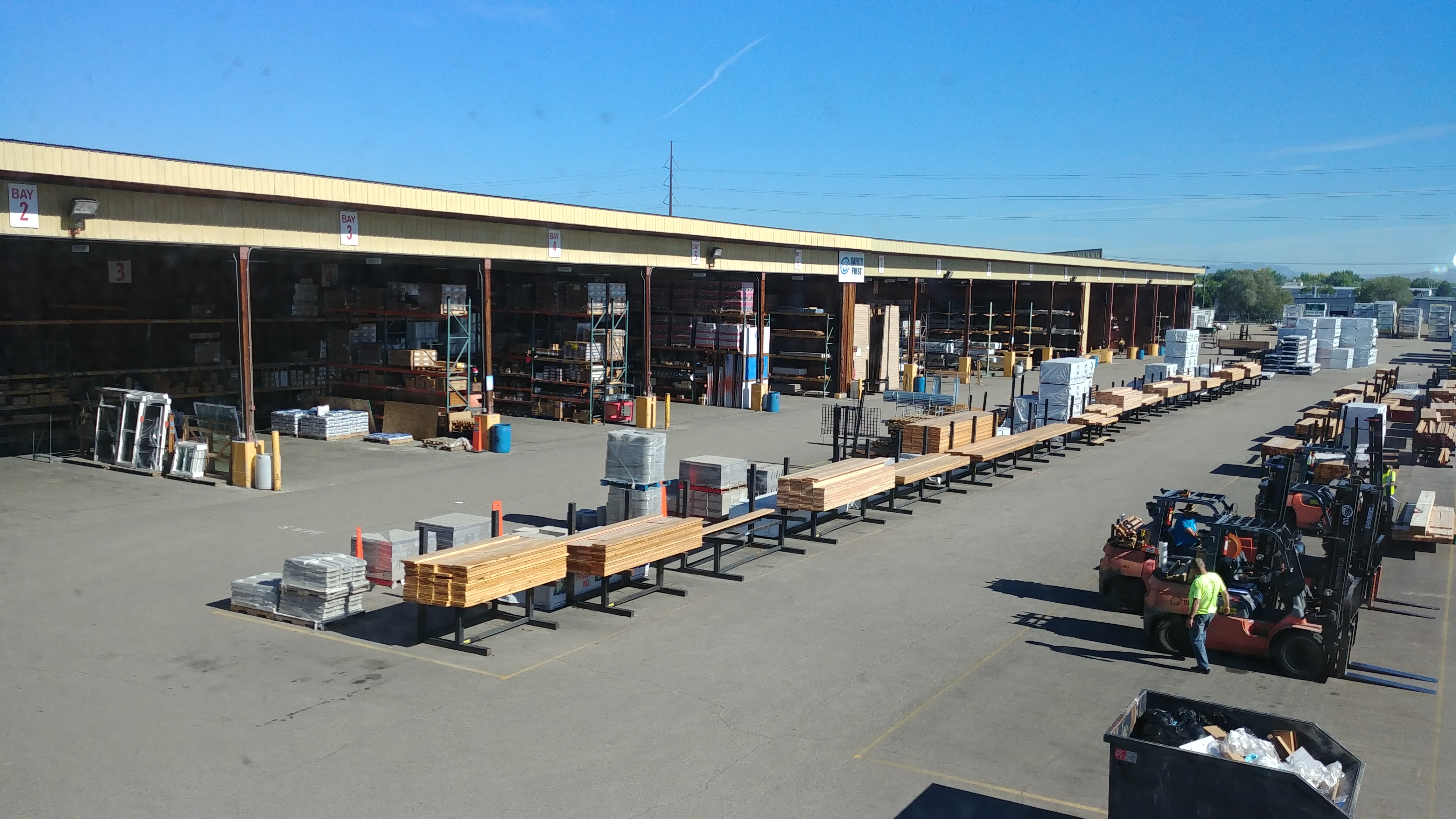 Working with Franklin Building Supply
Franklin Building Supply, as many Idahoans will know, is a major home building supplier in our state. Their offices span Idaho and are open to contractors and the public. If you are building, repairing, or renovating a house, your local Franklin Building Supply is a place to visit.
I started my summer project visiting their Boise headquarters. There I learned I would be given the task of reviewing their learning management system. That's a good thing as I'm not very good with a hammer. The tour on my first day took me to two of their offices and a large yard where they store, load, and unload building materials. There's a lot of activity taking place in their yard since the state is still building homes at a fast pace, even during our current lockdown.
Places like lumberyards require a large number of well-trained employees to manage. Industrial facilities like lumberyards can be dangerous places to work. A lot of heavy vehicles and heavy building supplies move around constantly. In addition, powerful hand-operated tools are frequently in use. Therefore, it's not surprising to hear that new employees must learn about person protective equipment, tool use, vehicle operation, and the rules of the road if they are to have a long and productive career.
After my introduction, I have spent my days understanding their learning management system. Now I am creating curriculum and teaching plans that will integrate into Franklin Building Supply's current system. I find it an interesting change of pace, from trying to prepare lessons for high school students to preparing them for adults. The audience is different and so are some of the approaches.
This is definitely going to be a different and interesting summer me for, thanks to the STEM Action Center and Franklin Building Supply.
-Lloyd Verhage
Idaho Forest Group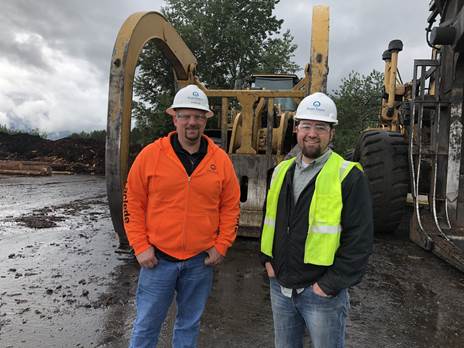 Many people step into various careers where they strive to create a lasting, positive impact in the lives of others. We teachers know this first hand, and are pretty close to the top of the list. What doesn't immediately come to mind is how the Forestry and Lumber Industry has contributed to the lasting, positive impact of future generations as well. I can say, without a doubt, that my short time externing with Idaho Forest Group has been very educational and rewarding, and I see how this industry is creating a positive impact meant to last for generations now and to come.
I've been tasked with the responsibility of creating age appropriate educational materials for each of IFG's 7 sawmills. These materials include topics such as the "Past, Present, & Future" of the Lumber Industry, The Milling Process that shows how 100% of a log is used, Forest Management as a Renewable Resource, Impacts of Disease and Insects on Forests, etc. I am also looking at creating other materials such as wooden puzzles that students can use to calculate the best use and value of a given tree. A side project also has me working alongside Idaho Forest Products Commission (IFPC) and Project Learning Tree (PLT) to update their "Cookies in the Classroom" curriculum in Idaho.
In order to be successful in creating these materials I needed first hand experience with all of the above listed. Over the past 2 weeks, I've been in the mountains with foresters who have shown how they strategically cut and replant with the forest health and recreation in mind. I've been on tours through sawmills, watching a log being turned into lumber, wood chips for pet bedding, sawdust for wood pellets, and bark for steam fuel and/or landscaping. I've been on the site of an old gold mine where IFG is working alongside other agencies to restore a 13 mile stretch of prime trout stream habitat. I've seen a plethora of jobs created by the lumber industry. It is through all of this boots-on-the-ground, first hand experience that I have seen how IFG is putting the future first and making that positive impact. We will enjoy the forests for many more years due to healthy forestry practices, and I have a new respect for the lumber I am using while rebuilding my deck... Oh yeah, I should probably get on that.
-Craig Peterson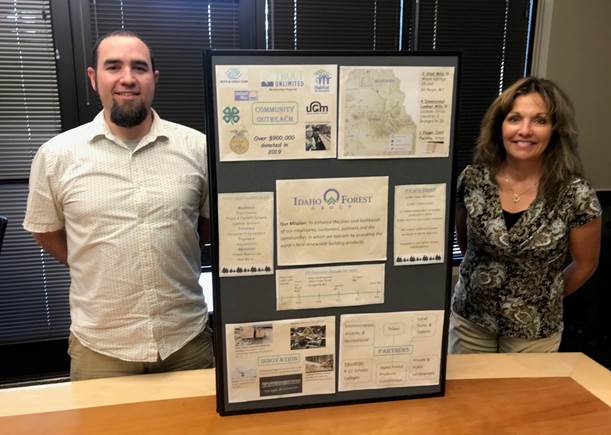 Viewing Idaho Forest Group through a Teacher's Eyes
Idaho Forest Group accepted an invitation to host a teacher this summer as part of the Idaho STEM Action Center's Teacher Externship program. The purpose of the externship is to expose teachers to industries and careers, encouraging them to share what they learn with their students. IFG's goal was to provide an experience of our company and the forest products industry from the inside, and to create age-appropriate educational tools from a teacher's perspective.
Craig Peterson, a 5th grade teacher at Northwest Expedition Academy in the Coeur d Alene School District, spent six weeks at IFG working with Marie Price. Craig's school teaches a project-based and exploratory learning curriculum. When Craig was asked why he wanted to participate in the externship, he said, "I want to develop a relationship with Idaho Forest Group so that my students can learn about the industry and help solve problems."
Craig enthusiastically embraced the opportunity to learn about the process of producing lumber, from the woods to the mill to the consumer. Although COVID travel restrictions limited what could be done, Craig was able to view an active logging site, learn about forest restoration and conservation, tour several mills and divisions, and interview key personnel. Craig participated in Zoom meetings with the Idaho Forest Products Commission, Project Learning Tree and the Forest Resources Association.
Craig's perspective as an educator reinforced the fact that every aspect of our industry can be correlated to STEM – from forest biology, to the math associated with manufacturing logs and selling lumber, to the computer software used to automate our mills and track production and sales. Craig condensed all that he learned into several informational panels designed to spark a student's curiosity and interest. Each mill will receive a display board with panel materials that can be used at schools and community events. Craig created a wooden puzzle for kids that requires geometric thinking. It is challenging to solve!
Hosting Craig was an excellent experience. His enthusiasm for learning and teaching is contagious. We look forward to connecting with Craig and his students in the future.
-Marie Price
Clif Bar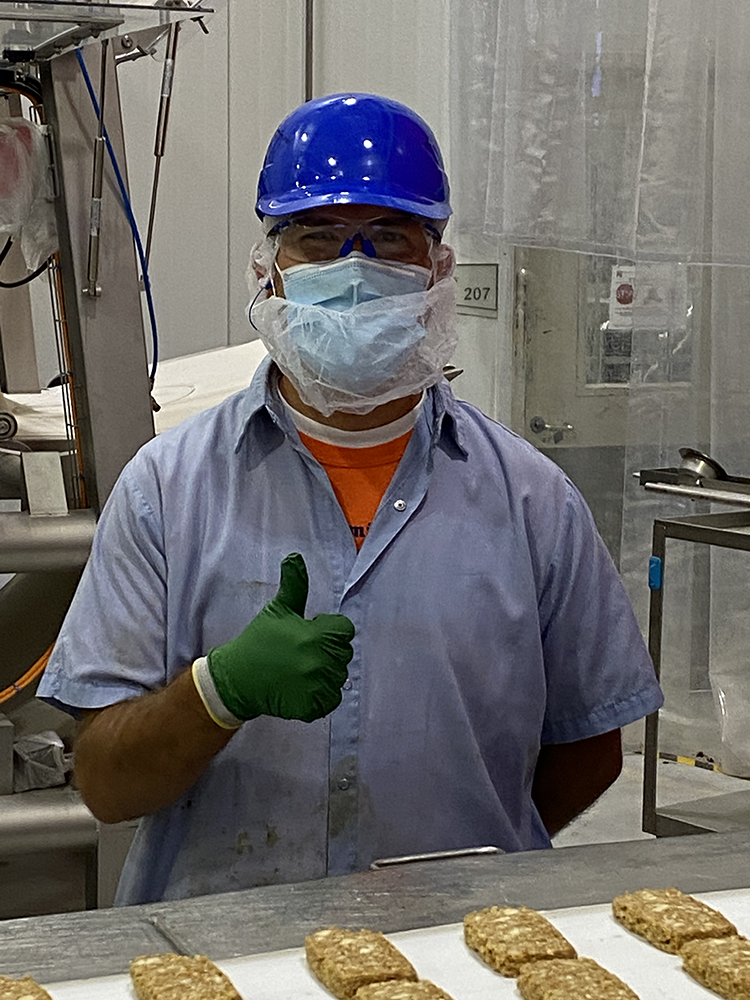 I just wanted to share a little about my experience working at the Clif Bar Baking Company here in Twin Falls. After a week of orientation, they put me to work. I'm paired up with an awesome trainer and am working on the processing line. It is amazing to see all of the automation involved with the making of Clif Bar's products. It is quite the set-up. I appreciate my trainer showing me a good example and giving clear instructions. He shows confidence in my ability to do the work in whatever area we are assigned each day. We work 12 hour shifts, which takes a little getting used to. Everyone here is very nice, and they all take pride in creating an amazing product. I look forward to continuing to learn all I can during my time here.
-Todd Anderson
The Sandbox Group
When I heard about this externship opportunity I didn't realize what an amazing experience I would be a part of! In the span of only two months, I was given the opportunity to assist my site host, The Sandbox Group, in developing an Idaho based apprenticeship program that would connect students with local companies in order to gain work-based connections and real-world experience! Not even COVID could stop the progress with the development of this program. I wouldn't have any reservations about applying for an externship next year and would encourage any educator to take the opportunity to apply!
-Tiffani Isaacson
I have been working with an extern for the past 3 weeks and highly recommend this program. She's enthusiastic, positive, motivated and brings strong writing and editing skills to the table due to her role as an English Teacher. Having her help with a study concerning work-based learning has been a real capacity builder. I will be actively seeking an extern next year.
-Maureen O'Toole, Principle, The Sandbox Group
Idaho Division of Vocational Rehabilitation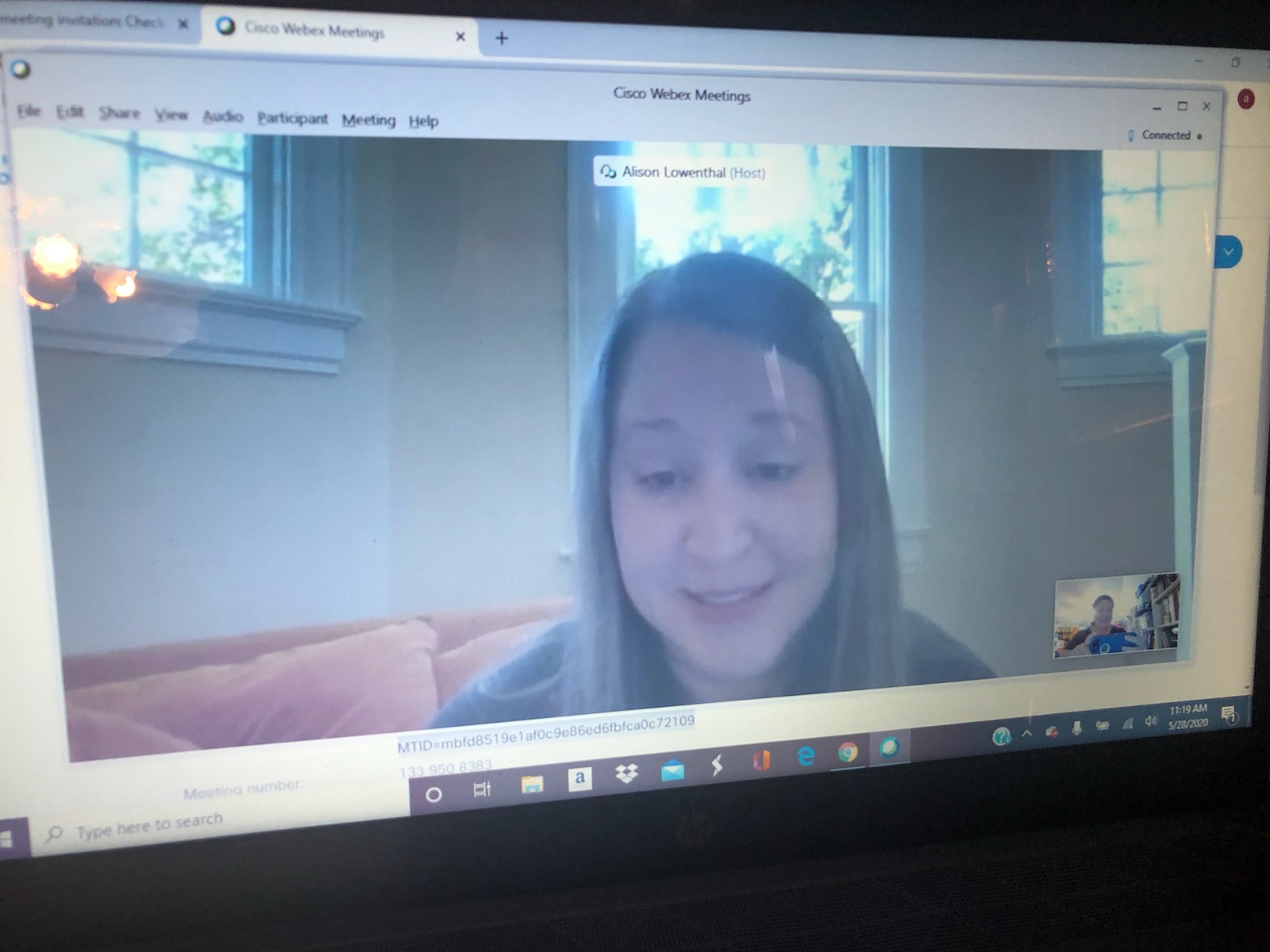 Distance Working and Learning
Whew! Covid-19 has changed what my Voc Rehab externship looks like. I must say, I am impressed with how the staff at Voc Rehab are adjusting their daily interactions in order to best meet the needs of those they serve. Despite the challenges, they are rising up and doing their best. I have been privileged to be given a window into their processes. These last few weeks I have taken part in team meetings and observed WRTs (work readiness trainings) they have developed to reach individuals throughout our state. My workstation is in front of my computer at home, but my reach is miles away. I have seen individuals from throughout the state work together to build confidence and ability, supporting each other and their goals.
The picture is a meeting of my boss and I. One benefit of online meetings - I'm the small picture!
- Amber McVey

Another week of online interactions!
Voc Rehab makes it look easy, but I know it's not. From developing, sending out, and implementing a complete curriculum to organizing employees across Idaho, Voc Rehab is demonstrating how committed they are to their clients and their community. This week, I've had the pleasure of interviewing a variety of team members from all over Idaho about their jobs and their interactions with Idaho's labor force. It is amazing how much these individuals put into their jobs. They have to be multitaskers who are multitalented. From organizing transportation to coordinating employment, they do it all and they make it look seamless. Impressive!
-Amber McVey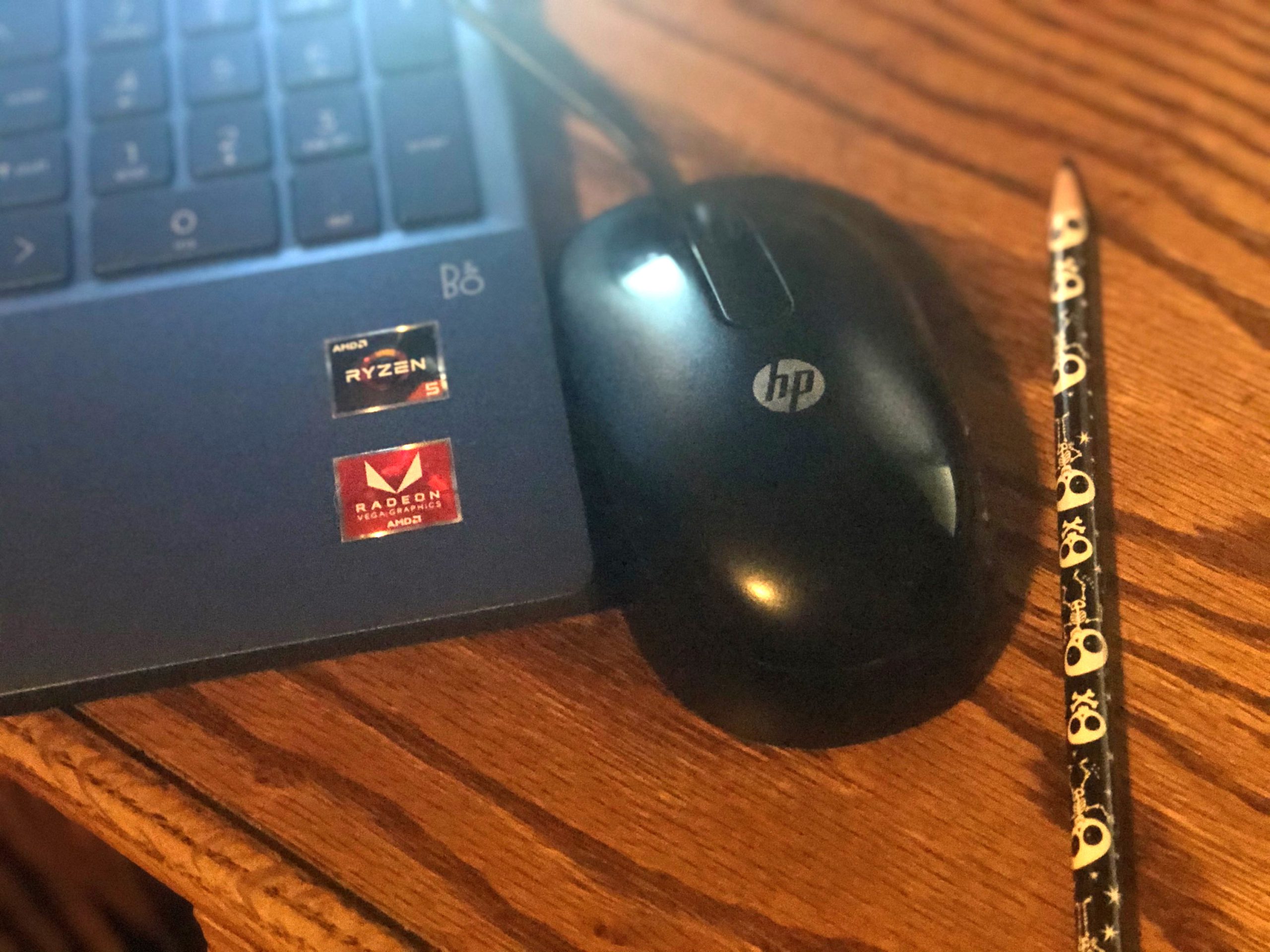 Whew! As I head into the second portion of my externship I have a deeper respect for all VR does. From navigating changing laws, training employees, offering a wide range of supportive services, and working with businesses throughout Idaho, VR works diligently to fulfill its many responsibilities. They have taken the same scope and vision in working with me. I find their focus is showing me all they do, and they've fully embraced it. As I work virtually from home, I find I've been invited into offices throughout offices so that they can share their vision with me and offer support to the educational community. At their heart, they are all about education so that individuals can be independent and they are willing to do whatever they can to achieve that goal.
-Amber McVey
This is the Idaho Division of Vocational Rehabilitation first year working with the STEM Externship Program and we highly recommend this program. The extern we have been working with has done an amazing job especially with interruptions from Covid-19. She is passionate, motivated, and brings numerous skills in program evaluation and video development. Her help with our online work readiness program that ran for the first time this summer was invaluable. The Idaho Division of Vocational Rehabilitation would happily participate in this program again.
-Alison Lowenthal, Transition Coordinator, The Idaho Division of Vocational Rehabilitation
HOME CU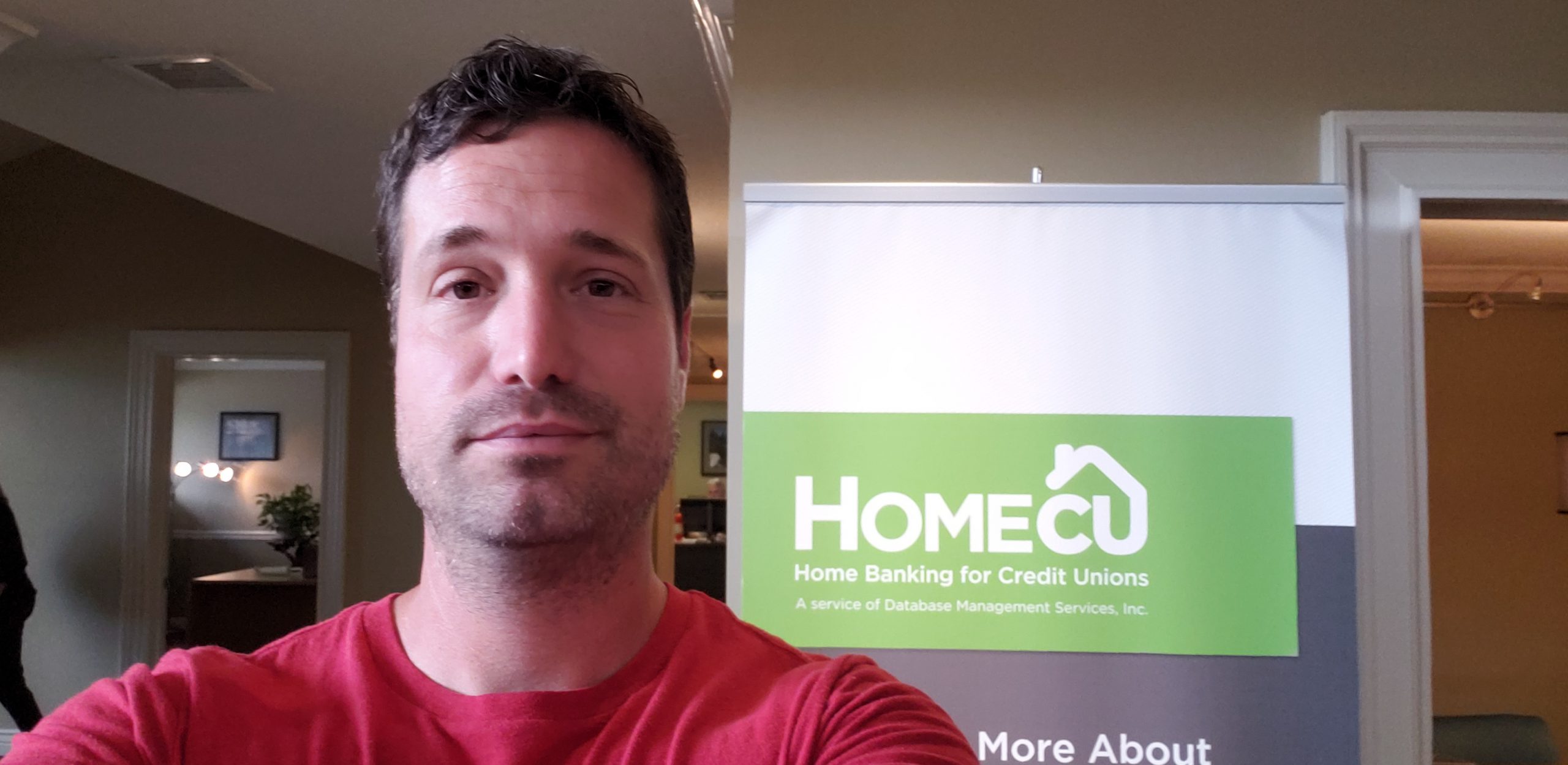 What an exciting opportunity this has been. I've been working for HomeCU. They build software that credit unions around the world use. Because of the nature of their business I had to submit to a background check. Check came back clean! My boss called me and asked how I felt about working remotely, because most of the company had already transitioned. Luckily the last three months have prepared me well for remote work. I did get a chance to sneak into the office for a day and take a picture. They seem like a very friendly company to work for. There were free snacks and coffee, although with COVID going on they hadn't restocked in a few months.
My job as an extern is to work with the VP of operations, and a 20 year veteran of customer support to create video tutorials for commonly asked questions. They currently have no tutorials. All support has to be routed to an individual who will take a call, or live login. They were excited to be able to create a knowledge repository to help relieve the workload on their customer support team. We have produced 4 videos so far, but there are many more to create. We are also working on implementing a live help overlay for their website that will help onboard new customers. They may incorporate some of the videos into that system. It's been a pleasure thus far!
-Ben Taylor
The externship program has proven to be an excellent fit with our company. Ben is a remarkable person who was able to hit the ground running and contribute his experience in a professional yet down-to-earth way that works very well with my team! I believe the externship role has provided Ben the opportunity to gain valuable working experience, while at the same time grow in technical areas, all of which he can bring back to the classroom to help students gain visibility into what working at a small technical company can be like. We have already discussed internship opportunities for future students to continue the work Ben has been doing. I couldn't be happier with this program!
-Jayme Berry, VP of Operations, HomeCU LLC
SWIMA
Workforce Development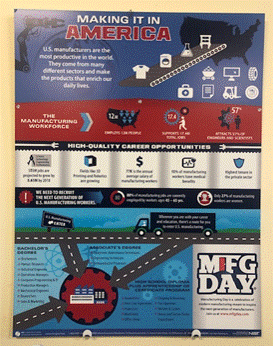 A few weeks ago, I started my externship with Southwest Idaho Manufacturers Alliance aka SWIMA. We dove right into researching successful workforce development programs and why they are so important in the manufacturing industry! Did you know that by 2025 there will be 2.7 million baby boomers retiring from the manufacturing industry? Leaving a large number of open positions (2 million, to be exact) with a skill gap for the upcoming workforce. Each year companies are reporting that students are not graduating high school and college with adequate critical thinking, problem- solving, and communications skills when entering the workforce. This results in what most companies are now referring to as a "skills gap".
This skills gap means that workforce development is an essential requirement for all businesses. Workforce development will teach adequate skills to people who fall into the skill gap category, which will result in having a qualified workforce and an investment in their future. For workforce development to be successful it is crucial for companies and schools to partner together! This will allow businesses and schools to work together to develop and cultivate essential critical thinking and problem-solving skills within our classrooms that will benefit our students in adulthood. I am excited to start next school year with this on the forefront of my mind and really think about how I can incorporate higher levels of critical thinking and problem-solving into my own classroom!
-Nicole Snoderly
House of Design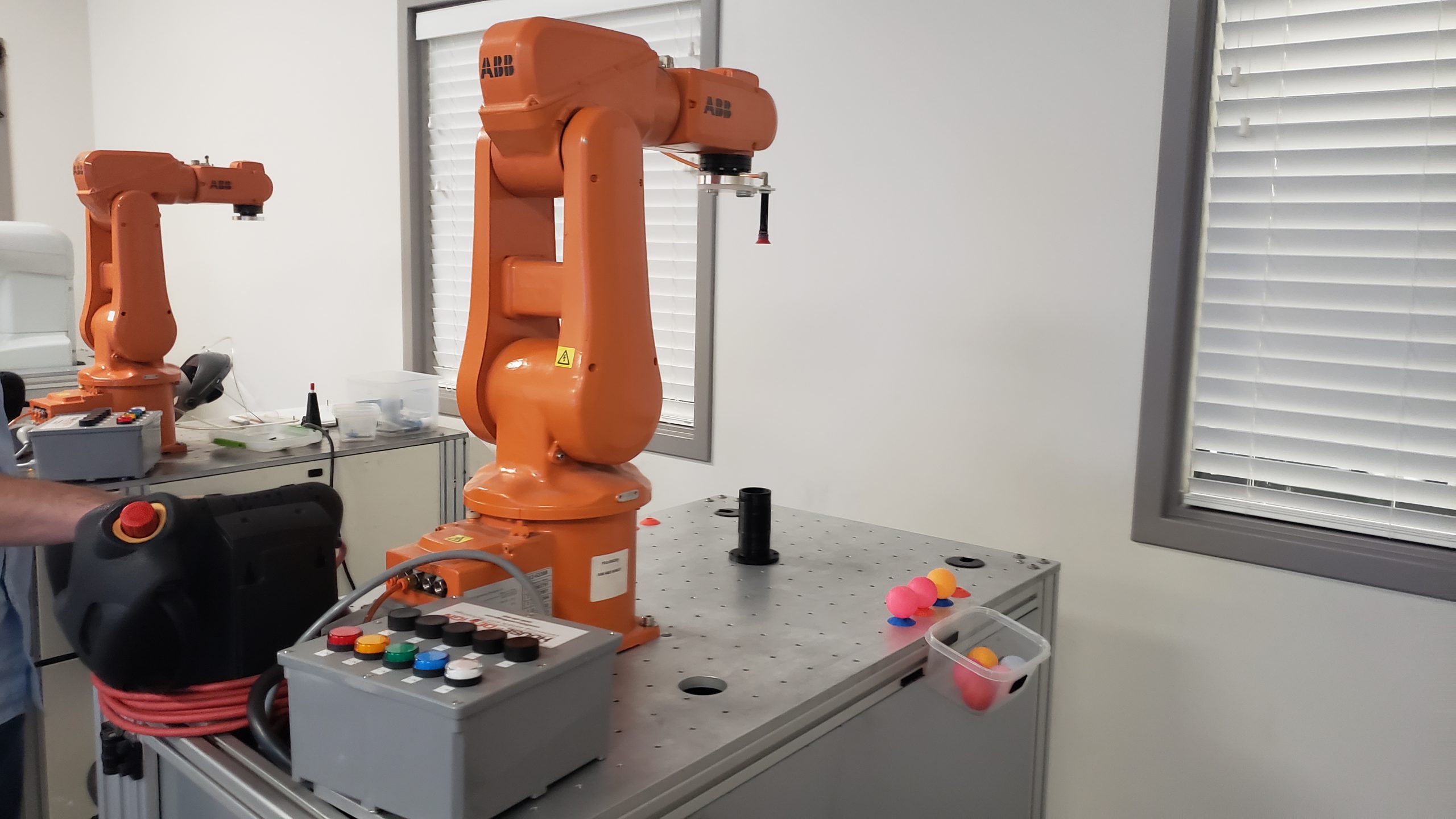 Building the future with House of Design
What an amazing experience it has been working with House of Design. I had no idea there were companies like House of Design. They use life size robots to create anything their clients can imagine. I was lucky enough to start in the company June 1st and not have to "work from home" like so many people in the world. I got to dive right in and get one on one training from the House of Design instructor for the first two weeks. Then, weeks three and four I am now taking classes alongside him from the company they purchase their robots from - ABB Robotics. I have been able to sit in on company meetings to get a full picture of House of Design. The training that I have received from both House of Design and ABB Robotics will be able to transfer into my STEM classes to both junior high and high school. In my final weeks, I will be helping House of Design create and improve their client classes and hopefully create something that can benefit the community and the company. I look forward to my last two weeks and hopefully helping them make a difference in their company as they have made a difference in my classroom. Thank you STEM Action Center and House of Design for a summer to remember.
-Kelsey Wright
Gravis Technology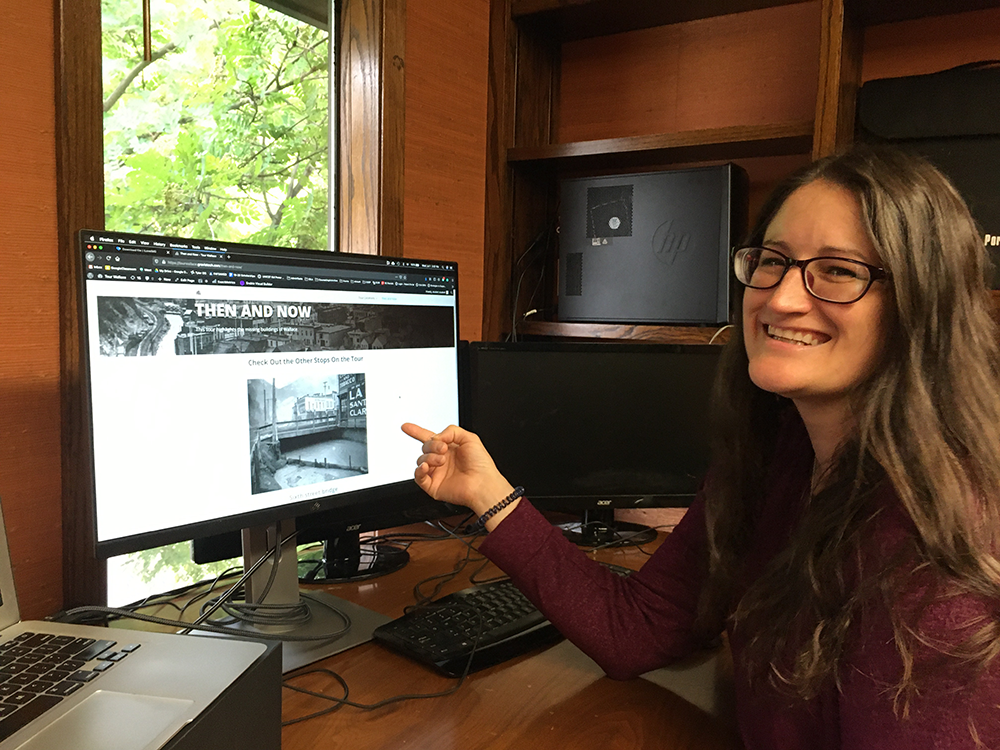 Gravis Tech is a creative and engaging place to work—it's a woman-owned small business in the Wallace, Idaho, where I'm from. The company, which just turned five years old, specializes in data visualization and analytics as well as technical communication and web development. Gravis Tech is also a HUBZone business, which means they are contributing to the development and strength of our rural community by bringing uplifting technology and high paying jobs to the economically disadvantaged Silver Valley. There are five of us plus a college-age intern working out of the main office and several others who telecommute from around the region. The workflow here is efficient and independent, which is no surprise, since improving workflow is also in their wheelhouse as a service they provide to others. This business has such a range of strengths that they have chosen to solicit and accept business based on the idea that they want to work with and for clients whose work makes a difference in the world, leaving it a better place in some way.
60 hours into my externship, I feel like I am a contributing member of the team. I have been working with others on several in-progress team projects, and I am also in charge of my own individual project tasks for the duration of the externship. I spent much of the first week becoming oriented in general to the kind of work that is done here, and I was able to help right away by helping rewrite an executive summary for a business development proposal. Some other team projects I've been working on included: adding keywords to a website to improve the SEO (search engine optimization), so others could find a website more easily; working on some social media shareables to help change the image of a civic organization and enable them to recruit more members from the younger generations; writing content for a local museum; and helping improve the accuracy of metadata connected with photos in a major archive.
Even though I am currently a K-12 school counselor, I used to teach rhetoric and writing at the college level and my skills in that realm have proven helpful in my time here, which surprised me somewhat. Before I embedded here, I didn't realize how much of the work at Gravis Tech involves technical communication, visual rhetoric, and writing. The work here also requires so-called "soft skills" such as creative problem-solving, tenacity, seeing the big picture but also analyzing the details, and the ability to work both independently as well as with others in a team. I was also reminded how important it can be to save my work often, after I lost an hour's worth of writing website content because the builder we were using forced me to refresh without allowing me to save first. These kinds of skills can be taught but often aren't, unless they are integrated into a K-12 curriculum through classroom design. As a result of my experiences here, I plan to emphasize soft skills more explicitly within my counseling lessons moving forward.
The rest of my summer will involve enhancing and expanding an already established virtual history tour of the area called "Tour Wallace," which features missing buildings and before and after sliders comparing historical locations of the past to the present. I'll also be building lesson plans for some virtual reality devices, and working on database solutions for the Historic Wallace Preservation Society archives.
-Heather Branstetter