Summer Externships for Classroom Teachers
The STEM Action Center, in partnership with the Workforce Development Council, is providing K-12 classroom teachers and college and career advisors the opportunity to extern with local businesses over the summer. This program will place selected externs with companies related to their area of certification and require them to complete 200 hours of on-site, experiential learning. The hours must be completed between June 1, 2020, and August 31, 2020 (days/times to be determined by the teacher and the employer). Externs will earn $5,000.00 and also professional development credit, if they so choose. The goal of the program is to give classroom teachers and college and career counselors the opportunity to expand their skill set so that they can better prepare students for life beyond high school.
Maddie Dew externing at Idaho Drone League, University of Idaho in 2020.

2019 Testimonials
"The externship program fills an important link that can help students know what "tomorrow" will look like." Brian Cronin, Senior Vice President, Strategies 360
"Her time here was very valuable to our team. Maggie did an awesome job with her work and we all learned from her in the process. We have already talked about visiting her classroom this fall!" Justin Bailey, Western States Equipment
"It was a great opportunity for Lainey to see the many diverse jobs in healthcare and get to meet with managers or at least interact with them - all skills and information she can take back to the classroom and share with her students." Roxanne Ohlund, St. Alphonsus
"I really like the [externship] program; it's the most tangible approach to communicate back to the students what life in an actual company looks like that I have ever seen." Markus Nigrin, CEO Blocksmith VR
STATUS: Closed

Schedule for Businesses
Scroll down for the interest form.

Open: October 1, 2019
Close: February 7, 2020
Notification: April 1, 2020
STATUS: Closed

Schedule for Educators
Open: January 6, 2020
Close: February 7, 2020
Notification: April 1, 2020
Contact Information

Matthew Thomsen
Business Partnership Manager
Phone: 208.488.7562
Email Matthew Thomsen
Idaho Workforce Development Council
https://wdc.idaho.gov/

John McFarlane
Externship Program Coordinator
Phone: 208-231-1466
Email John McFarlane
Idaho STEM Action Center
The Idaho Workforce Development Council and Idaho STEM Action Center, both under the Executive Office of Governor Brad Little, have combined forces to develop the Idaho Teacher Externship program. The goal of this program is to provide classroom teachers and career counselors with the opportunity to engage in relevant, localized work during the summer with Idaho businesses, which in turn will allow them to better prepare their students - Idaho's future workforce. Download the Idaho STEM Action Center Externship Business Handbook.
Idaho National Laboratory (INL)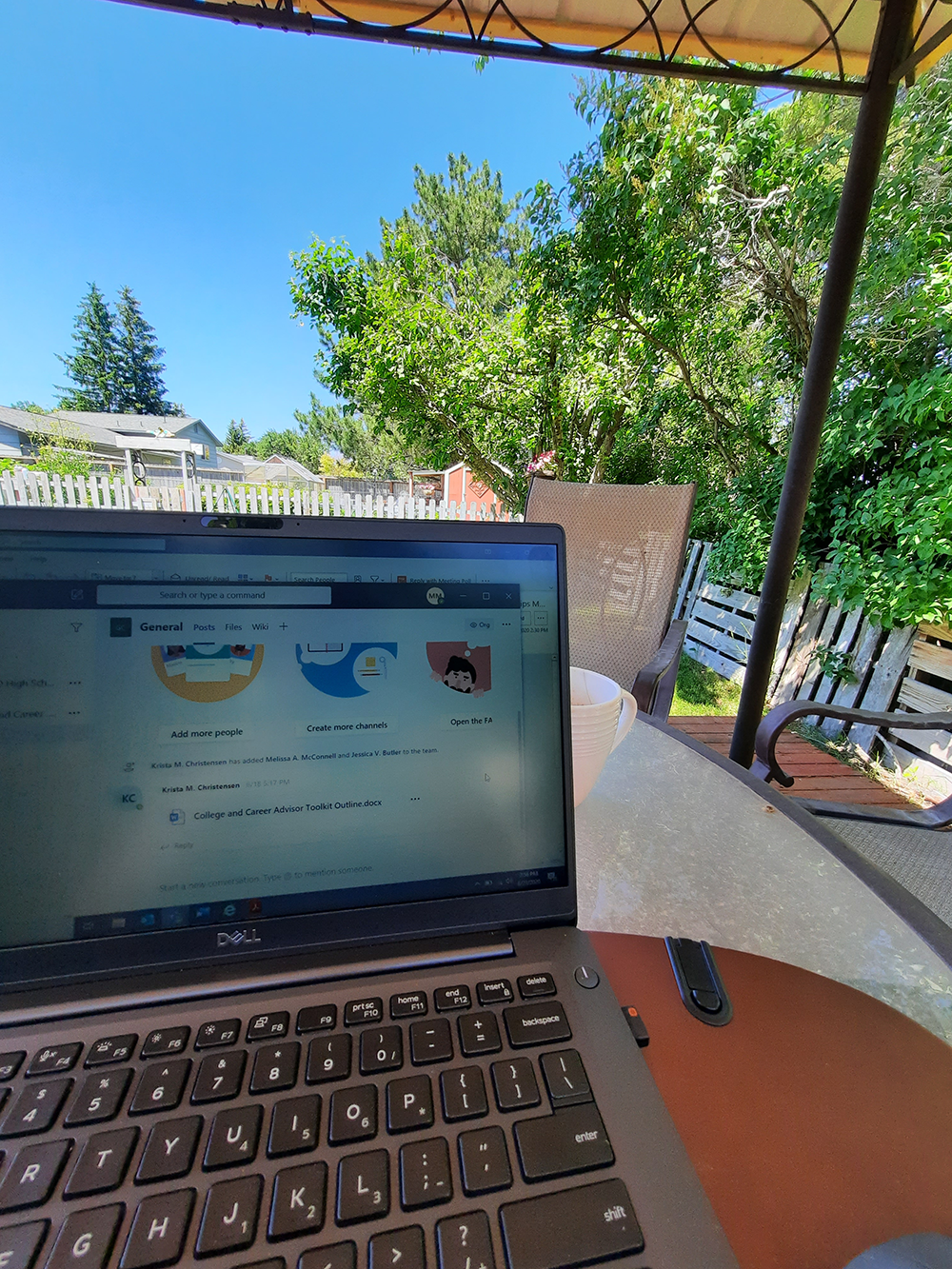 Week 2 on my Summer Externship with Workforce Development at the Idaho National Lab has me realizing that information on STEM Education is not lacking, it is downright overwhelming. The endless amounts of online resources that are available to parents, students and educators can bury a person in days of searching, sorting and exploring. I know as I seem to have fallen down a rabbit hole filled with STEM information, activities, events and lesson plans galore.
Thanks to COVID- 19 and the challenges of social distancing, my summer externship is lacking one of the things I was most looking forward to with this experience; getting out of the house, out of the school and back into the working world outside of public education. Instead of getting out of the house to network, learn new things and make real world connections to help my students, I am doing it at home. Distance learning and social distancing are still real possibilities for next fall. I find that my experience might be even more valuable than I had thought. I am learning to utilize new technology that facilitates collaborating as a team when not in the same location. Not only will this be valuable for next fall if we continue to work remotely at times, I feel like I will continue to utilize similar technology in order to collaborate with College and Career Advisers from different schools and districts on larger projects.
I think the best part of the experience so far is the work I have been assigned to do - Make a Toolkit for College and Career Advisers! The opportunity to utilize the resources available with Workforce Development at the INL, to create a toolkit that will help me and other College and Career Advisers to direct our students towards meaningful careers after high school, has me truly excited. I never imagined that my assignment would be tied so closely to my job. I mean do you create an interactive Career Survey that helps students identify high demand careers available locally? Or a master list of the resources available to expose students and teachers to STEM in our community? Or create a Quick List of things to know and do for New College and Career Advisers? Maybe you get a great team and you do all three. I am excited to see how this Externship ends up. Yeah, I didn't get to leave my house and interact with adults, face to face in the business world, but the view from my desk has its perks too.
-Melissa McConnell
HDR Engineering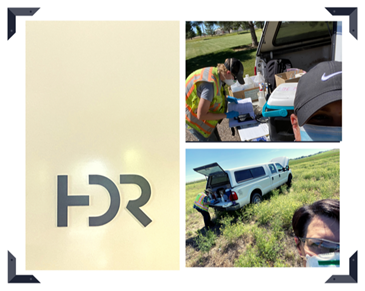 HDR Engineering
I am fortunate to have the opportunity to work at HDR, a design firm specializing in engineering, architecture, environmental, and construction services. This gem of a company has over 200 offices around the world and employs more than 10,000 people. The River Quarry Office, where I work, has approximately 90 employees and is located off Park Center Boulevard along the beautiful Boise River.
I'm in my second week and HDR and I am (happily) overwhelmed by what I have learned in such a short period of time. This setting is nowhere near my intellectual skillset so I was a bit nervous before my first day. (My biggest fear was that I would be asked to solve a math problem!) My nervousness went away when I was immediately greeted with genuine kindness and enthusiasm.
My first week was spent learning about this incredible company through various one-on-one and virtual meetings. The virtual meetings showed me how well employees network across offices, drawing on strengths and expertise of others. I am now interviewing employees (engineers, architects, accountants, geologists, hydrologists, graphic artists, designers/visual artists, etc.) to learn how they came into their careers, interests in high school, what they like about their jobs, and hopes/plans for the future.
The information I am learning is a win for both me and the students I advise. I am already giddy thinking about how this will help my students when they come to me for career and college advisement. My project is to put together a plan for HDR staff to engage with high school students interested in STEM careers, as well as a college recruiting plan.
This photo collage reflects my experiences "in the field" with Alyssa, one of HDR's geologists. I observed and then helped Alyssa collect water samples. Thankfully, she didn't ask me to help with the calculations!
-Rae Peppley, College and Career Counselor
ACHD Commuteride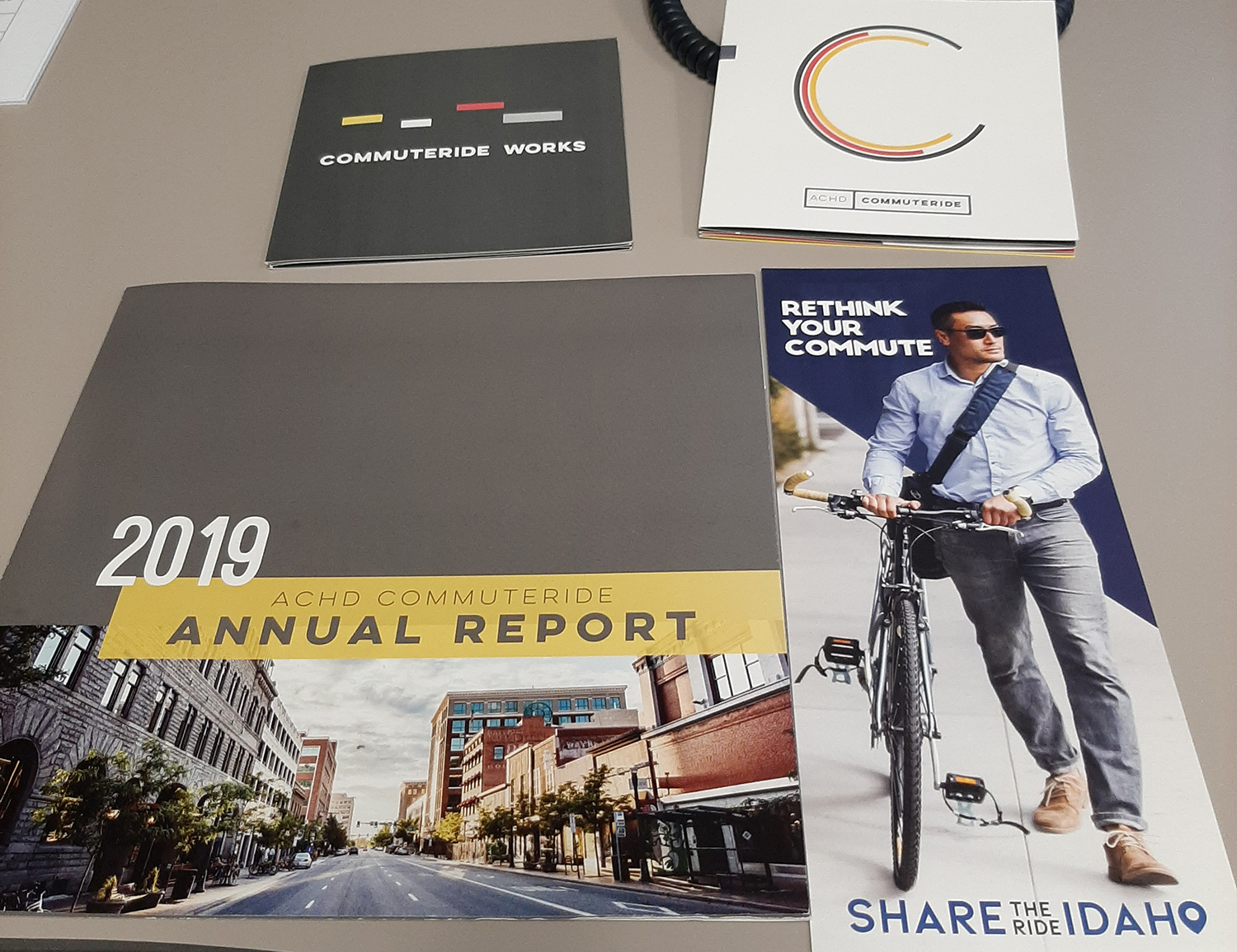 Around the Treasure Valley in 80 minutes
Transportation Demand Management... prior to starting at ACHD's Commuteride program, it was a term that wouldn't have struck a chord with me. It was a term I'd heard thrown around in city council posts and news articles, but not one I could honestly say I knew much about. That all changed when I started working with Ada County Highway Disrtrict's Commuteride team.
Transportation Demand Management means reducing single occupancy commuter vehicles to work with existing infrastructure to reduce emissions, traffic, and ultimately, make life better for citizens of a city. Here at Commuteride, that means organizing ClubRed Vanpools, which transport 5 to 11 people to and from work, managing Park and Ride lots for public transit and carpool users, marketing the website ShareTheRideIdaho.com, and promoting alternative transportation methods like biking and walking. In addition to these important facets, COVID-19 has added another challenge to transportation and Commuteride's goals, making many of these tasks that much harder.
In my first three days, I have sat in on meetings regarding marketing, counted parking spots, learned about CityGo services, looked at various methods of commuting and their impact, and learned about the various effects of single-occupancy vehicles - not just on the environment or community, but on the individual driving the car as well. I cannot wait to develop a stronger working knowledge of these topics, and begin implementing these into schools, both through lesson plans and through aiding with the development of school carpool programs!
-Nicole Walker
Idaho Drone League (UofI)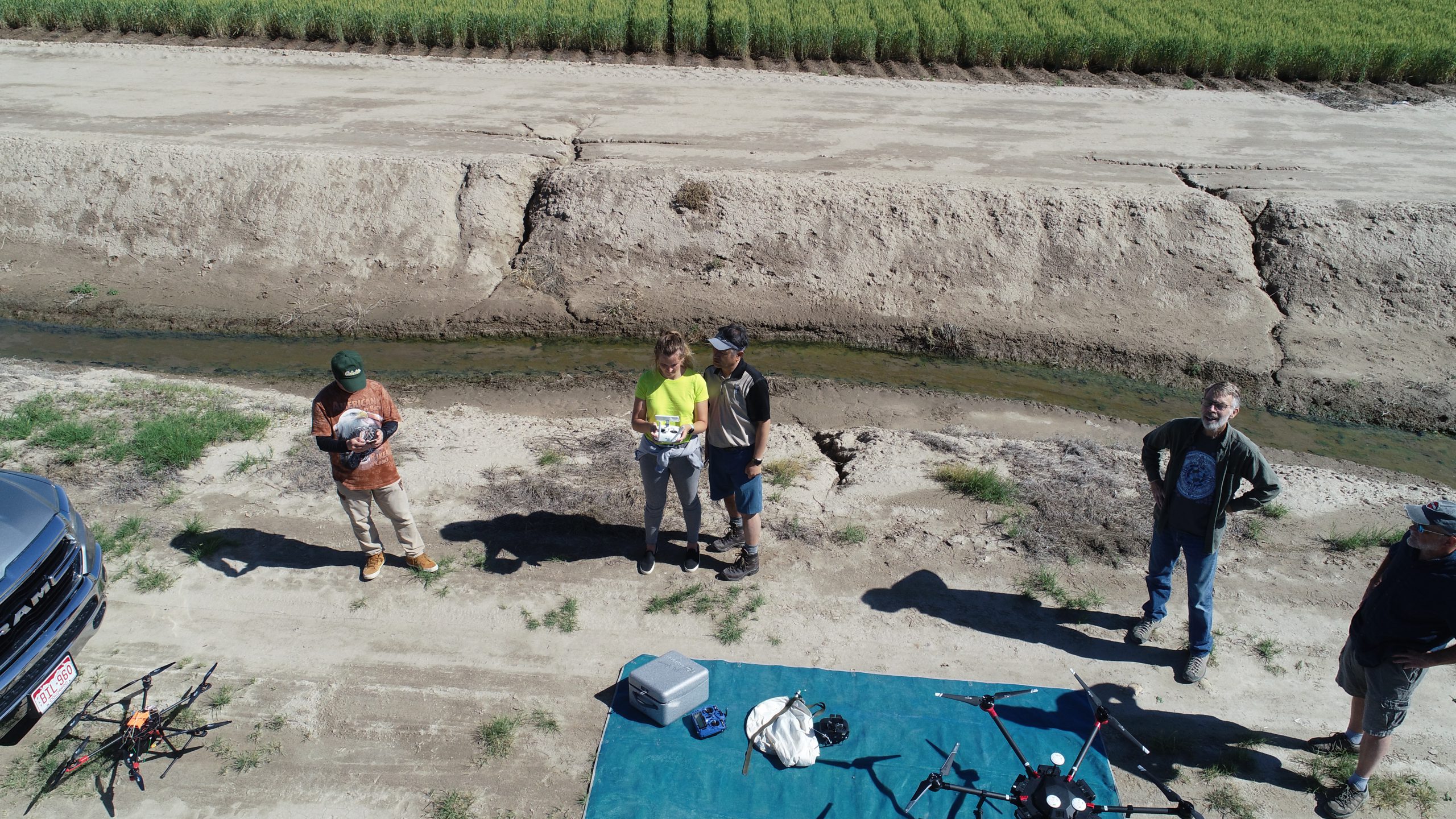 My work with iDrone started at home but has taken me outside the office several times since then! I have toured the Idaho Water Center and learned about each of the drones and their research purposes. I have my own office where, at one point in time, I had 4 separate monitors running. I have been out in the field to collect insect samples using a drone for an ongoing research project-- debugging the fields and debugging my code in the process-- and I am currently creating a flight path and headed to the Boise river this week to test it out and record an aerial view. I also learned to fly a drone manually and take pictures, as well as tons of new terminology.
Over the past month, I have been hard at work creating virtual camp content for a drone-based summer camp-- from Code-Along screencasts to Drone Build-with-Me Instructional videos to an Interactive Drone History Timeline. Jae and I are thinking of new ways to make engaging drone content every day. I've learned so much about drone technology, applications, and research already, and I'm excited to see what the rest of the summer holds!
-Maddie Dew
Children's Museum of Idaho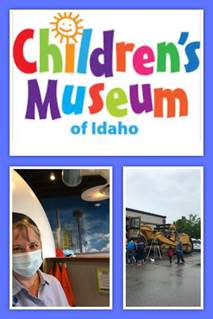 Welcome to the Children's Museum of Idaho!
It has been a great start to my Externship experience this summer and while Covid-19 precautions are in place it hasn't stopped patrons or me from exploring all that they have to offer. "Our mission is to bring children, families and the community together to engage in learning through creative play continues to drive our desire to provide the very best in hands-on interactive experiences for children ages two to eight." (CMI) It truly has an audience of all age ranges and it's been fun getting to know some of the members and see the newcomers. I have been able to support them by writing lesson plans for their daily story time and craft, weekly STEM explorations and current events. By conducting some of those story times and STEM sessions and helping out around the museum with crowd control and tidying up. In addition, I was able to participate in their "Touch a Truck" event which brought vehicles like tow trucks, construction trucks, a city bus, street sweeper, sewage pumper and delivery trucks for the kids to climb into, honk the horns and have a great time.
The museum is in the midst of its online auction and hoping to raise money to "allow the museum to update, enhance and add exhibits so visitors have a new experience each time they visit. Our goal is to keep admission prices affordable as we continue to be a treasured resource for families and schools from throughout the region." (CMI) I have been able to see first-hand the power of creative play in exploring the variety of exhibits such as the rocket ship, airplane, pirate ship, vet's office, bank, grocery store and pizza company as well as the outdoor dinosaur exhibit and barn areas. So lucky to be able to learn and grow in this fun and enriching environment.
-Lynnea Shafter
HOME CU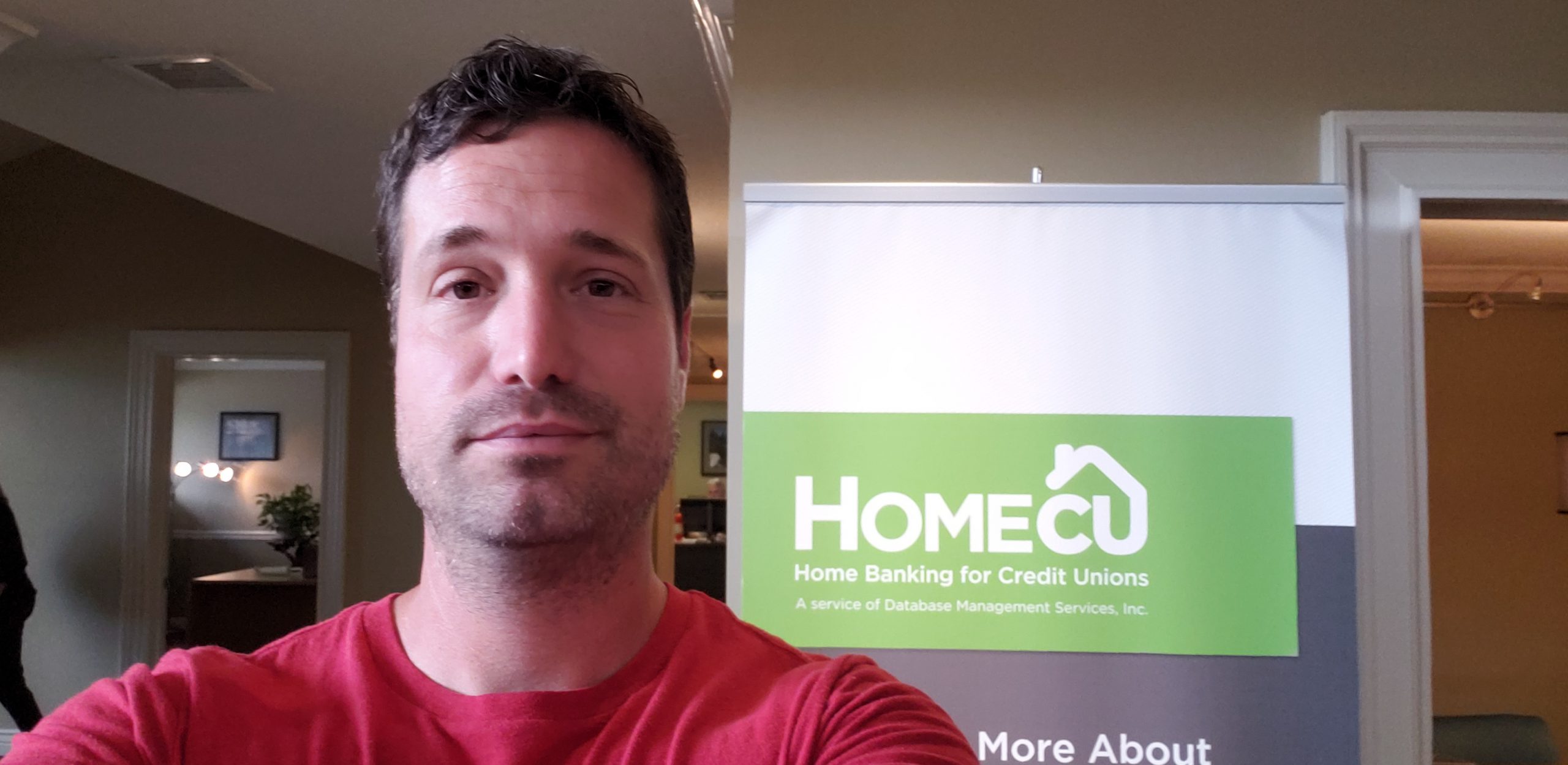 What an exciting opportunity this has been. I've been working for HomeCU. They build software that credit unions around the world use. Because of the nature of their business I had to submit to a background check. Check came back clean! My boss called me and asked how I felt about working remotely, because most of the company had already transitioned. Luckily the last three months have prepared me well for remote work. I did get a chance to sneak into the office for a day and take a picture. They seem like a very friendly company to work for. There were free snacks and coffee, although with COVID going on they hadn't restocked in a few months.
My job as an extern is to work with the VP of operations, and a 20 year veteran of customer support to create video tutorials for commonly asked questions. They currently have no tutorials. All support has to be routed to an individual who will take a call, or live login. They were excited to be able to create a knowledge repository to help relieve the workload on their customer support team. We have produced 4 videos so far, but there are many more to create. We are also working on implementing a live help overlay for their website that will help onboard new customers. They may incorporate some of the videos into that system. It's been a pleasure thus far!
-Ben Taylor
The externship program has proven to be an excellent fit with our company. Ben is a remarkable person who was able to hit the ground running and contribute his experience in a professional yet down-to-earth way that works very well with my team! I believe the externship role has provided Ben the opportunity to gain valuable working experience, while at the same time grow in technical areas, all of which he can bring back to the classroom to help students gain visibility into what working at a small technical company can be like. We have already discussed internship opportunities for future students to continue the work Ben has been doing. I couldn't be happier with this program!
-Jayme Berry, VP of Operations, HomeCU LLC
SWIMA
Workforce Development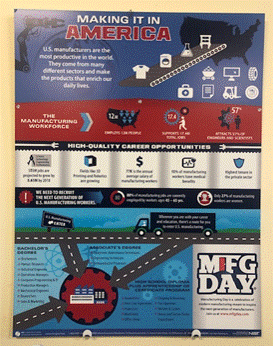 A few weeks ago, I started my externship with Southwest Idaho Manufacturers Alliance aka SWIMA. We dove right into researching successful workforce development programs and why they are so important in the manufacturing industry! Did you know that by 2025 there will be 2.7 million baby boomers retiring from the manufacturing industry? Leaving a large number of open positions (2 million, to be exact) with a skill gap for the upcoming workforce. Each year companies are reporting that students are not graduating high school and college with adequate critical thinking, problem- solving, and communications skills when entering the workforce. This results in what most companies are now referring to as a "skills gap".
This skills gap means that workforce development is an essential requirement for all businesses. Workforce development will teach adequate skills to people who fall into the skill gap category, which will result in having a qualified workforce and an investment in their future. For workforce development to be successful it is crucial for companies and schools to partner together! This will allow businesses and schools to work together to develop and cultivate essential critical thinking and problem-solving skills within our classrooms that will benefit our students in adulthood. I am excited to start next school year with this on the forefront of my mind and really think about how I can incorporate higher levels of critical thinking and problem-solving into my own classroom!
-Nicole Snoderly
Boise WaterShed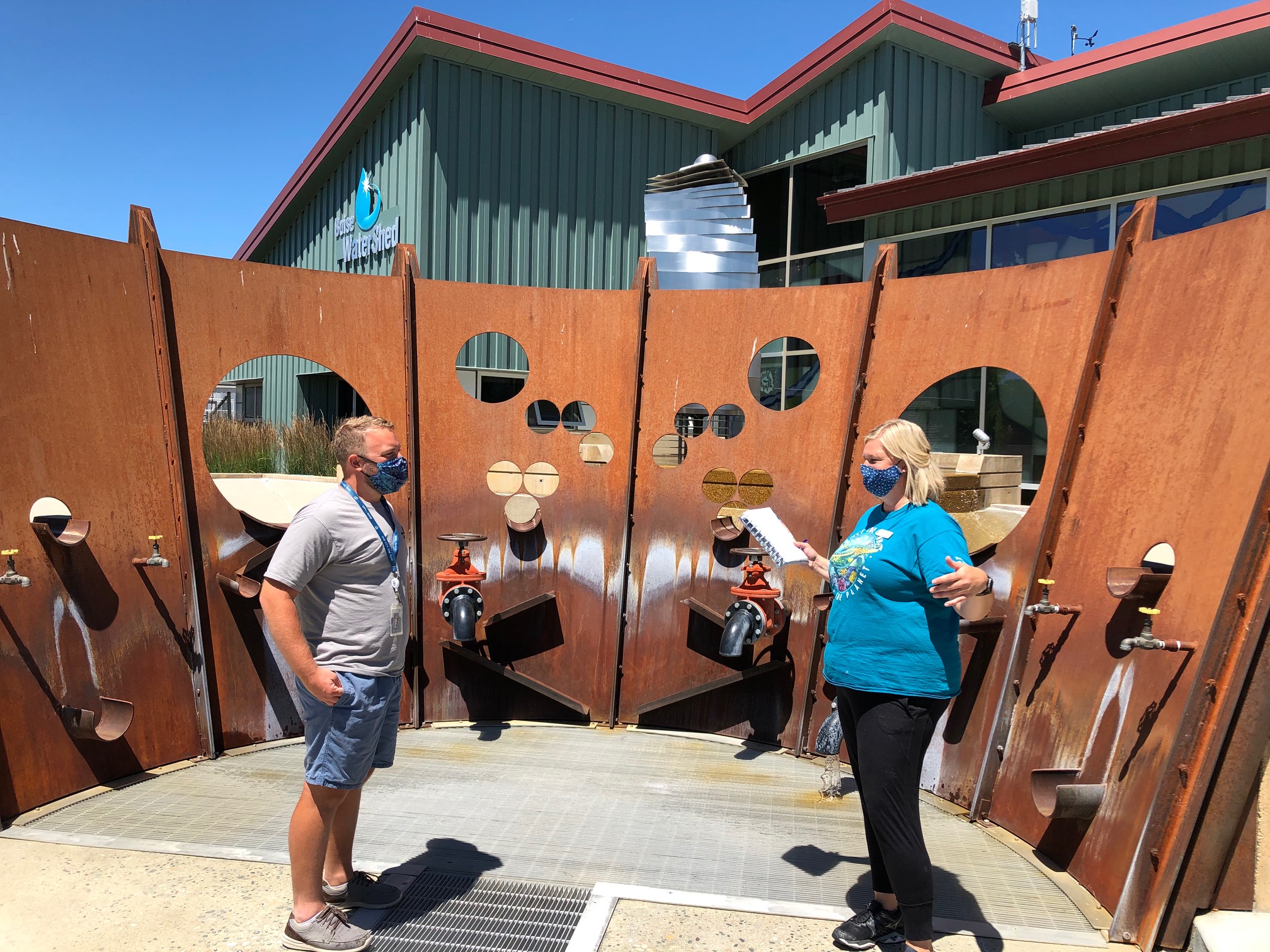 The Boise WaterShed is so fortunate to host Tara Daniel at our site! She was eager to get started even while our facility was shut down due to coronavirus. She contributed ideas toward new lesson plans and programs, especially within her expertise of earth science, which is a perfect tie to our programs. Now that the facility is open, she's been able to produce a video for our weekly educational programming. She also has jumped right in to being an ambassador to visitors!
One of Tara's goals is to interview a variety of professionals in STEM careers at the City of Boise and in her school's hometown. She has already interviewed five individuals and will continue to conduct more throughout her externship. She is working on putting together a career booklet for our education staff to hand out at school fairs and put on our web site. We're gaining insight into what teachers and students look for in terms of career education. Tara is a rock star!
-Cindy Busche, Boise WaterShed
Franklin Building Supply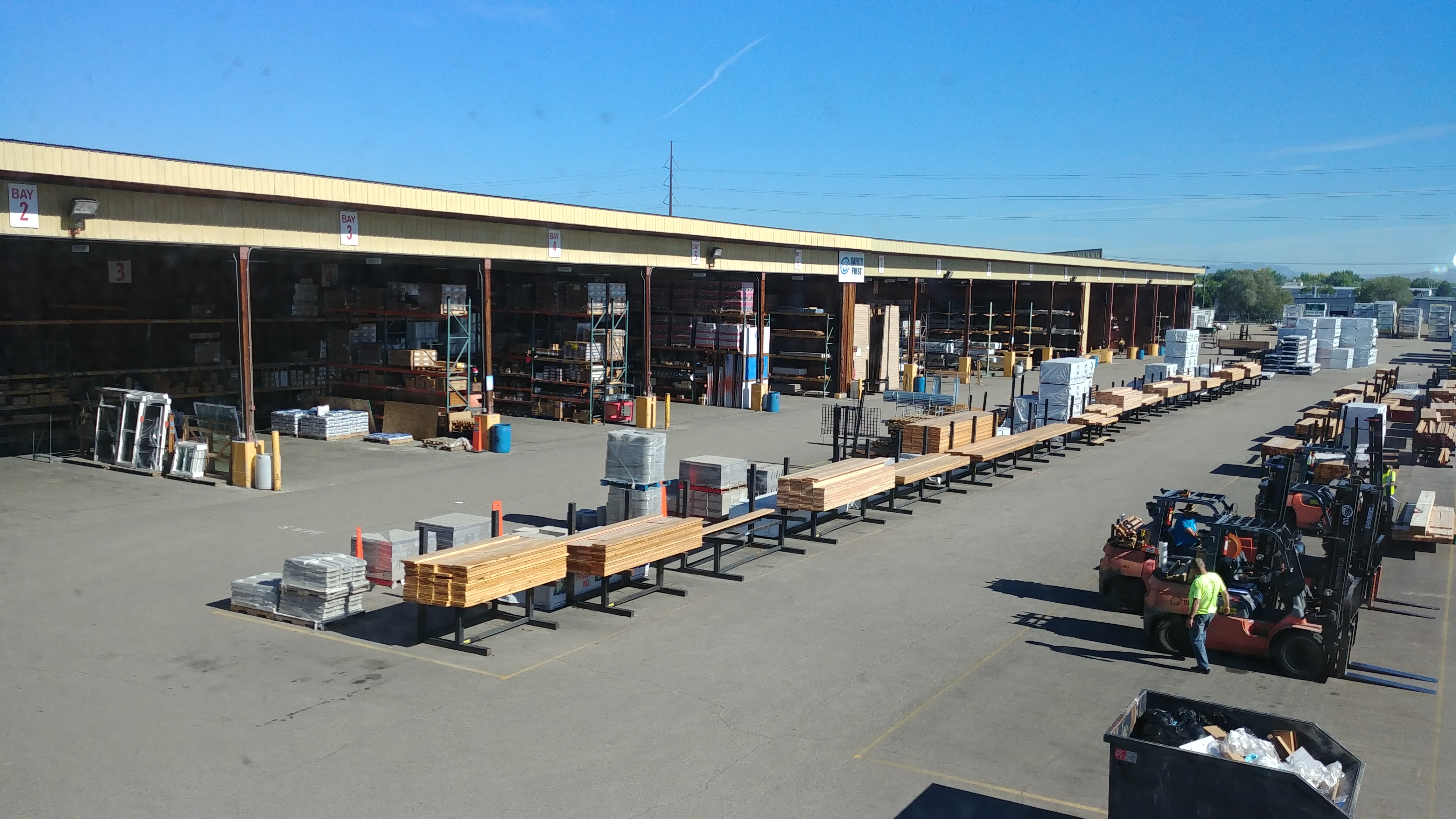 Working with Franklin Building Supply
Franklin Building Supply, as many Idahoans will know, is a major home building supplier in our state. Their offices span Idaho and are open to contractors and the public. If you are building, repairing, or renovating a house, your local Franklin Building Supply is a place to visit.
I started my summer project visiting their Boise headquarters. There I learned I would be given the task of reviewing their learning management system. That's a good thing as I'm not very good with a hammer. The tour on my first day took me to two of their offices and a large yard where they store, load, and unload building materials. There's a lot of activity taking place in their yard since the state is still building homes at a fast pace, even during our current lockdown.
Places like lumberyards require a large number of well-trained employees to manage. Industrial facilities like lumberyards can be dangerous places to work. A lot of heavy vehicles and heavy building supplies move around constantly. In addition, powerful hand-operated tools are frequently in use. Therefore, it's not surprising to hear that new employees must learn about person protective equipment, tool use, vehicle operation, and the rules of the road if they are to have a long and productive career.
After my introduction, I have spent my days understanding their learning management system. Now I am creating curriculum and teaching plans that will integrate into Franklin Building Supply's current system. I find it an interesting change of pace, from trying to prepare lessons for high school students to preparing them for adults. The audience is different and so are some of the approaches.
This is definitely going to be a different and interesting summer me for, thanks to the STEM Action Center and Franklin Building Supply.
-Lloyd Verhage
Idaho Forest Group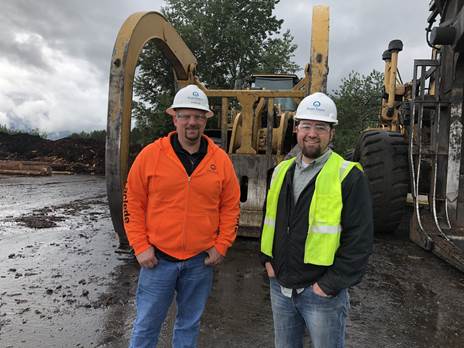 Many people step into various careers where they strive to create a lasting, positive impact in the lives of others. We teachers know this first hand, and are pretty close to the top of the list. What doesn't immediately come to mind is how the Forestry and Lumber Industry has contributed to the lasting, positive impact of future generations as well. I can say, without a doubt, that my short time externing with Idaho Forest Group has been very educational and rewarding, and I see how this industry is creating a positive impact meant to last for generations now and to come.
I've been tasked with the responsibility of creating age appropriate educational materials for each of IFG's 7 sawmills. These materials include topics such as the "Past, Present, & Future" of the Lumber Industry, The Milling Process that shows how 100% of a log is used, Forest Management as a Renewable Resource, Impacts of Disease and Insects on Forests, etc. I am also looking at creating other materials such as wooden puzzles that students can use to calculate the best use and value of a given tree. A side project also has me working alongside Idaho Forest Products Commission (IFPC) and Project Learning Tree (PLT) to update their "Cookies in the Classroom" curriculum in Idaho.
In order to be successful in creating these materials I needed first hand experience with all of the above listed. Over the past 2 weeks, I've been in the mountains with foresters who have shown how they strategically cut and replant with the forest health and recreation in mind. I've been on tours through sawmills, watching a log being turned into lumber, wood chips for pet bedding, sawdust for wood pellets, and bark for steam fuel and/or landscaping. I've been on the site of an old gold mine where IFG is working alongside other agencies to restore a 13 mile stretch of prime trout stream habitat. I've seen a plethora of jobs created by the lumber industry. It is through all of this boots-on-the-ground, first hand experience that I have seen how IFG is putting the future first and making that positive impact. We will enjoy the forests for many more years due to healthy forestry practices, and I have a new respect for the lumber I am using while rebuilding my deck... Oh yeah, I should probably get on that.
-Craig Peterson
The Sandbox Group
I have been working with an extern for the past 3 weeks and highly recommend this program. She's enthusiastic, positive, motivated and brings strong writing and editing skills to the table due to her role as an English Teacher. Having her help with a study concerning work-based learning has been a real capacity builder. I will be actively seeking an extern next year.
-Maureen O'Toole, Principle, The Sandbox Group
Idaho Vocational Rehab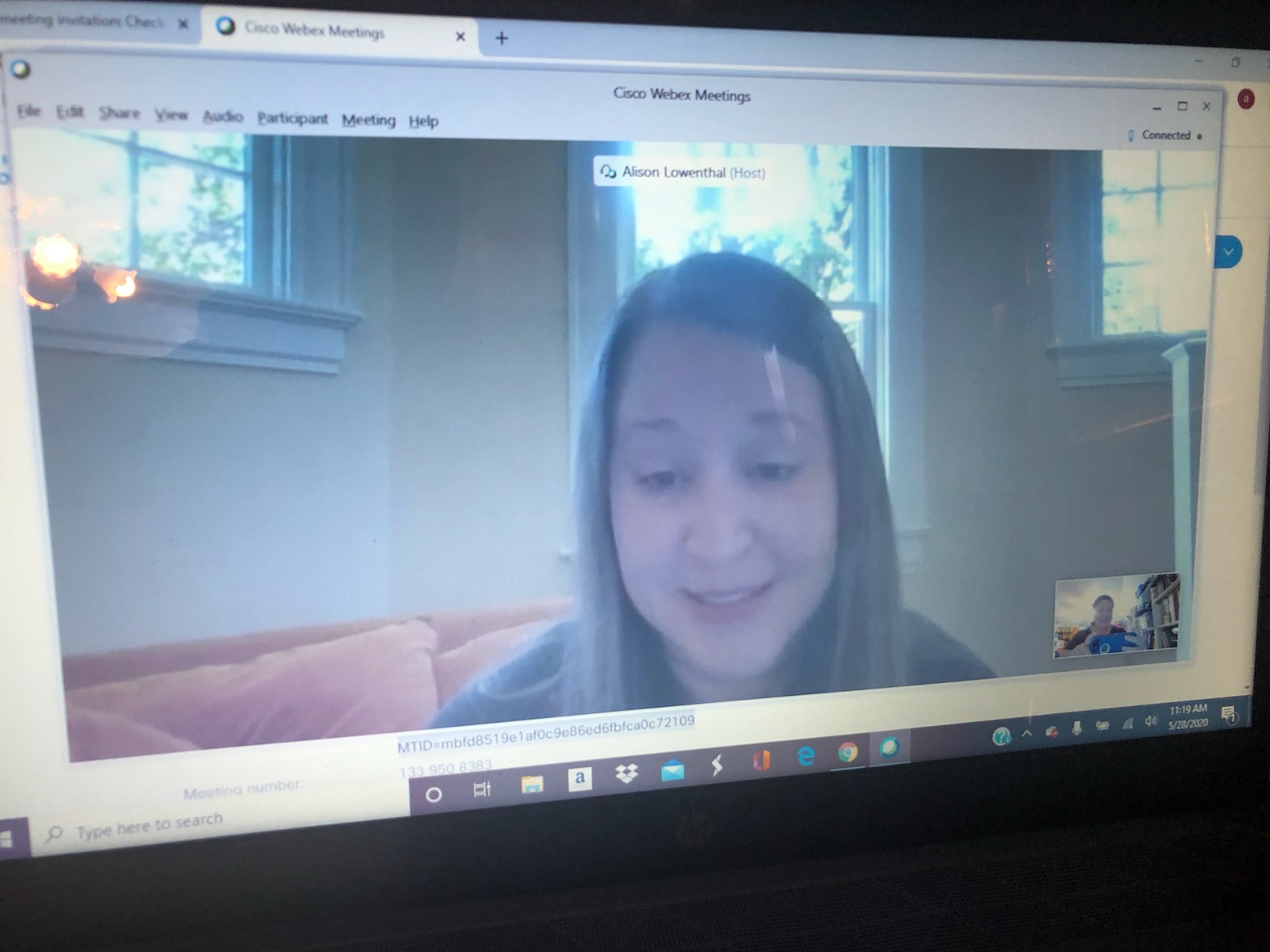 Distance Working and Learning
Whew! Covid-19 has changed what my Voc Rehab externship looks like. I must say, I am impressed with how the staff at Voc Rehab are adjusting their daily interactions in order to best meet the needs of those they serve. Despite the challenges, they are rising up and doing their best. I have been privileged to be given a window into their processes. These last few weeks I have taken part in team meetings and observed WRTs (work readiness trainings) they have developed to reach individuals throughout our state. My workstation is in front of my computer at home, but my reach is miles away. I have seen individuals from throughout the state work together to build confidence and ability, supporting each other and their goals.
The picture is a meeting of my boss and I. One benefit of online meetings - I'm the small picture!
- Amber McVey

Another week of online interactions!
Voc Rehab makes it look easy, but I know it's not. From developing, sending out, and implementing a complete curriculum to organizing employees across Idaho, Voc Rehab is demonstrating how committed they are to their clients and their community. This week, I've had the pleasure of interviewing a variety of team members from all over Idaho about their jobs and their interactions with Idaho's labor force. It is amazing how much these individuals put into their jobs. They have to be multitaskers who are multitalented. From organizing transportation to coordinating employment, they do it all and they make it look seamless. Impressive!
-Amber McVey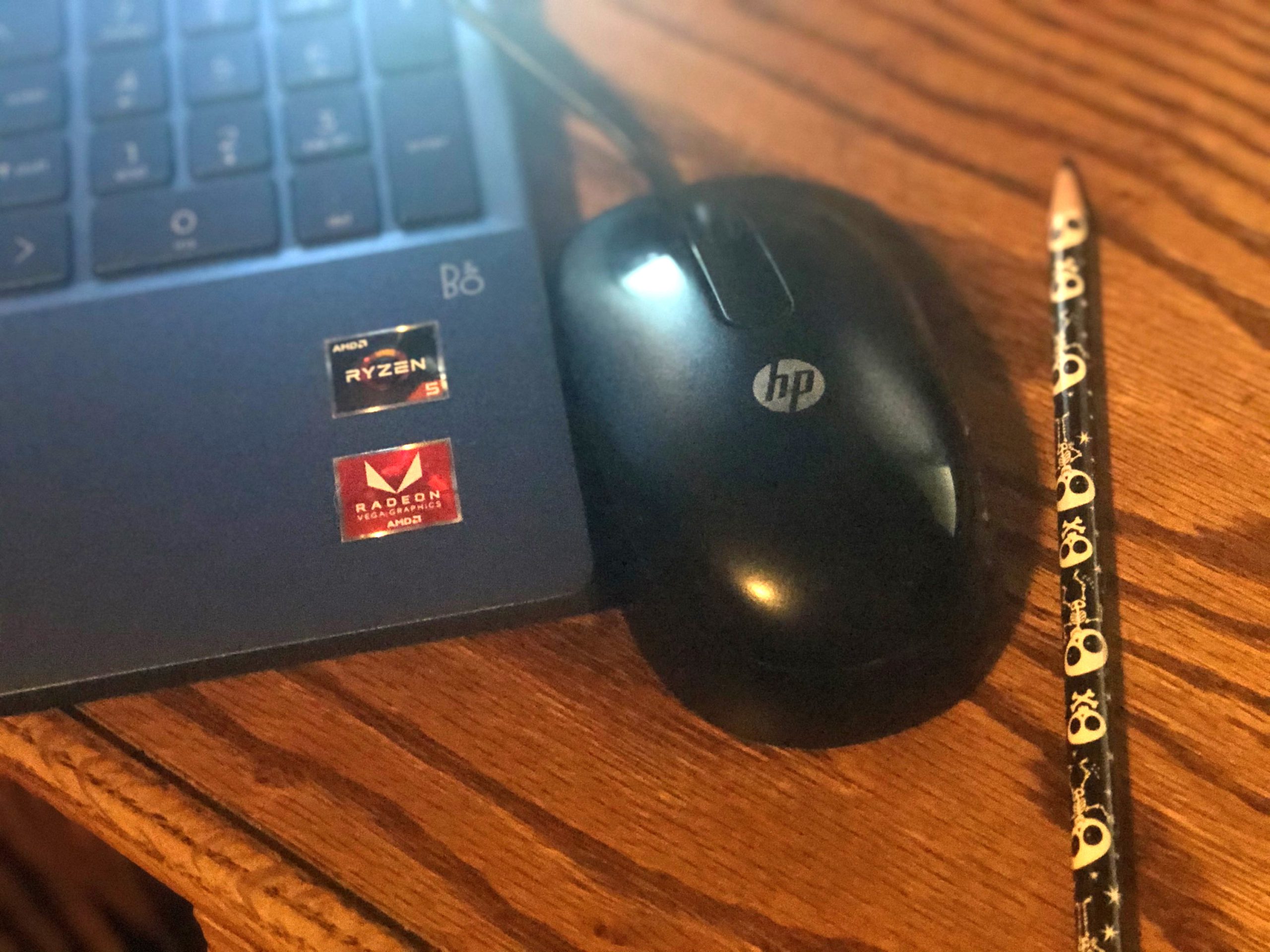 Whew! As I head into the second portion of my externship I have a deeper respect for all VR does. From navigating changing laws, training employees, offering a wide range of supportive services, and working with businesses throughout Idaho, VR works diligently to fulfill its many responsibilities. They have taken the same scope and vision in working with me. I find their focus is showing me all they do, and they've fully embraced it. As I work virtually from home, I find I've been invited into offices throughout offices so that they can share their vision with me and offer support to the educational community. At their heart, they are all about education so that individuals can be independent and they are willing to do whatever they can to achieve that goal.
-Amber McVey
Idaho Technology Council
From my initial interview and as of today, the five member team of the Idaho Technology Council has made me feel like one of them. Even though our meetings on a daily basis are via Zoom like many other externs, I feel like we are in one room discussing how our day has gone and what is to be achieved.
To be honest, I had no idea what the ITC was all about when I was contacted. I wasn't aware of the value and importance the council has been for Idaho's tech industry, economic development, and education for many years. The council partners with growing to mid-size companies and large corporations committed to the success of Idaho's technology system. Members include CEO's, CIO's, presidents, VP's, etc. from just about every business you could imagine all throughout the state.
After assessing areas of need and where I could best support the team, they asked me to assist with Idaho Codes which is focused on computer literacy for secondary students. Within Idaho Codes I have been able to sit in on meetings with members throughout the state who are in the process of resetting their mission and purpose when it comes to increasing career opportunities for students, particularly by promoting or supporting the skills to meet workforce needs. With that in mind, Idaho will see a computer literacy course either required or provided as an elective in all high schools in the next couple of years
Another key area I've been asked to participate in is with the Idaho Knowledge Report (IKR). It is in its third year and provides metrics within the six regions of Idaho to better allow the regions to measure success and identify prescriptive actions to assist transforming Idaho's economy into a stronger, more vibrant and sustainable one. I have been working closely with ITC member Fehoko Lui. If that name sounds familiar, he was a four year starter on the defensive line for BSU and graduated last year. Fehoko and I contact identified members in the six regions in the areas of industry, economic development, and education. We send out invitations with information about the IKR, set up Zoom meetings, then discuss the IKR. Fehoko is the lead but today he couldn't attend and I was on my own! And of course, it was with the ITC Chair. By the way, it went fine but you could guess I was a little nervous being on my own. When members are then identified, the vision teams will meet collectively in each region and provide the necessary information for the report.
I couldn't be happier in my externship with the Idaho Technology Council. Thank you Jay, Fehoko, Christina, and David. In such a short time I have learned so much and really feel that we are helping each other in many ways. I have met a tremendous number of individuals throughout the state so far and I'm sure many more to come. I am looking forward in seeing what lies next around the corner.
-Mike Holloway
Allata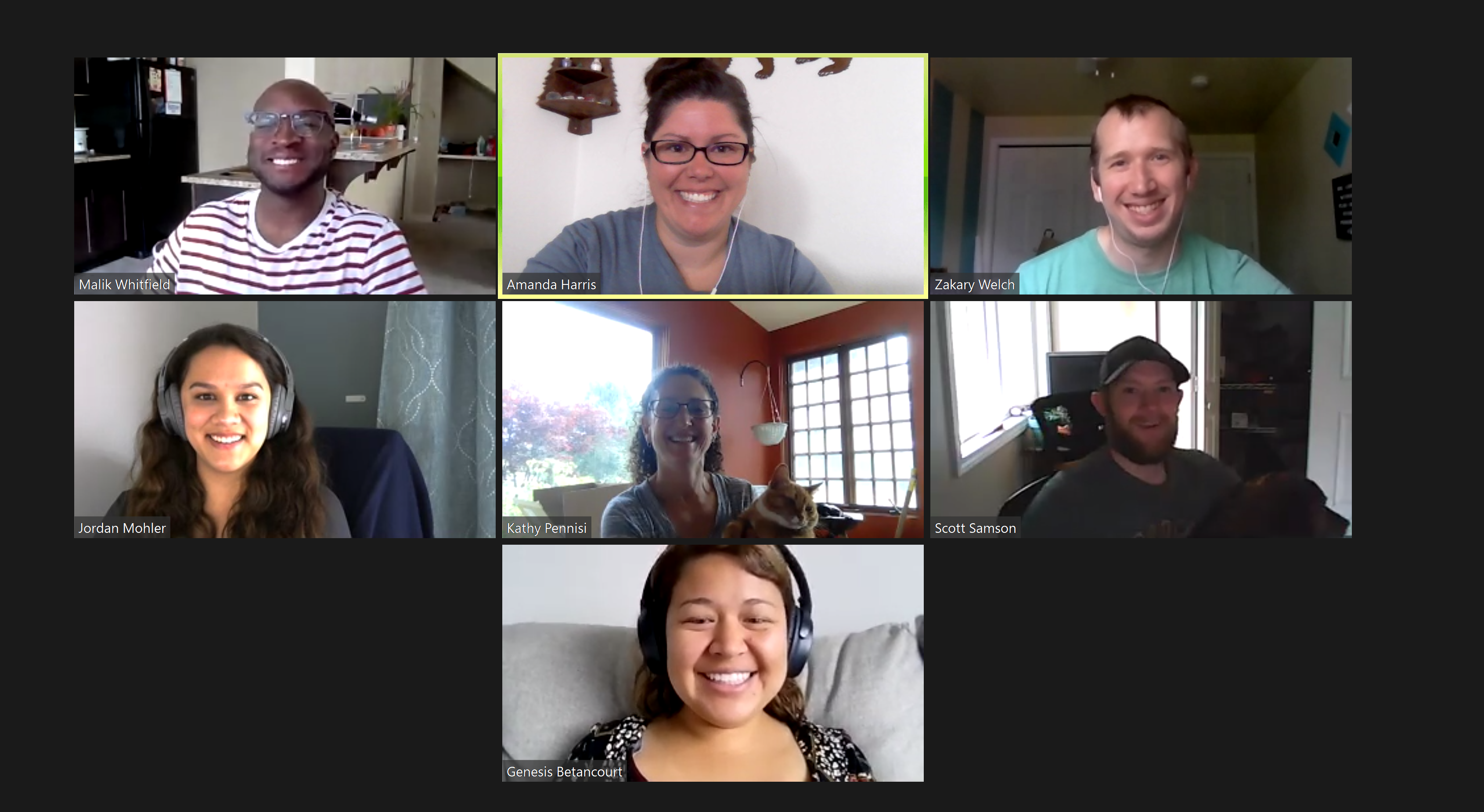 Sprinting Forward with Allata
What an incredible experience so far! I have been onboarded into a 16 person team with members across four states. It is incredible to be part of a team so large and spread out across the US. The organization of meetings and technology tools allows the team to be flexible and communicate efficiently for maximum productivity. I am lucky to be able to join part of the team at the Eagle office 2-3 days a week as they take extra initiative in providing safety in the current pandemic. Allata has set high standards for their team members and I am thankful to be able to gain insight into their effective teamwork for projects and professional growth. I have quickly adjusted to this fast pace agile team as they joke that it's like "drinking out of the fire hose". I have been able to see a full sprint and am now adding velocity to the next sprint.
-Amanda Harris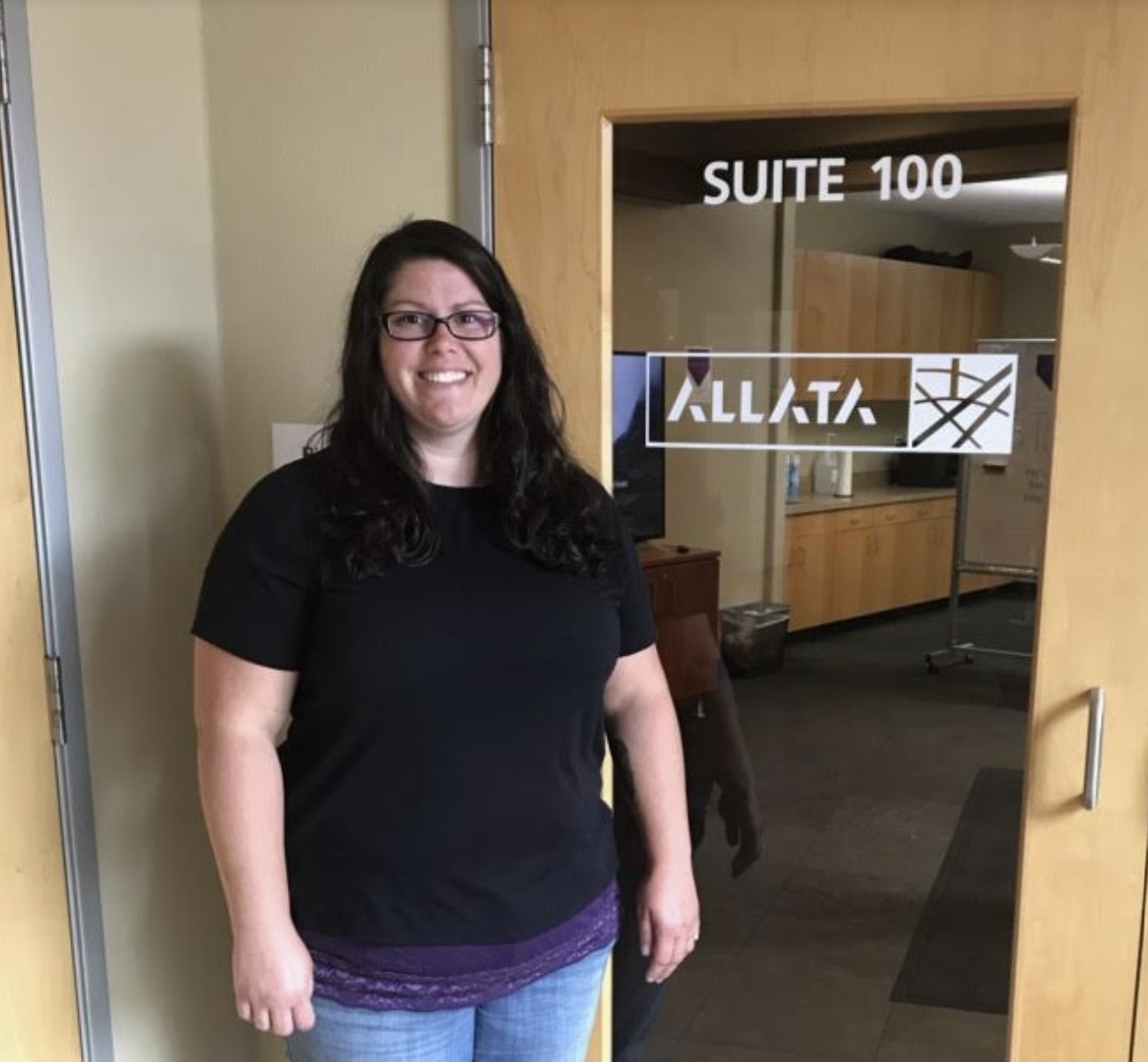 Agile with Allata
Allata is a consulting company who works side by side with the client to deliver a better product and solve the difficult technology issues their clients face. Allatians need to be strong individuals who work well independently and even better together. With skilled developers, they love solving problems for an ever-changing technology landscape. Every client they engage offers a unique problem and holds its own set of challenges and this fluid environment pushes them to adapt and rise to the challenge. To keep up with the fluctuating line of work, Allata uses the Agile methodology. The agile methodology is a type of project management process used for software development, where demands and solutions evolve through the collaborative effort of self-organizing and cross-functional teams and their customers. I created a Schedule to shed light on all of the meetings that help provide velocity to meet the demands and needs of each Sprint for the specific client/project team I am working on with Allata. Each meeting is important and provides a foot forward for the entire team and stakeholders in development processes, planning, designing, developing, testing, and release. While Agile, Sprints, and this entire process is all new to me, it relates back to my classroom in many ways! It is important that we are constantly communicating with all parties (students, parents, teachers, community, etc.) and assessing our goals to be able to provide the best education for all of the different students and their needs in the classroom.
-Amanda Harris
House of Design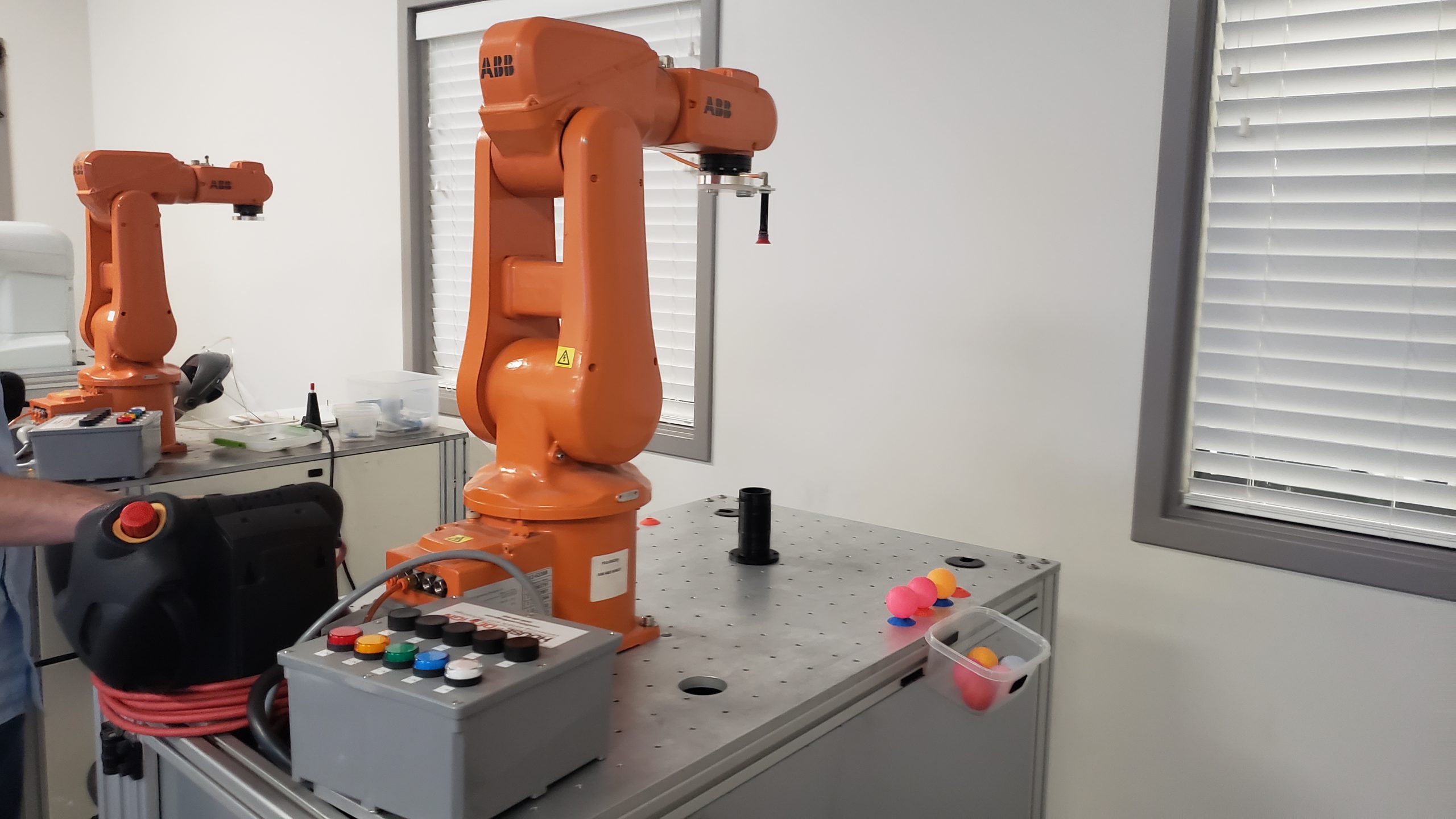 Building the future with House of Design
What an amazing experience it has been working with House of Design. I had no idea there were companies like House of Design. They use life size robots to create anything their clients can imagine. I was lucky enough to start in the company June 1st and not have to "work from home" like so many people in the world. I got to dive right in and get one on one training from the House of Design instructor for the first two weeks. Then, weeks three and four I am now taking classes alongside him from the company they purchase their robots from - ABB Robotics. I have been able to sit in on company meetings to get a full picture of House of Design. The training that I have received from both House of Design and ABB Robotics will be able to transfer into my STEM classes to both junior high and high school. In my final weeks, I will be helping House of Design create and improve their client classes and hopefully create something that can benefit the community and the company. I look forward to my last two weeks and hopefully helping them make a difference in their company as they have made a difference in my classroom. Thank you STEM Action Center and House of Design for a summer to remember.
-Kelsey Wright
Idaho STEM Action Center Externship Partners
2019 Externship Archives
Summer 2019 Entries
Happy Hat Travels to the STEM Action Center!
When your school orders a lot of iPad cases the company sends you a gift of Happy Hats. At least that's what our school calls them and each summer the staff take their hats on their adventures and then submit pictures to our principal for a fun slideshow to start the year. I'm am thrilled to say that my hat and I have traveled to the STEM Action Center and am truly loving the chance to see how they support all of us in our STEM efforts. From helping to input companies for potential outreach to researching for grants and sitting in on fiscal planning it has all been an eye opener and made me even more grateful for the support and opportunities Idahoans around the state receive from their work.
- Lynnea Shafter
---
Wait... Is This the First Day of School?
The first day of school -- personalized name badges, ice-breakers, personality tests, and maybe even some nervous sweating. I occasionally have students complain on that first day, "But we won't do any of this outside of school, Mrs. McGrady," but in fact, my orientation with Saint Alphonsus encompassed all those 'first day' activities and more. My new colleagues decorated my desk with streamers and a personalized welcome. The first hour of orientation was breaking the ice with my table-mates. We completed a "REAL People" personality test followed by a four-corners debrief. Everything I have ever known about the first day of school came true at Saint Alphonsus -- even the nervous sweating.
- Lainey McGrady
---
Who's your Data?
A little over a week ago I started my externship with Western States Equipment Co., aka Wseco, aka the giant CAT dealership off of I84 in Meridian. I am working with the business insight team to build visualizations and apps to help the company drive towards their vision of making all decisions "data driven". Although the team had some initial questions, ("What even is an externship?"), they quickly got on board, as they have seen first hand how hard it is to hire software developers in Idaho. It is very exciting to imagine my students someday filling an opening like the one that this team currently has.
As with any new job I have ever had, it has been both challenging and exciting to learn new software, skills, team processes, and of course, all of the new acronyms. So far, I have put together reports using power bi and am working through creating an app using powerapps. I look forward to the projects I will work on in the next few weeks, and thinking through how I can bring the lessons learned back to the classroom!
- Maggie Chapman
---
Chemistry Lesson at Micron...
The first week of my summer externship at Micron included participation in the summer "Chip Camp".  Each summer, groups of middle school students spend three days exploring various aspects of the semiconductor industry.  I was able to accompany a group of 25 students as they built rockets, sharpened their coding skills using EV3 robots and Raspberry Pi's, and toured the Micron facility.  Both the students and myself were fascinated by the process used to perform a silver "deposition".  In this activity, we coated the inside of a glass vial with silver.
- Brian Marinelli
---
Reality Meets Virtual Reality

I'm a music teacher at Summit Elementary School in the Jerome District, but music is not the only thing that I teach in my classroom. I teach robotics, coding, 3D printing and other STEM activities. So, when I was awarded an externship from the Idaho STEM Action Center I was excited because I knew this was going to help me learn more about the STEM industry.
With this externship experience I've learned so much that I can take back to my classroom and colleagues. I hope that I can also encourage students through my experience. I hope to also encourage other teachers to implement virtual reality in their classrooms.
Some of the skills I thought I would need are not the ones that this business uses every day. I thought I would need to know how to code, and understand how VR (virtual reality) works. Both were not true. The things I needed to know were how to collaborate, communicate, express ideas, and a willingness to try new things. Yes, knowing how to build in the Blocksmith builder would have been a helpful skill except Blocksmith really wanted someone that had never seen it so they could gauge how each step was being viewed by a beginner. And I fit that part to a tee. Sometimes not knowing anything about what your doing is a good thing. I'm a learner and a teacher and this externship is an amazing adventure in both.
Idaho News Article featuring Penni's Externship
- Penni Aufderheide
---
Scaling Up
A Journey to Create Innovative Outreach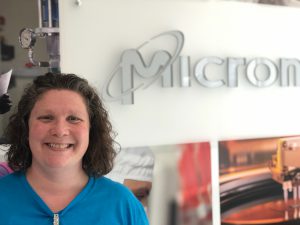 The Micron Foundation, a part of Micron Technologies, has been a supporter of STEM education for decades. From classroom visits to professional development, Micron has worked to bring innovative STEM lessons to students, teachers, schools, and districts throughout the Treasure Valley. As a global player, Micron wants to reach more students, more families, in order to help support STEM initiatives and access. The big question is, "How?" How can the program that has been so well received in Idaho be scaled up to reach beyond our borders? That's where Brian and I come in. Micron has graciously opened their doors to give us a peek behind the curtain. We've been invited to observe Chip Camp, sat in on conferences with other large companies who have outreach programs, and toured the Micron site to see how the inner cogs work all in the hopes we can assist the Foundation in scaling up their STEM outreach program, creating a system that is accessible beyond the Treasure Valley. Cathy and Laurie are leveraging our knowledge about curriculum to build and upgrade lessons and activities that meet the goals and mission of Micron.
I can only speak for myself when I say that this is an amazing, one of a kind experience. I can't wait to see where it takes me!
- Amber McVey
---
Hello from KBOI Channel 2 News!

It is easy to say there is never a dull moment here at the CBS 2 News Station. From the first week, I have seen every person jump up and help each other meet deadlines. The phones seem to ring throughout the day with tips and information from community members. The morning news team is up before the sun rises and yet always have a smile on their faces. The afternoon and evening teams arrive mid-morning and into the afternoon smiling and ready to go. The sounds of reporters recording their stories and the clicking of keys fervently typing add to the steps of reporters leaving for a breaking story. These first three weeks have shown me how a successful newsroom runs 24/7. Every person is on deck and willing to help at any time. Their kindness towards each other, the public and me set an example for the community. In just three weeks, I have learned how to produce a televised news broadcast, learn a new genre of writing, post stories to the web, interview community members, edit videos and learn about the complex field of meteorology. I am excited to work with this team and cannot wait to learn more about broadcasting and journalism from all of them.
- Colleen Lewis
---
Research, Research, Research!
Who would have known that so much research goes into public relations? It seems silly not to have realized this in retrospect, but people working in communications need to have backgrounds and expertise in a lot of different areas. My first few weeks or so at a PR firm in Downtown Boise has been a blur. I've learned about things I never knew existed and things I never would have considered learning, but here we are. I read an entire book over the course of two days, have scanned and read dozens of articles and web pages, and even went to a press event to see how the press impacts the work done here. My observations have also allowed me to see how the people who work here are constantly communicating with clients, sources, and one another; they're continually expanding their knowledge to serve clients better. I've taken away more in the last 10 days than I could have ever learned while researching PR online or out of the office. This experience has confirmed to me that I learn by doing, and it's helping me remember that my students do too!
A little side note, I can't believe how quiet it is here… I'm pretty out of the loop when it comes to working in areas that aren't filled with 30+ 12 year-olds; I can get so much done in one day!
- Hailey Bull
---
Q: When Will I Ever Use This?

A: With Talent Acquisition, Of Course!
As a mathematics teacher I am often posed with the notorious question: "When will I ever use this outside of school?" Typically, my answer includes the terms 'problem-solving' and 'critical thinking skills.' But sometimes, students are still not satisfied. This week at Saint Alphonsus I was excited to help a colleague find a more efficient way to calculate percent change. Often within Talent Acquisition, job candidates ask about pay rates. These candidates want to learn what their pay increase will be working at Saint Alphonsus. Rather than providing a dollar rate (you will earn $1.23 more per hour) giving a percent increase allows the candidate more flexibility to calculate their weekly and monthly gross income.
- Lainey McGrady
---
STEM Outreach
Making connections with students in Idaho

As part of its STEM outreach program, the Micron Foundation hosts students from ISAS (Idaho Space and Aerospace Scholars). They provide them with a tour of the facility, information on college degrees and courses, and introductions to current Micron employees and interns. Students are encouraged to explore and ask questions while learning about all of the interesting processes, materials, and machinery that Micron employs to produce its products. Students also hear about the various paths individuals took to become engineers, chemists, and more. As an extern from the Idaho STEM Action Center, I was invited to participate throughout the day, and it was fascinating. As a community partner, Micron works to build STEM access to students in a variety of ways. They take pride in being a major player in the global memory market and in being a lead company in Idaho's economy. They also take pride in giving back through educational outreach, helping students realize their possibilities. I thoroughly enjoyed taking part in their efforts.
- Amber McVey
---
Adaptation and Evolution in the Workplace
While I teach adaptation in my classroom, I never thought about how it could apply to something besides the change of a species over time. I watch the people around me adapt to the circumstances of their clients in ways I never would have thought possible. When I asked about educational backgrounds, I expected to hear everyone say, "Business!" or "Marketing!" or "Accounting!", but I was wrong. There are many different backgrounds in this building. While there is one employee with an education in communications and public relations, the others focused on poly sci., history, Spanish, education, and graphic design while in school. This has been powerful, and I can't wait to bring these details back to my classroom. I have an opportunity to share this experience with my students and show them that, just because they might go to school for one thing, that doesn't mean that they will be trapped in that career for their entire lives or limited by their experiences. College and career training gives kids the opportunity to go anywhere and do just about anything they want to! Plus, the people in this facility have no problem becoming chameleons in the work that they do. Does a client need help with X, Y, and Z? Then these people are going to learn about X, Y, and Z! Their backgrounds and work ethic have given them the ability to adapt in the workforce; isn't that what I want my students to be able to do as well?
- Hailey Bull
---
iSTEM is a Blast!
This week I had the privilege of being able to help out at CWI iSTEM. It was truly encouraging to see so many teachers from around the state participating for four days in STEM professional development. Rockets, Hover Craft, Fossils, Flames and Butterflies-Oh My! The enthusiasm was contagious and I know many a great PBL and lesson plan are ready to go for Fall.
- Lynnea Shafter
---
Mathematics Class--
Where We Learn More than Mathematics

As students stroll into my mathematics classroom for 47 minutes each day they anticipate learning topics including imaginary numbers, exponential functions, logarithms, etc. Most modern classrooms (hopefully) also integrate 'soft-skills' into each lesson. I imagine that collaboration, communication, and organization are commonly taught soft-skills. Fortunately, my externship has given me the perfect platform to learn which soft-skills are necessary to succeed in the workforce. I was delighted to dive deep into the data and analyze the results I collected from my Saint Alphonsus colleagues. While I already integrate skills like attention-to-detail, organization, and flexibility, other skills surfaced that had never occurred to me. Because of this externship exercise, I plan to include empathy, customer-service, willingness, and stress-management into my lesson planning to better equip my students for future success.
- Lainey McGrady
---
Write, Revise, Repeat!

As a Biology teacher, I love lab days! I don't love reading lab reports quite as much, but I do enjoy seeing my students grow in their technical lab report skills over the year! I mark up their first lab reports with many comments; students can be a little shocked when they see their feedback, but most of them use the feedback to significantly improve their writing. I haven't been on the receiving end of this type of feedback for quite a while...until this summer! My project is writing scripts for tutorial videos of tools that Idaho Power checks out to clients. I chose to start with light meters, researched them extensively, and turned in my first draft. It came back covered in red comments such as "insert difference between lux and foot-candle" and "talk about daylight zones." Hours of research and three drafts later, we almost have the first set of videos ready to film! Not only have I learned way more than I expected about measuring brightness, but I also have a new empathy for my students as they read my feedback and rewrite lab reports. I'm keeping all of my marked-up video script drafts to show my students before they look at the grade and comments on their first lab report in the fall. It's ok to not get everything right the first time!
- Carissa Hale
---
What is anodizing anyway?
While working with Sapphire Metal Finishing in Caldwell, I've learned so much about the process of anodizing aluminum. Anodizing is an electro-chemical process that keeps aluminum from rusting or corroding, ultimately making it more durable. Although it's been difficult at times to see where anodizing fits into "real life," (as my students would say), you'll find anodized aluminum from the carabiner on your keychain to your Apple Watch. While Sapphire works primarily with components of engines and firearms, we've processed everything from bottle openers to a piece of a satellite this summer!
I'm excited to take this work back to my classroom in the fall, and will definitely use the satellite as an example to my students that although our work in the classroom sometimes feels pointless, it will have big impacts later in life.
- Jessie Hearn
---
Chromatography Outreach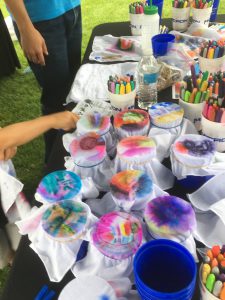 The Micron Foundation works with entities throughout Idaho to increase children's access to STEM materials, lessons, and activities. I have been included in several of these efforts, from CHIP camp to classroom lessons, it has been amazing to see. Over the last few weeks, my supervisor has been working on setting up volunteers, materials, scheduling, and much more to support our local libraries' "Book and a Bite" program. We brainstormed activities that could be set up in a park with no access to electricity and limited access to other items, such as water. In the end, chromatography was chosen as a focus activity. It is a process that is heavily used at Micron in the fabrication process of memory chips on wafers. We were able to build a hands-on activity that hundreds of children and their families could engage in as well as create a hand-out for them to take home in order to continue exploring at home. Making sure students not only had access to the activity, but also the information behind it was a must. The Micron Foundation wants to make sure the interactions go beyond "fun", using excitement to build interest and curiosity and providing real-world, accessible information simultaneously. They work hard to show students "the man behind the curtain" – the reason things happen and how they can take part in the magic. The Micron Foundation has a laser focus on building children's interest in STEM in order to positively affect their futures.
- Amber McVey
---
App Development at Western States Equipment

My externship at Western States Equipment has given me an opportunity to practice the creative and technical skills that I teach in my computer science classes during the school year. I have spent the last few weeks developing apps that the company can use to help streamline internal work processes. In this "real world" project, there is no assessment rubric, no example project, and only vague project requirements. My ability to develop a useful project has been heavily dependent on collaboration with my coworkers, research on google, a little creativity, and lots of trail and error. Each project has gone through multiple iterations based on feedback and testing, and the final products are different than what my coworkers may have created, but no more or less "correct". I look forward to getting my students to complete similar projects this upcoming year! Other highlights at my externship include helping the team interview for a job opening, troubleshooting mind boggling "bugs" with coworkers, taking luxurious hour long lunch breaks, brainstorming student projects, and even taking a break to watch some soccer. I continue to look forward to work, and am extremely grateful to get this STEM externship opportunity.
- Maggie Chapman
---
Watching Worlds Collide: Communication vs. Privacy
Phone calls. Face-to-Face. Zoom. Skype. Google Drive. One Note. FaceTime. Emails. Chats. Facebook. Twitter. Pamphlets. Carrier pigeons. Ok, not carrier pigeons. But seriously, the expectations for soft skills and communication skills here are off the charts! Every day the employees at the PR firm have meeting after meeting after meeting. These people are always on the move and making connections with one another and the clients, new and old. Nothing has quite confirmed to me that our students need to learn reasoning, problem solving, speaking, writing, and soft skills quite like this externship has. Communication makes me uncomfortable in so many ways, and I don't want that to be the case for my students. On the opposite end of the constant communication is the confidentiality that's attached to every client assignment. After having worked in the public sector for so many years (I mean, hello! You can literally look up how much money I make on the internet), it is interesting to see people be so careful and mindful about what they say. Client satisfaction and privacy is, quite frankly, a top priority. It makes me confident that if I ever need to hire this firm in the future, they will take excellent care of me and whatever business I bring along. To them, each client has different needs, and they give each one the focus, privacy, attention, and thoughtfulness (and, of course, number of meetings) they require.
- Hailey Bull
---

"Life's like a movie. Write your own ending." — Kermit the Frog
My own ending to my externship at the STEM Action Center is coming to a close but I'm taking this experience and using it as the next chapter in my teaching career. After spending the past 20+ years in the classroom it was great to go back into the business workplace and to remember why I do what I do. I teach to ultimately prepare my students for the world outside our doors.  Fortunately, as an extern here you just never know what's around the corner to experience and today I had the pleasure of visiting Idaho Public Television. We toured the facilities, met producers, education experts and technical advisors as we waited to watch how a narrator lends their voice to scripts written by STEM AC employees for videos created by the STEM AC's graphic designer. The amount of communication, collaboration, critical thinking and creativity that goes into small three-minute videos is truly impressive and it's those 21st century skills that I can reference for my students and use to discuss how they apply in local career opportunities.
- Lynnea Shafter
---

I have to say, This Externship ROCKS!
Hi, my name is Heidi Maimer and I am an extern at University of Idaho, Center for Ecohydraulics Research.  It is a graduate education and research program dedicated to studying the links between physical processes and aquatic ecosystems. The environment, water, and natural resources are a main focus at the center.
I am currently working with 3 PhD professionals that are doing research on how grain-size distribution, elevation and sorting effects variability in near-bed river velocities.  I have spent most of my hours collecting data in the field.  The process is repetitious, time consuming and at times physically draining, but I love a challenge.
Next week when we go back out into the field for three days I am going to retire my Nike flip flops and show up with Chaco river shoes and a 5 person Marmot tent and truly rock this experience.
- Heidi Maimer
---
How far can they reach?
Whew! The last week has been busy. I have been reviewing and researching information to refresh aspects of the Micron Foundations STEM outreach program, sitting in on internship meetings with engineers, project managers, and global materials experts, touring the facility, and much more. I would have to say my favorite part is helping connect teachers who need classroom materials with items from Micron that meet those needs. In addition to providing STEM outreach, the Micron Foundation also works to ensure that nothing at Micron goes to waste. This means that, as Micron replaces old computers with new ones or refurbishes areas, the Micron Foundation acts as a go-between to identify districts and classrooms that would benefit from the items. They reach out to find spaces that are in need, and then they fill that need. Old computers and their components are compiled and donated to Computers for Kids, office materials are donated to districts and classrooms, and a vast amount of personal time is donated worldwide to a variety of projects.
- Amber McVey
---
It's All About Experiences!
The Idaho National Laboratory is dedicated to educational outreach statewide. The K-12 STEM Educational Program Team at the INL works hard to inspire and excite children about STEM. They award hundreds of thousands of dollars in grants along with providing hands-on learning activities for many events. I get to work with the dedicated professionals behind the scenes everyday and look forward to finding and creating engineering activities for students throughout Idaho.
We all have teachers, mentors, coaches we remember who inspired us to strive for greatness. We don't remember the worksheets or assessments, but we do remember the way they made us feel and the silly things they did. We remember the experiences they gave us. Experiences change the way we see, feel, think, and react. Traveling to Colorado to attend Science in the Rockies STEM Experience with Steve Spangler has been a highlight of this externship. Steve is all about creating experiences, showing how fun science and STEM can be. His goal is to provide experiences that leaving you say "best day ever". For three days, Steve shared exciting demonstrations, included us in hands-on activities, and showed us some clever magic tricks to use in the classroom. You could tell what his passion was when you walked into the conference room.
- Alaysha Whitworth, Middle School STEM Teacher
---
What a welcoming crew!
What an awesome experience so far!  I have been working with the St. Luke's compensation department and have had a great time learning the "world of HR." I started in mid-June and have been working ever since. I have been able to participate with the team from the beginning and have worked with them on a lot of different tasks.  From the beginning I was trusted to work on tasks independently. I think that this has been a great group to work with and they were very accepting when I came into their office.  Whenever I had struggles, anyone I went to was willing to answer questions and they have been very thankful for the work that I have accomplished!
- Tim Whipple
---
VR, AR, and Idaho, oh my!

Through my externship with the Micron Foundation, I got the opportunity to attend an event hosted by the Idaho Virtual Reality Council. Whew, what an informative, exciting opportunity! I was able to interact and network with individuals who are interested in bringing VR and AR to education at all levels. I learned how to implement a fully immersive VR/AR program into my classroom, bringing devices and high-level materials to all students in authentic ways. For VR in my classroom, I have been using VR cardboards, Aurasma, a few limited apps, and 360 videos on YouTube. At the event, I was able to interact with a product that is more durable and student friendly than the VR cardboards I had been using. I got to see the process researchers have gone through to make VR/AR accessible to the public. Best of all, I learned about Google Expedition, an app that is free and super easy to use. This app allows me to explore a variety of areas and has materials connecting with curriculum on different levels. I was so excited, I immediately got on the phone and began sharing my new-found knowledge. I have connected my grade level team, associates from other schools, and peers from other districts to this app in the last few days. I hope to connect even more as the days go by. And now, by reading this, I challenge you to explore Google Expedition, 360 videos on YouTube, and any other materials that will bring VR/AR to your students. Challenge accepted? I sure do hope so!
- Amber McVey
---
Live from KBOI Channel 2 News
My time at the news station is rapidly coming to an end as I begin to shift into gear for the upcoming school year. To tie in everything I have been learning about, I have been given the opportunity to do a news story featuring the Externship program. It will be aired Monday, July 29th. I am going to do interviews, edit video footage and report on what has made this program unique for the teachers and businesses involved. I am so excited to apply my learning over the past two months to create a story that the public will see. My hope is to inspire more educators to apply for future opportunities with Idaho STEM Action Center, as well as to create awareness of what educators actively do to stay informed of our changing world in order to best meet the needs of our students.
- Colleen Lewis
---
Oh, The Places You'll Go!
"Onward up many a frightening creek, though your arms may get sore and your sneakers many leak. Oh! the places you'll go!"  Dr. Seuss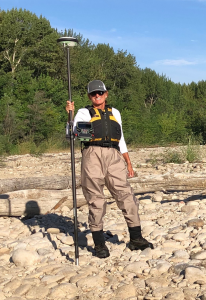 From the Boise River to the Payette, to the Salmon River and on to Warm Springs and Trail Creek in Sun Valley…wow it has been a great summer.  Thank you STEM Action Center for the opportunity to work with such great local scientists in the field of Fluvial Geomorphology.  I have learned that we have a Stream Simulator in downtown Boise.  Yes…an indoor stream.  I got to work on a Patch Topography field study, where we went out into the field and measured boulders, cobbles and pebbles.  I also got to work on the Trail Creek and Warm Springs project, where we downloaded data from sensors placed in the river last November.  The sensors kept track of the sediment temperature over time.  I also got to be a part of the Outreach program and met with Idaho Science and Aerospace Scholars(ISAS)  from around the state.
In addition to all of the cool Science I have learned, I have learned how to put on waiters, and balance on slippery rocks.  I have also gotten over my fear of getting attacked by a bear in the middle of the night.  I have met some really great people and exchanged many stories. This externship has been an invaluable experience for me.  I feel rejuvenated and excited to go back into the classroom and share what I have learned.  After teaching for 20 years, this is what I needed to rekindle my excitement about teaching and a great reminder of how awesome of a profession Education is.  Thank you STEM Action Center!
- Heidi Maimer
---
Filming Finale
Last Friday was my final day for the externship, and I was as nervous as the first day of school! It was filming day! I had worked for weeks on writing tutorial video scripts for tools, planning scenes and images, and practicing my lines. But even with all my preparation, the camera intimidates me, and a thousand anxious thoughts were running through my mind.
We did the filming in a library that has been working with Idaho Power and the Integrated Design Lab to do diagnostic tests and determine why they have been using more energy than expected. So our set of videos have a two-part purpose: demonstrate how to use the tools, and model their use in an authentic setting.
What empowered me to overcome my anxiety on filming day? An amazing team of people! The videography team from Idaho Power were professional with their guidance and patience when I needed to do a couple of takes of some scenes.  A friend from the Integrated Design Lab held my cue cards and encouraged my progress. At the end of the day, it was a fun experience, and I look forward to seeing the finished product! Now on to the first day of school nerves and excitement!
- Carissa Hale
---
The Scientific Method in Action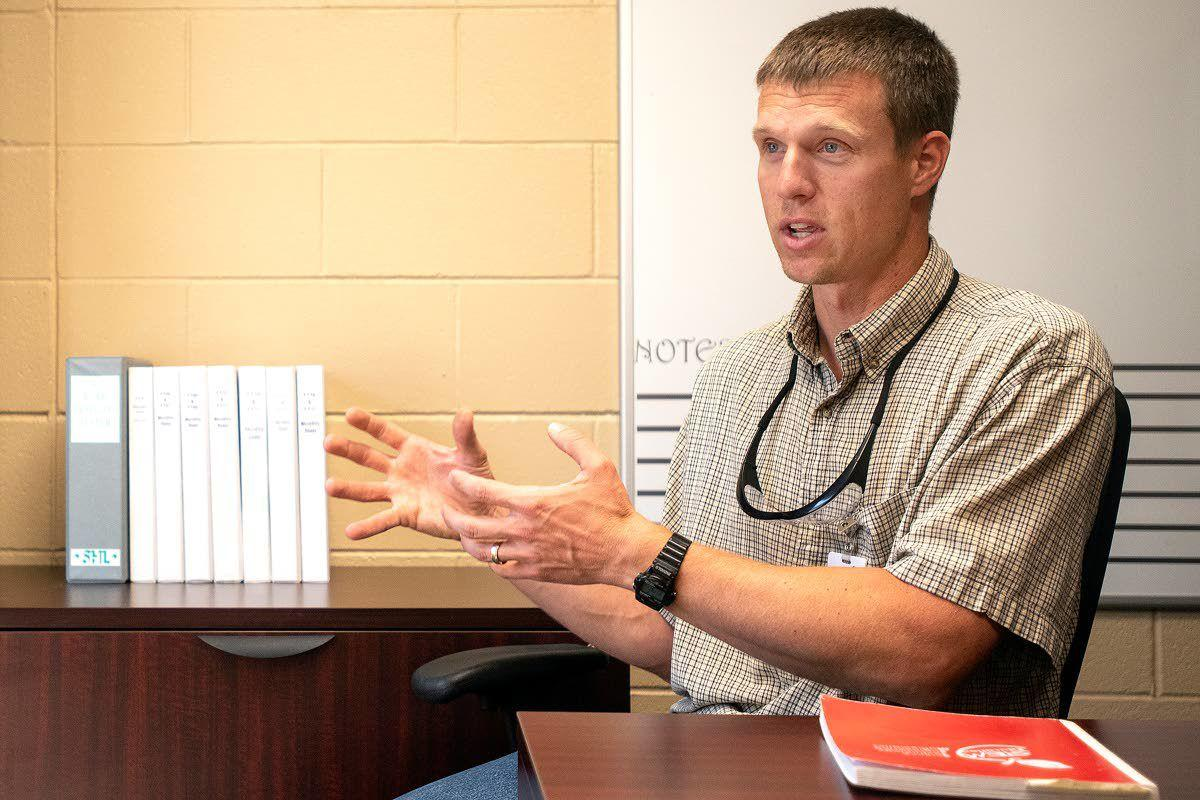 On the 2nd day of my externship experience at Vista Outdoors/CCI/Speer in Lewiston Idaho I was asked to participate in a 22 LR function shoot.  The purpose of the shoot was to test 22 LR ammunition to make sure that it functioned correctly in 6 shot revolvers.  Because the company wants to ensure that every round functions safely and accurately it was statistically necessary to test 10,000 rounds.  At the end of the day when the gun smoke cleared we had no issues to report.  Ongoing testing for function and accuracy is something that the company is dedicated to on a daily basis as part of the manufacturing process.  This was just one of many opportunities that I had throughout my 5 week externship at Vista Outdoors to put the scientific method into action.  I am grateful for this unique learning experience and hope that it continues in the future.
- Matthew Burns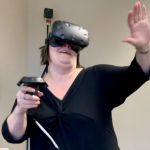 Workforce Program Pairs Teachers with Tech Firms
by Clark Corbin, 07/11/2019
CBS 2 News
(featuring Penni Aufderheide at Blocksmith)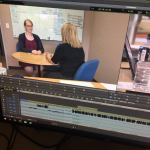 CBS 2 News: Idaho STEM Action Center holds summer teacher externship program
by CBS 2 News Staff, 07/29/2019
(featuring Colleen Lewis at CBS 2 News and Penni Aufderheide at Blocksmith)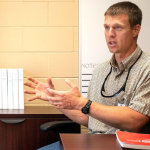 Learning through hands-on experience
by Justyna Tomtas, August 2, 2019
The Lewiston Tribune
(featuring Matt Burns at Vista Outdoor)