STEM School Designation
Note: AdvancED has merged with Measured Progress to become Cognia. As part of the merger, the STEM Standards have been upgraded and a crosswalk has been provided (see Cognia Links below) to make the transition from the old standards to the new standards easier for schools. These documents, along with other minor changes have been incorporated into this webpage.
The goal of Idaho Code 33-4701, STEM School Designation, is to provide recognition for schools or programs that provide high-quality, inter-disciplinary, multi-grade STEM education based on the criteria of the 10 Cognia STEM School Standards. Interdisciplinary learning models emphasize how STEM is practiced in the real world by STEM professionals. This type of engagement allows students to expand their learning by making connections between ideas and concepts across different disciplinary boundaries as well as within and outside of the school. Students learn to apply the knowledge gained in one discipline to other disciplines and deepen their learning. Educators see their own discipline from a fresh and energizing perspective, building excitement about teaching.
This opportunity seeks to recognize schools that provide rich STEM learning experiences for students, educators, and communities. It seeks to clearly define the best practices of STEM schools and provide consistent criteria by which schools can measure their progress toward STEM Designation.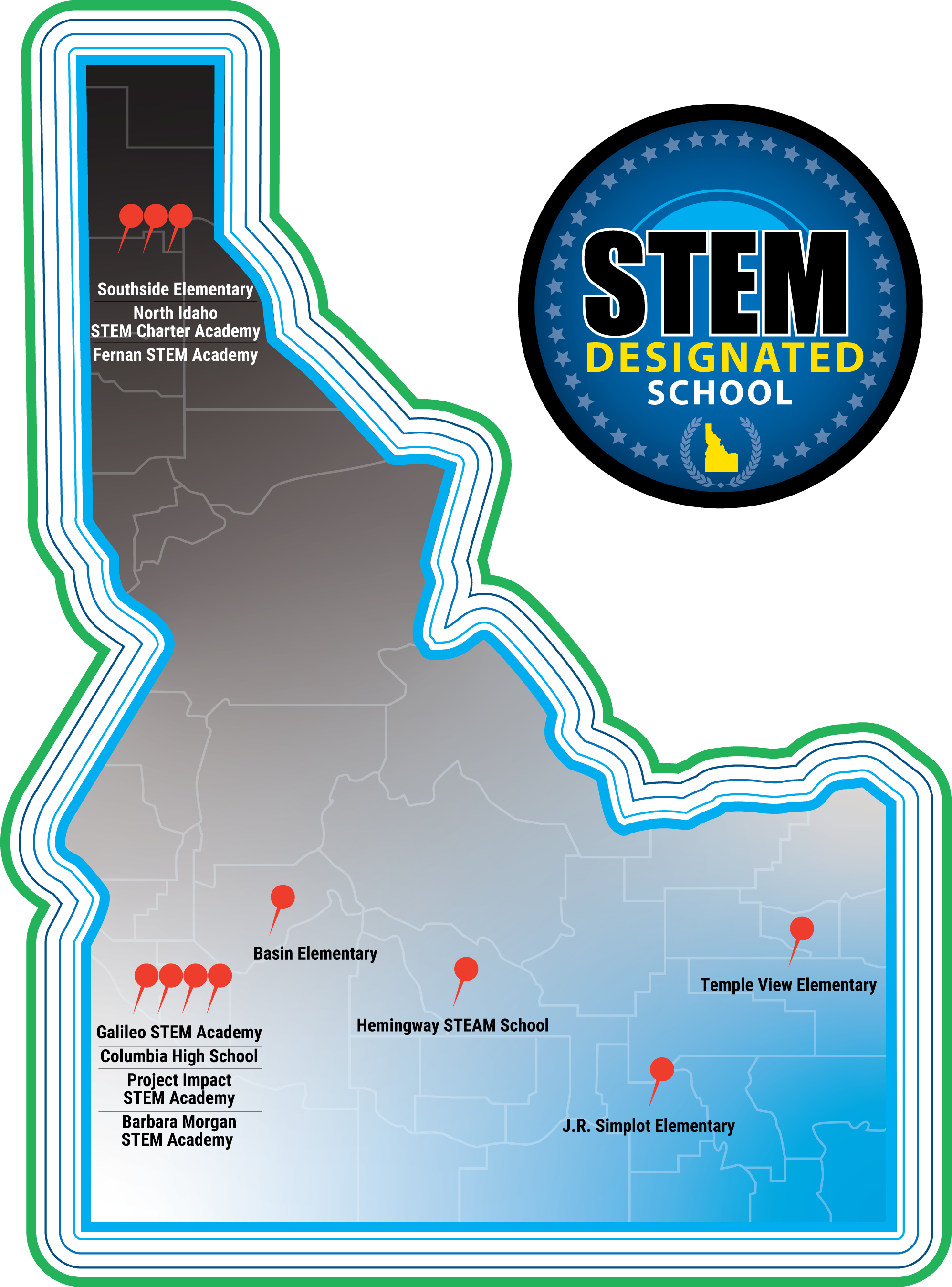 STATUS: Ongoing
Funding Details:
(Subject to change and dependent on annual appropriation.)
Designated:
Earning Cognia certification and Idaho STEM Designation = up to $10,000.00 annually for 6 years, and upon recertification, an additional $5,000 annually for another 6 years.
Schedule:
Schools can apply to Cognia for certification anytime during the year. STEM designation occurs in January/February timeframe.
Contact
For questions regarding the STEM School Designation program, please contact Nate Dean, STEM AC.
To schedule a STEM School Review Team from Cognia, please contact Dale Kleinert, Cognia.
LEARN MORE
To learn more about STEM Standards, click on the buttons below.
Updated documents coming soon.
Galileo STEM Academy – Eagle
Barbara Morgan STEM Academy – Meridian
Temple View Elementary School – Idaho Falls
Bingham Academy – Blackfoot
North Idaho STEM Charter Academy – Rathdrum
Southside Elementary – Cocolalla
Basin Elementary – Idaho City
J.R. Simplot Elementary – American Falls
Columbia High School STEM Academy – Nampa
Hemingway Elementary STEAM School – Ketchum
Project Impact STEM Academy – Meridian
Fernan STEM Academy – Coeur d'Alene