The STEM Diploma
Little known legislation that could be critical for Idaho's future economic prosperity
In 2019, there were over 7,000 unfilled STEM (Science, Technology, Engineering, Math) jobs in Idaho - jobs that, on average, pay twice what non-STEM jobs do. Employment in STEM fields in Idaho is highly diverse and includes high tech, healthcare, agriculture, advanced manufacturing, natural resource management, and broadcast media, to name a few. Employers need team members who are critical thinkers, creative problem solvers and skilled collaborators in order to be able to thrive in a constantly changing business environment. Building on children's natural curiosity, educators are working to help their students develop these skills as early as preschool. Ultimately, students who continue to pursue STEM in high school can receive special recognition by earning Idaho's STEM diploma.
Signed into law in 2018, IC 33-523 seeks to address industry needs while honoring graduating seniors who have pursued more rigorous STEM coursework. Specifically, students who earn eight credits in mathematics, eight credits in science, and an additional five credits in STEM courses of their choice, are eligible for the STEM diploma. In 2019, the first year for which data are available, 1458 students throughout Idaho met this criteria. In 2020, that number ballooned to 2440 - an increase of 60%. Unfortunately, only a fraction of those students received a STEM diploma, largely due to a lack of awareness on the part of many districts.
In response to this low rate of participation, Idaho STEM Action Center is working with industry partners, post-secondary institutions, and other state agencies throughout Idaho to raise awareness of the STEM diploma. Idaho STEM Action Center recognizes the need to develop incentives to encourage students to pursue STEM careers. It is estimated that in ten years, 80% of all jobs in Idaho will require STEM skills. Giving students the opportunity to earn a STEM diploma not only affords them a competitive advantage, but also provides industry and higher ed with important information regarding a student's qualifications that can impact his/her placement and potential career path. Additionally, doing so will help to fill the STEM career pipeline with skilled young people, support our state's continued economic prosperity, and ensure that Idaho's youth can find challenging, rewarding and lucrative employment right here in the Gem State.
STEM Data
Over 7,000 unfilled STEM jobs in Idaho
STEM jobs pay twice what non-STEM jobs do
In Ten years, 80% of all jobs in Idaho will require STEM skills
Increases comprehension of 21st century skills
Promotes critical thinking
Eligible Students
2018-19 school year
1458 students from
62 districts and charters
2019-20 school year
2440 students from
100 districts and charters
That represents a 60% increase year over year, but unfortunately, we have no idea how many of these students actually received a STEM diploma.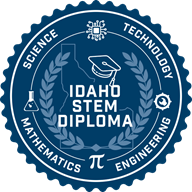 STEM Diploma Seals (not required by the state) are free to public schools. To order, please contact John McFarlane.