about
This year the i-STEM Institute at Lewis-Clark State College (LCSC) in Lewiston will be June 17-20. Over these four days, participants attend a workshop strand, participate in general sessions with keynote speakers and network with other educators. Participants leave with a kit of materials related to the workshop strand they attend, ready to implement what they have learned into their teaching environments. This professional development opportunity is open to formal and informal educators. APPLICATION TO ATTEND IS CLOSED. Successful applicants will be notified in early April by STEM Action Center.
Have Questions?? Contact the i-STEM Coordinator, Kaitlin Maguire, at istem@stem.idaho.gov.
Cost: After notification of acceptance, participants pay a registration fee following the guidelines below.
Role
Registration Fee
Idaho Public PreK-12 Educator
$50
Idaho Public or Nonprofit Informal Educator
(e.g. Museum Educator, After School Programs, Libraries)
$50
Idaho Pre-service Educator
$0
Private School Educator
$500
Homeschool Educator
$500
Retired Educator
$500
Non-Idaho Educator
$500
Vendor/For Profit Educator
$500
Agendas and Keynote Speakers coming soon!
Training Dates:
June 17-20, 2019, 8:00am - 5:00pm
Location:
Lewis-Clark State College
Sacajawea Hall
500 8th Ave
Lewiston, ID 83501
Map and Directions
Travel:
Participants that travel >25 miles to attend the closest institute are eligible to receive a travel reimbursement stipend, following the guidelines below. Distance is measured from the participant's organization (school, library, afterschool program) to the closest institute location. Participants must attend all four days of the institute to receive a travel stipend. The stipends will be distributed after the institute. Only public Idaho formal and informal educators are eligible for travel stipends.
Travel One-Way to Closest Institute

25-49 miles    $150.00
50-149 miles  $700.00
150+ miles     $900.00
Eligible Applicants:
Formal and informal educators serving Idaho PreK-12 students.
Indicates this strand is appropriate for informal educators.
Note: Kit contents and field trips are subject to change.
Lego's in Primary Classrooms - Grades: PreK-2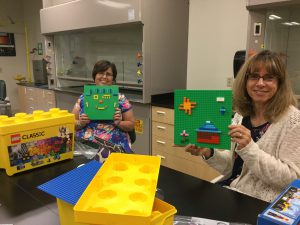 Subjects: STEM, Arts/Humanities, ELA, GATE, EES
Instructors: Melissa Stroupe and Sheila Frei
Participants will use Lego kits to create stations that you can be used in their learning environments in a variety of ways to foster self-directed learning with their students, to promote STEM learning and to create new ideas. Some examples of this are creating a dam to prevent flooding, construction of a bridge, and creation of a car powered by air. Particular focus will be on the Science and Engineering Practices of the Idaho Standards. There will also be a field trip to observe a variety of job in STEM careers, and gain practical applications for teaching math to younger students.
Kit: Lego Classic Baseplates, Lego Classic Creative Box, Lego City ATV Race Team, Lego Classic Bricks on a Roll, Lego City Police High Speed Chase, Lego Classic Bricks Bricks Bricks, Marbles.
Coding for Kids - Grades: K-2
Subjects: Technology, Computer Science/Coding
Instructors: Amy Wareham and Teak Wareham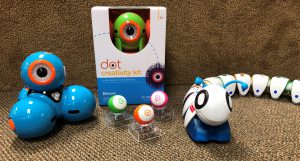 New to coding? This strand is designed for you! Participants will explore learning to code online as well as using basic robotic type equipment/gadgets. Coding is basic problem-solving and computational thinking, providing a set of instructions or tasks that need to be completed in a specific order while incorporating imagination, creativity, perseverance, determination, and many other academic skills. Participants will become familiar with a variety of different types of coding and be able to return to their classroom with the knowledge and experience needed to start teaching their students beginning coding skills. They will also work with several different types of robotic equipment and learn how it can be assimilated into their own classroom.
Kit: Dash and Dot, Robot Code and Go set.
FabSLAM 3D Design and Fabrication - Grades: 5-9
Subjects: STEM, Arts/Humanities, ELA, 3D Design/Printing, Career Awareness
Instructor: Jeff Stratter and Francesca Bessey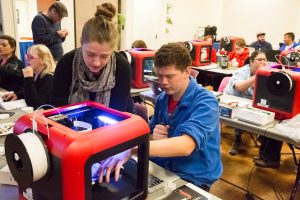 Participants will learn the basics of 3D design, 3D printing, the design engineering process and project-based learning techniques including scaffolding and design thinking, while also exploring a variety of tools to support project-based learning in the specific disciplines of digital fabrication and 3D design. The educator will be able to return to their learning organization and support a youth team to complete a multi-week digital fabrication challenge where youth learn, and practice skills related to 3D design and 3D printing. The educator will be able to support and guide students to properly document their process and encourage multiple design iterations throughout the challenge. Teams will then have the option to present their work at the FabSLAM Student Showcase Event in your region where a panel of judges will critique their work. Educators will be eligible to receive travel stipends and $500 additional funding for bringing a team to the FablSLAM Student Showcase Event.
Kit: 3D printer, 3D filament, tools for 3D printer, online activities.
Human Anatomy and Health - Grades: 9-12
Subjects: STEM, Health, Arts/Humanities
Explore the human organ systems as a framework for science education. Participants will study the individual human organ systems and the relationships between systems. For example, learn how the skeletal system works with the muscle system to produce movement. Multiple disciplines will be integrated with human anatomy like chemistry (Calcium is important but why so hard to get?), biology (how does bone grow by cell division or the cells getting bigger?), and physics (muscular-skeletal levers). Content and material can be easily be adapted to different student levels and interests.
Instructor: Dan Rudolph
Kit: TBA
Professional Development Credits
Participants can purchase two graduate level professional development credits from Boise State University ($60/credit) for attending all four days of the i-STEM institute. Information and instructions on how to sign up for these credits will be provided during the institute. An additional third credit can be purchased upon completion of a follow-up assignment in Fall 2019 (see below).
Fall 2019 Follow-Up Assignment – This assignment will involve developing a content standard lesson plan based on the content learned in the workshop strand you attend. The details of this assignment are TBA. Information about the assignment will be discussed during the institute.