about
This year the i-STEM Institute at College of Southern Idaho (CSI) in Twin Falls will be June 24-27. Over these four days, participants attend a workshop strand, participate in general sessions with keynote speakers and network with other educators. Participants leave with a kit of materials related to the workshop strand they attend, ready to implement what they have learned into their teaching environments. This professional development opportunity is open to formal and informal educators. APPLICATION TO ATTEND IS CLOSED. Successful applicants will be notified in early April by STEM Action Center.
Have Questions?? Contact the i-STEM Coordinator, Kaitlin Maguire, at istem@stem.idaho.gov.
Cost: After notification of acceptance, participants pay a registration fee following the guidelines below.
Role
Registration Fee
Idaho Public PreK-12 Educator
$50
Idaho Public or Nonprofit Informal Educator
(e.g. Museum Educator, After School Programs, Libraries)
$50
Idaho Pre-service Educator
$0
Private School Educator
$500
Homeschool Educator
$500
Retired Educator
$500
Non-Idaho Educator
$500
Vendor/For Profit Educator
$500
Agendas and Keynote Speakers coming soon!
Training Dates:
June 24-27, 2019, 8:00am - 5:00pm
Location:
College of Southern Idaho
Herrett Museum-Rick Allen Hall
315 Falls Ave
Twin Falls, ID 83301
Map and Directions
Travel:
Participants that travel >25 miles to attend the closest institute are eligible to receive a travel reimbursement stipend, following the guidelines below. Distance is measured from the participant's organization (school, library, afterschool program) to the closest institute location. Participants must attend all four days of the institute to receive a travel stipend. The stipends will be distributed after the institute. Only public Idaho formal and informal educators are eligible for travel stipends.
Travel One-Way to Closest Institute

25-49 miles    $150.00
50-149 miles  $700.00
150+ miles     $900.00
Eligible Applicants:
Formal and informal educators serving Idaho PreK-12 students.
Indicates this strand is appropriate for informal educators.
Note: Kit contents and field trips are subject to change.
Exploring Hands-On STEM Activities with BrickLabs, Weather Stations, and K'Nex - Grades: K-3
Subjects: STEM, Arts/Humanities, ELA, Computer Science/Coding, Career Awareness
Instructors: Dori Atterberry and Jill Janicek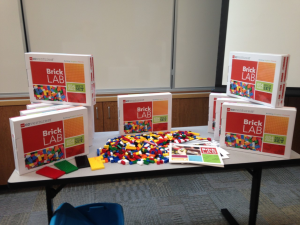 Participants will learn to use PCS Edventures BrickLab to meet Common Core State Standards and NEXT Generation Science Standards while motivating and engaging their students. PCS BrickLab emphasizes hands-on construction through a series of activities and the PCS BrickLab teacher's guide provides complete lesson plans for science, math, language arts and social studies. These lessons make solving problems, creating innovative projects, and even creative/scientific writing easy to integrate into the classroom. Kit materials tie into real world engineering and science applications as well as a field trip to the Perrine Bridge to study its structure and recreate it in the classroom. These project-based and design-based learning activities encourage both linear concrete-sequential and open-ended experiences.
Kit: BrickLAB Activity Card Set, BrickLAB Flower Power & History Activity Card Set, BrickLAB Tech Curriculum,  K'Nex Intro to Structures – Bridges Set, Weather Station, Lifetime Membership to Civil Air Patrol (includes ability to apply for a free new STEM device every year).
Implementing the Idaho Science Standards through K-12 Inquiry and Project Based Learning - Grades: K-12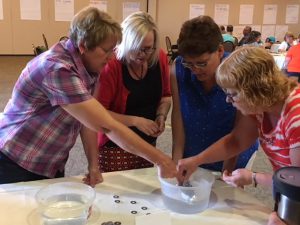 Subjects: Science, Technology, Engineering, Arts/Humanities, ELA, Career Awareness, GATE
Instructor: TBA
Participants will take a deep dive into and explore how our new Idaho Science Standards can help prepare our young scientists to change the world. By taking a deep-dive into Project-Based Learning pedagogy using backward design models, participants will explore and design lessons and units to implement key instructional shifts to meet the new Idaho Science Standards. With guided instruction participants will have time and support in the design of lessons and units, build kits, and plan literacy and assessment strategies, to help foster passion for science and engineering through inquiry methodology in their own classrooms. Field trip to Twin Falls Waste Water Treatment Plant and Centennial Park.
Kit: Participants will receive a NSTA membership and funds to support a project-based learning unit in their own teaching environment.
Student Digital Portfolios and STEM - Grades: 3-6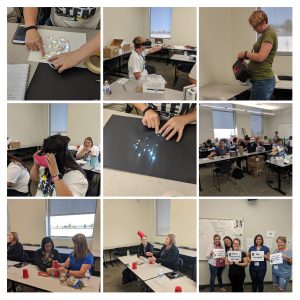 Subjects: STEM, Arts/Humanities, ELA, Financial Literacy
Instructor: Tonya Simms
When Students ask, 'Do we have to do this?' what they really mean is 'How is this relevant to me?' Incorporating highly engaging collaborative activities with digital portfolios creates relevant learning, authentic products, and individual accountability. Learn how to be more strategic in the use of teaching strategies in math, reading, writing, and STEM lessons. Get ideas for product based and project based learning, cross curricular learning experiences, and blending on-line, and off-line lessons. Students won't ask, 'Do we have to do this?' They will be engaged in purposeful work.
Kit: The kit will include a flash drive with resources for digital portfolios, blended learning, project based learning, STEM challenges, picture books, Escape Classroom Lock kits and STEM building materials.
The Horse of Course - Grades: 4-8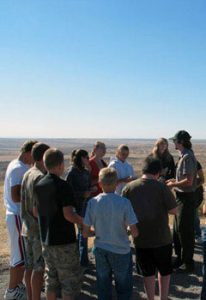 Subjects: STEM, Arts/Humanities, Drones/Robotics/Virtual Reality, 3D Design/Printing, GATE
Instructor: Diane Garcia
From basic genetics to habitats and adaption, many biology related standards are easily related to the fossils, paleontology, and Hagerman Fossil Beds with its iconic horse fossils. A progression of lessons, keyed to the Idaho State Science Standards, will be featured along with a field trip to the Hagerman Fossil Beds National Monument. Curriculum materials provided and explored during the strand can be immediately used in the classroom, and ranger facilitators may be available to assist during the school year. Participants will also be offered first chance at bus funding to bring their school to Hagerman Fossil Beds.
Kit: Punnet Square Pompoms, PTC paper kit, Mohs Scale, fossil molds, Model Magic, carnivorous plants, Google Cardboard, student atlas and repro fossils.
FabSLAM 3D Design and Fabrication - Grades: 5-9
Subjects: STEM, Arts/Humanities, ELA, 3D Design/Printing, Career Awareness
Instructors: Angie Poulson and Paul Verhage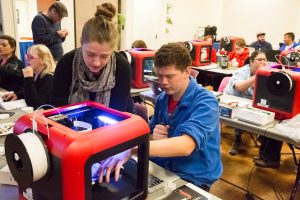 Participants will learn the basics of 3D design, 3D printing, the design engineering process and project-based learning techniques including scaffolding and design thinking, while also exploring a variety of tools to support project-based learning in the specific disciplines of digital fabrication and 3D design. The educator will be able to return to their learning organization and support a youth team to complete a multi-week digital fabrication challenge where youth learn, and practice skills related to 3D design and 3D printing. The educator will be able to support and guide students to properly document their process and encourage multiple design iterations throughout the challenge. Teams will then have the option to present their work at the FabSLAM Student Showcase Event in your region where a panel of judges will critique their work. Educators will be eligible to receive travel stipends and $500 additional funding for bringing a team to the FablSLAM Student Showcase Event.
Kit: 3D printer, 3D filament, tools for 3D printer, online activities.
Experiencing STEM Through the Lens of Aviation - Grades: 6-12
Subjects: STEM, ELA, Career Awareness
Instructor: Rich Stowell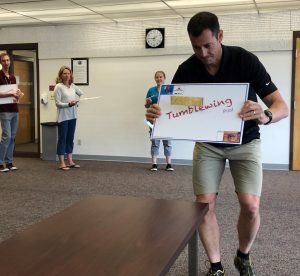 In this strand, STEM subjects come to life through aviation-themed experiential activities. Educators become learners immersed in a fun and engaging atmosphere with lesson elements that include history, theory, application, experimentation, observation, makerspace, and word wall. They engage in workshops such as A Beautiful Mind(set), The Art and Science of Flying, Design and Fly a Tumblewing, Paper Airplane Design Challenge, Navigation Lab, and Help a Pilot Glide to Safety. And assuming the logistics can be worked out, they take a field trip to a nearby airport. Although content will be delivered to a high school level, concepts and activities are adaptable to a middle school level. Further, concepts will be explored through hands-on activities that use simple, readily-available materials. Potential field trip to airport facilities.
Kit: Subject to availability, each kit will include the books, 'The Talent Code' by Daniel Coyle and 'Mindsets' by Carol Dweck, Guillows Jetstream 55 Balsa Airplane, Pylon Kit for Airplane Speed Trails, Corex Tumblewing Paddle, safety goggles other materials related to the experiential activities.
Mathematics through Gaming - Grades: 6-12
Subjects: Mathematics, Engineering
Instructor: Brian Mattison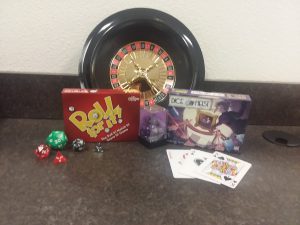 From simple dice rolling to casino games and board games and table top RPGs, probability and the idea of randomness is inundated with games. This strand uses these activities to introduce students to the basic rules and ideas behind probability and statistics and analyzes how games of all kinds use randomness and probability to add exciting and challenging game play for various audiences. Participants use engineering ideas and design principles to create their own games. Educators will leave this strand with a classroom set of materials that can easily be taken into the Secondary Mathematics classroom to help students to understand fundamental statistics principles. Potential field trip to Idaho Lottery.
Kit: 100x Colored d6 Dice Set, 15x Set of Polyhedral Dice (7 dice per set), Organizer Bin Roulette Wheel, Playing Cards, Poker Chips, 2 sets of Various Probability Games (Chupacabra, Love Letter, Zombie Dice).
Applying STEM Concepts: The Student Invention Process - Grades: K-12
Subjects: STEM, Career Awareness, GATE
Instructor: Pam Duquette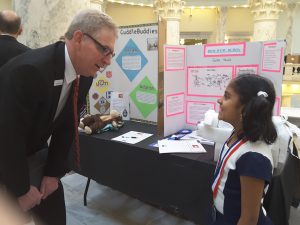 Inspire, Ignite, Invent! Inspire your students to apply STEM concepts as they design innovative solutions to real world problems. Ignite their curiosity with lessons designed to awaken your students' inventive spirits. Develop example inventions for your students as you experience first-hand how to implement the Invent Idaho student invention convention in your own classroom, school, or district. Did you know that Invent Idaho students earned more major awards per number of participants than any other state at the 2016 National Invention Convention in Washington, DC and brought home 11 major awards out of 21 student attendees, including Most Innovative invention! Discover how our very own Idaho young inventors have appeared on the Tonight Show with Jimmy Fallon, Disney's 'Figure It Out' television show, the Oprah Winfrey Network, and Ellen!
Kit: Aerogel (Guiness Book of World Records lightest weight substance on Earth, an amazing invention in the field of chemistry), classroom set of Private Eye Loupes, an owl pellet for participants to dissect, Intelligent Hydrogen Fuel Cell kit.
Professional Development Credits
Participants can purchase two graduate level professional development credits from Boise State University ($60/credit) for attending all four days of the i-STEM institute. Information and instructions on how to sign up for these credits will be provided during the institute. An additional third credit can be purchased upon completion of a follow-up assignment in Fall 2019 (see below).
Fall 2019 Follow-Up Assignment – This assignment will involve developing a content standard lesson plan based on the content learned in the workshop strand you attend. The details of this assignment are TBA. Information about the assignment will be discussed during the institute.