i-STEM Summer Institutes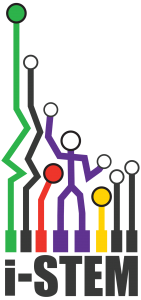 Opportunity Goals & Objectives: To empower Idaho educators to gain STEM content knowledge, pedagogical skills, and build local communities of learning to increase student excitement for and interest in STEM.
Brief Description: i-STEM is a summer professional development opportunity for educators. During four days, participants attend a strand, attend general sessions, hear from keynote speakers and network with their peers. Strand instruction is focused on hands-on, project-based learning with content that focuses on local topics of interest. Each participant receives a kit of instructional material so that they can implement what they have learned in their teaching environments. i-STEM Institutes are held at 6 locations across the state during the last two weeks in June every summer. Click on the logos below to learn more about each institute.
STATUS: Closed
Fee: $90
($1000 for private school, home school, retired, non-Idaho, and vendor/for-profit educators.)
Schedule
Open: February 2, 2020
Close: March 2, 2020
Award date: April 1, 2020
Final reporting due: July 15, 2020
Number of Awards: 500
Value: $1000
Click on the logos below for Institute information.
Thanks to our 2019 Sponsors!