i-STEM at Idaho State University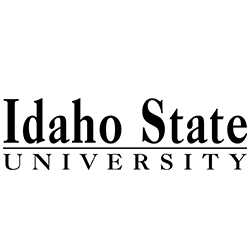 This year the i-STEM Institute at Idaho State University (ISU) in Pocatello will be June 18-21. Over these four days, participants attend a workshop strand, participate in general sessions with keynote speakers and network with other educators. Participants leave with a kit of materials related to the workshop strand they attend, ready to implement what they have learned into their teaching environments. This professional development opportunity is open to formal and informal educators. APPLICATION TO ATTEND IS CLOSED. Successful applicants will be notified in early April by STEM Action Center.
Have Questions?? Contact the i-STEM Coordinator, Kaitlin Maguire, at istem@stem.idaho.gov.
Eligible Applicants: Formal and informal educators serving Idaho PreK-12 students.
Cost: After notification of acceptance, participants pay a registration fee following the guidelines below.
Role
Registration Fee
Idaho Public PreK-12 Educator
$50
Idaho Public or Nonprofit Informal Educator
(e.g. Museum Educator, After School Programs, Libraries)
$50
Idaho Pre-service Educator
$0
Private School Educator
$500
Homeschool Educator
$500
Retired Educator
$500
Non-Idaho Educator
$500
Vendor/For Profit Educator
$500
Status: CLOSED
Training Dates:
June 18-21, 2019, 8:00am - 5:00pm
Location:
Idaho State University
Roy F. Christensen Building
921 S 8th Ave
Pocatello, ID 83209
Map and Directions
Travel:
Participants that travel >25 miles to attend the closest institute are eligible to receive a travel reimbursement stipend, following the guidelines below. Distance is measured from the participant's organization (school, library, afterschool program) to the closest institute location. Participants must attend all four days of the institute to receive a travel stipend. The stipends will be distributed after the institute. Only public Idaho formal and informal educators are eligible for travel stipends.
Travel One-Way to Closest Institute

25-49 miles    $150.00
50-149 miles  $700.00
150+ miles     $900.00
*Indicates this strand is appropriate for informal educators.
Note: Kit contents and field trips are subject to change.
*Integrating STEM in Early Elementary Education - Grades: K-3
Subjects: STEM, Arts/Humanities, ELA, 3D Design/Printing, Career Awareness
Instructors: Esther Ntuli and Beverly Ray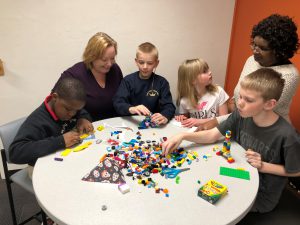 Research indicates that STEM in early childhood should be taught using an integrated curriculum approach. This strand will provide specific, age appropriate ideas, aligned to Idaho standards and hands-on experience for K-3 educators to help integrate STEM in their curriculum. Using elements of project-based learning (PBL), teachers will collaboratively work on two STEM projects grounded in the scientific method and applicable to early childhood and elementary learners. Instruction for the project-based activities will develop and hone teachers' STEM pedagogical skills allowing them to adapt and contextualize STEM concepts for use in their classrooms with their learners.
Kit: Variety of materials that support problem-based learning adaptable to any STEM content learning: colored paper, scissors, stop watch/timer, ice cube tray, newspapers, clear tape, Play-Doh, Legos, Merge Cube, 3D puzzle set, 3 copies of Rosie Revere Engineer, origami paper, gum drops, toothpicks, paper straws, paper clips, rubber bands, and other simple office supplies.
*Code Your Life - Grades: K-5
Subjects: STEM, Arts/Humanities, ELA, Computer Science/Coding, Drones/Robotics/Virtual Reality, Career Awareness, GATE
Instructors: Tamara Palmer and Matthew Hull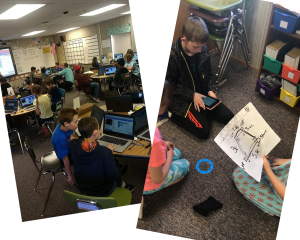 Coding is an important 21st Century skill but we are often left feeling unsure about how to bring it into the elementary classroom. When students are taught at a young age to understand and love coding, it opens up the world of technology in a meaningful way. This strand will offer you the opportunity to learn how to bring coding into every subject in your classroom. You will learn different coding methods, become familiar with them and confident in your abilities to apply them in your classroom. We will discuss the application and benefits of coding in each academic subjects and how it will increase the rigor in your classroom and increase student engagement. A field trip will explore programs offered at ISU College of Technology in order for participants to learn what they can do to prepare their students for these careers.
Kit: SparkFun Micro:bit Inventor Kit, Sphero Sprk+, Kindle Fire 7".
*FabSLAM 3D Design and Fabrication - Grades: 5-9
Subjects: STEM, Arts/Humanities, ELA, 3D Design/Printing, Career Awareness
Instructors: Angie Poulson and Scott Wood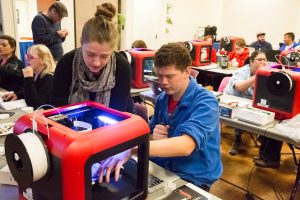 Participants will learn the basics of 3D design, 3D printing, the design engineering process and project-based learning techniques including scaffolding and design thinking, while also exploring a variety of tools to support project-based learning in the specific disciplines of digital fabrication and 3D design. The educator will be able to return to their learning organization and support a youth team to complete a multi-week digital fabrication challenge where youth learn, and practice skills related to 3D design and 3D printing. The educator will be able to support and guide students to properly document their process and encourage multiple design iterations throughout the challenge. Teams will then have the option to present their work at the FabSLAM Student Showcase Event in your region where a panel of judges will critique their work. Educators will be eligible to receive travel stipends and $500 additional funding for bringing a team to the FablSLAM Student Showcase Event
Kit: 3D printer, 3D filament, tools for 3D printer, online activities.
*A Tale of Two Recordings: Audio and Video Recording in the Classroom Made Easy - Grades: 6-12
Subjects: Science, Technology, Arts/Humanities, ELA, Career Awareness
Instructors: Jayna Johnson and Matthew Johnson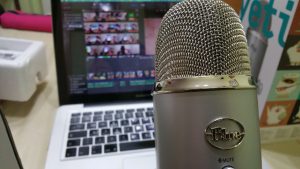 This strand is for educators who are looking for new ways to engage students in their content area. Working with and teaching students about basic recording technology can open doors that students may not have thought of on their own. Radio, TV, and internet broadcasting are very real things in our world and helping students experience what goes into good production not only gives them exposure to potential career paths, it can help them demonstrate content-area knowledge in ways that are engaging in a different manner than writing a paper or taking a test. This strand will help connect ELA writing, listening, and explanation standards to any subject area and is also useful to music or other performance arts classes because of the ease of use and quality of the recording equipment and software. Participants will also explore the use of student-made videos in class as a way to help them have a variety of methods in regard to process and mastery of their subjects and will learn about some free web-based video sites that are designed for use in classrooms.
Kit: PreSonus recording kit with a microphone and cable, headphones, recording software, and an analog/digital audio interface.
Implementing the Idaho Science Standards through K-12 Inquiry and Project Based Learning - Grades: K-12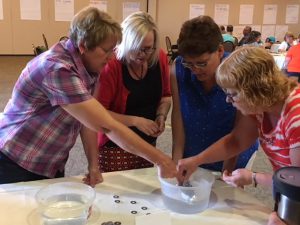 Subjects: Science, Technology, Engineering, Arts/Humanities, ELA, Career Awareness, GATE
Instructor: TBA
Participants will take a deep dive into and explore how our new Idaho Science Standards can help prepare our young scientists to change the world. By taking a deep-dive into Project-Based Learning pedagogy using backward design models, participants will explore and design lessons and units to implement key instructional shifts to meet the new Idaho Science Standards. With guided instruction participants will have time and support in the design of lessons and units, build kits, and plan literacy and assessment strategies, to help foster passion for science and engineering through inquiry methodology in their own classrooms.
Kit: Participants will receive a NSTA membership and funds to support a project-based learning unit in their own teaching environment.
Aaron McKinnon
Aaron McKinnon has influenced not only the students of his own classroom, but colleagues around the state of Idaho through his dedication, leadership, enthusiasm and professional development activities. As a classroom educator for 22 years, he focused on creating engaging learning experiences every day. Teaching online classes and drivers ed has given him additional insight and perspectives to student learning. Recognition of his efforts include receiving the Milken Award, National Board Certification, and a Master's Degree in Curriculum and Instruction. He continues to support and champion the science and education community of Idaho as the Science Coordinator for the State Department of Education.
---

Dr. Angela Hemingway
Angela received her doctorate in curriculum and instruction from Boise State University, an M.S. focusing on microbiology, a B.S. in biology and chemistry, and a teaching certificate in science. She spent 14 years in high school and college STEM classrooms inspiring students to participate in science competitions and community service events. She transitioned to the State Department of Education where she served as Assessment and Accountability Director. In August 2015, Governor Otter appointed her the Executive Director for his newly formed Idaho STEM Action Center where she oversees a variety of STEM opportunities, ensuring Idaho's long-term economic prosperity.
Professional Development Credits
Participants can purchase two graduate level professional development credits from Boise State University ($60/credit) for attending all four days of the i-STEM institute. Information and instructions on how to sign up for these credits will be provided during the institute. An additional third credit can be purchased upon completion of a follow-up assignment in Fall 2019 (see below).
Fall 2019 Follow-Up Assignment – This assignment will involve developing a content standard lesson plan based on the content learned in the workshop strand you attend. The details of this assignment are TBA. Information about the assignment will be discussed during the institute.