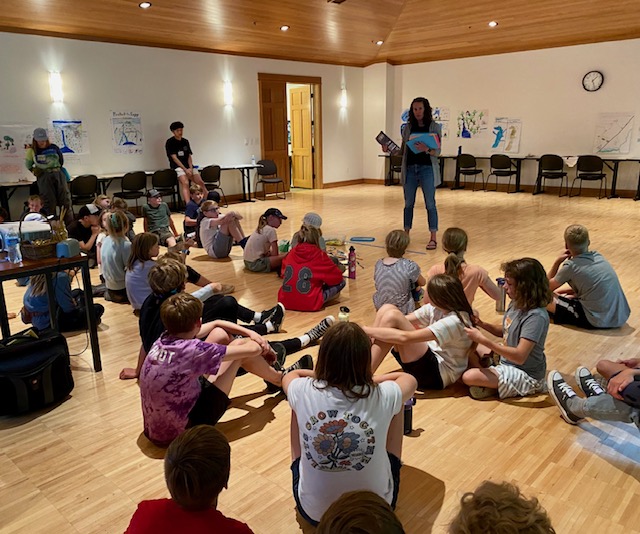 This summer I worked with the Interstate Drone League (iDrone) at the University of Idaho, developed and facilitated by Dr. Jae Ryu. Students build a drone from scratch and learn basic coding exercises using Arduino and MIT Scratch. During iDrone camps, local professionals are invited to share their applications to solve real-world problems. I had the opportunity to work at both an in-person camp in Sandpoint, Idaho and an online camp hosted for middle school aged students.
The iDrone NASA camp took place at the University of Idaho Sandpoint Organic Agricultural Center with a focus on engaging students in rural communities to STEM related careers. It began with 45 local 5th-8th grade students building, coding, and flying drones while questioning how they as leaders could work to improve and maintain the health of their community watershed. Over the course of four days, students learned about the application of drones in real world context from NASA, Idaho Forest Group (IFG), Kalispell Natural Resources, and University of Idaho professors. Students saw how drones were used in a variety of STEM career pathways in their own rural community.
At the same time, students learned about their community Watershed and asked questions about future conservation, recreation, and education. Working with the City of Sandpoint, International Mountain Biking Association (IMBA), National Park Service (NPS), and UI Community Water Resources, students explored how the community impacts a local watershed. They worked with peers to ask questions and problem solve innovative uses of drones in watersheds and prepared their final work for a community showcase. At the end of the four days, students presented their built drones, ideas for future drones, and a poster that explained their ideas to use drone technology to improve and maintain the health of their community watershed.
These collaborations engaged the students in their local community which gave students real life context to their showcase projects. Students were innovating with a clear purpose that focused on their community Watershed. They explored the question, "How can we keep our local Watershed healthy and special now and in the future?" The partner organizations introduced students to STEM careers in their rural communities. Students saw how drones were used in jobs, projects, and research to improve and find answers to problems within their own community.
The online iDrone camp hosted more than 100 5th-8th grade students. This was really interesting to be part of as the online format allowed for Dr. Ryu to invite experts to talk to the whole group and then we worked with our small groups. I facilitated a breakout session and had the opportunity to work with the same small group of students over the course of four days. We built a drone, learned and applied coding exercises using Arduino and MIT Scratch, and built a robot using the same circuit board from our drone. Students then worked on a final project where they presented their ideas on how to use drones for discovery and innovation. It was exciting to work with iDrone and experience how the program is working to inspire students to be more competitive in the future workforce by entering STEM related fields.