The Industry's Excellent Educator Dedicated to STEM (INDEEDS) Award is given to two Idaho educators who create unique opportunities for students to experience the fun and excitement of STEM by integrating real-world experiences and hands-on activities into the classroom. Do you know a public-school educator who not only creates unique opportunities for students to experience the fun and excitement of STEM, but who also integrates real-world STEM examples and hands-on activities into the classroom? We are looking for educators that embody just that and we'd love to hear their STEM-azing story!
Educators from two award categories will be selected, one from K-6th and 7th-12th grades. These Idaho educators with a strong commitment to going above and beyond in science, technology, engineering, and mathematics (STEM) will be chosen by our industry partners.
Who's eligible: All public K-12 educator nominations are encouraged. Self-nominations are accepted.
EACH RECIPIENT RECEIVES:
$2,000 individual cash prize from Industry awards
Up to $2,000 from the Idaho STEM Action Center to attend a national conference related to STEM to advance their professional practices
The educator's school will receive $2,000 for STEM initiatives/programs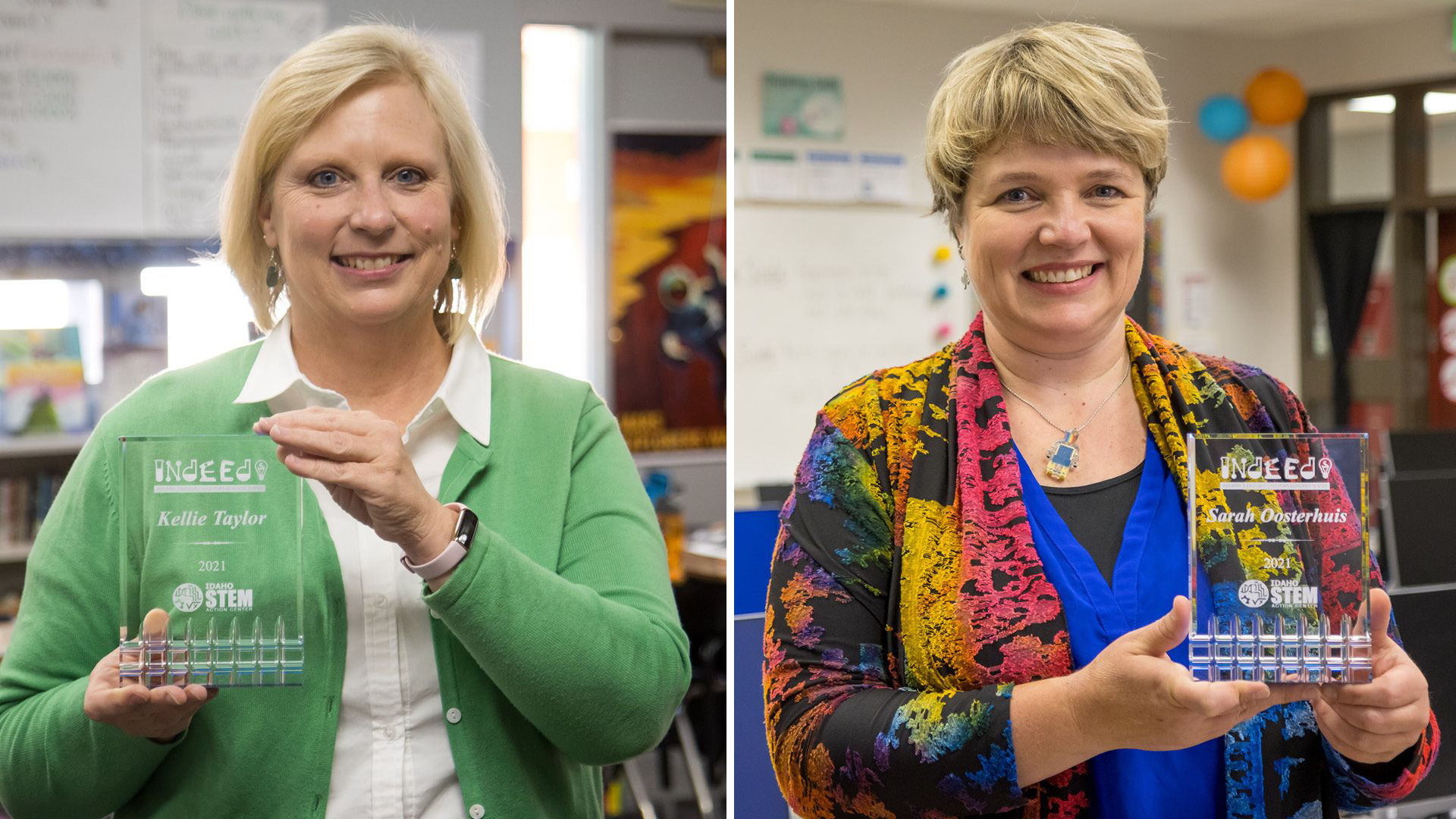 Dr. Kellie Taylor is an elementary teacher in the Boise School District. She currently teaches 2nd and 3rd grade at Hawthorne Elementary, and has just completed her time as a National Museum of African American History and Culture STEM Master Teacher fellow. Kellie also served as a 2018-2019 Albert Einstein Distinguished Educator Fellow at the Library of Congress in Washington, D.C., creating STEM and Makerspace activities with primary sources.
Kellie's teaching career began in 2004 at Ustick Elementary. Since that time, she has earned her masters (2006) and doctorate (2016) in Educational Technology at Boise State University. As an elementary educator, STEM has always been a large part of her classroom. Her use of project-based learning in the general classroom led to a position teaching Kindergarten through 5 engineering. After 11 months away from the classroom for the Albert Einstein Distinguished Educator Fellowship, Kellie returned to the general classroom, continuing project-based learning with a strong STEM emphasis through coding, robotics, drones, and hands-on science.
In addition to her work in the classroom, Kellie has written STEM curriculum, coordinated STEM nights, Family Engineering nights, Family Creative Learning workshops, career nights, makerspace, after-school robotics, and 3D printing groups. Her belief in providing accessible opportunities led her to coach First LEGO League, Idaho TECH Challenge, FabSLAM, Junior Botball teams, and MIT NASA Zero Robotics. Kellie was also a part of NASA Microgravity University for Educators in 2017. This project connected over 100 of her students with NASA and allowed them to see their Satellite Launch Experimental Device (SLED) tested live at Johnson Space Center. A total of five educators were a part of the transformational project and professional development. These experiences help to shape educators and students.
Professional development and presenting at national and regional conferences and workshops have had an important influence on Kellie's career. She has a passion for connecting with other STEM educators and has presented at various conferences, teacher workshops, and webinars since 2013.  She strives to fuel her passions so she can share those with students and inspire their passions. Furthermore, Kellie works to mentor colleagues informally by sharing professional development opportunities and collaborating on presentations, workshops, and classroom activities. She is currently leading a project team for the 100Kin10 organization to help make it easier for educators to integrate robotics into core mathematics instruction.
Kellie has been recognized as a 2020 ITEEA Teacher Excellence Award, a 2014 and 2018 State Finalist for the Presidential Award for Excellence in Mathematics and Science Teaching, and Teacher of the Year. She was also chosen for the Mickelson Exxonmobil Teachers Academy, United States Patent and Trademark Office National Summer Teacher Institute, and Space Exploration Educator Crew with Space Center Houston. Kellie is also an active participant in the Idaho STEM Ecosystem serving on the state leadership board and at the regional level for the Southwest Idaho ST3M Hub in region 3.
Kellie's family has been instrumental in her success by supporting, encouraging, and inspiring her. Her husband and three children have kept her company on late nights studying, attended school events, volunteered in the classroom, and provided warm welcomes after late nights at school. She was inspired to offer the opportunities she does by her own children's teacher, Laurie Clemens. Laurie supported students in project-based learning and allowed them to fail forward. Kellie looks forward to growing her passions and continuing offering opportunities for students and educators to find and pursue their passions.
Sarah Oosterhuis is a pre-engineering teacher in the West Ada School District, currently teaching at Renaissance High School in Meridian. She has taught at several high schools in West Ada during her 13-year career in education and continues to serve students from multiple high schools who travel to the Renaissance Career Technical Education (CTE) center to take her "Civil Engineering and Architecture" class.
In the classroom, Sarah works hard to improve her pedagogy (lesson delivery) by drawing on her Bachelor of Civil Engineering degree, industry experience, and Master of Science in STEM Education, which culminated in a research paper titled "Improving Engineering Curriculum & Instruction to be More Inclusive for Women".
In 2020, Sarah was named the Idaho TSA (Technology Student Association) advisor of the year. In addition to serving students as an advisor, Sarah is in her fifth year serving on the Idaho TSA advisory board, helping optimize opportunities for TSA members and advisors across the state.
Sarah was a key player in bringing several valuable opportunities to engineering students in the West Ada School District including dual-credit articulation agreements with both Northwest Nazarene University (NNU) and University of Idaho, as well as instituting and expanding AutoDesk Certified User (ACU) opportunity for students. In 2018, Sarah was awarded the Project Lead the Way (PLTW)'s "Outstanding Teacher Award." PLTW is a national organization providing engineering curriculum for high schools.
Over the years, Sarah ensured that students had access to exceptional resources in the classroom by bringing in more than $24,000 in grant money. A grant provided by the STEM Action Center in 2018 enabled Sarah to run a "Bedazzle with LEDs" Summer Camp, a highlight of her teaching career. This all-girls camp incorporated crafting, engineering, programming, technology, and bedazzling in a supportive atmosphere peppered with high-energy dance breaks.
Students benefit from many enriching opportunities that Sarah brings to the classroom such as architectural model construction, over 100 technical tutorials on the "Oosterschool" YouTube channel, and creative assessment strategies. Sarah continues to seek out new ways to engage students through a quirky hobby of consuming copious books, podcasts, and YouTube videos about pedagogy.
Thank you to our 2021 Partners!
Presenting Partner