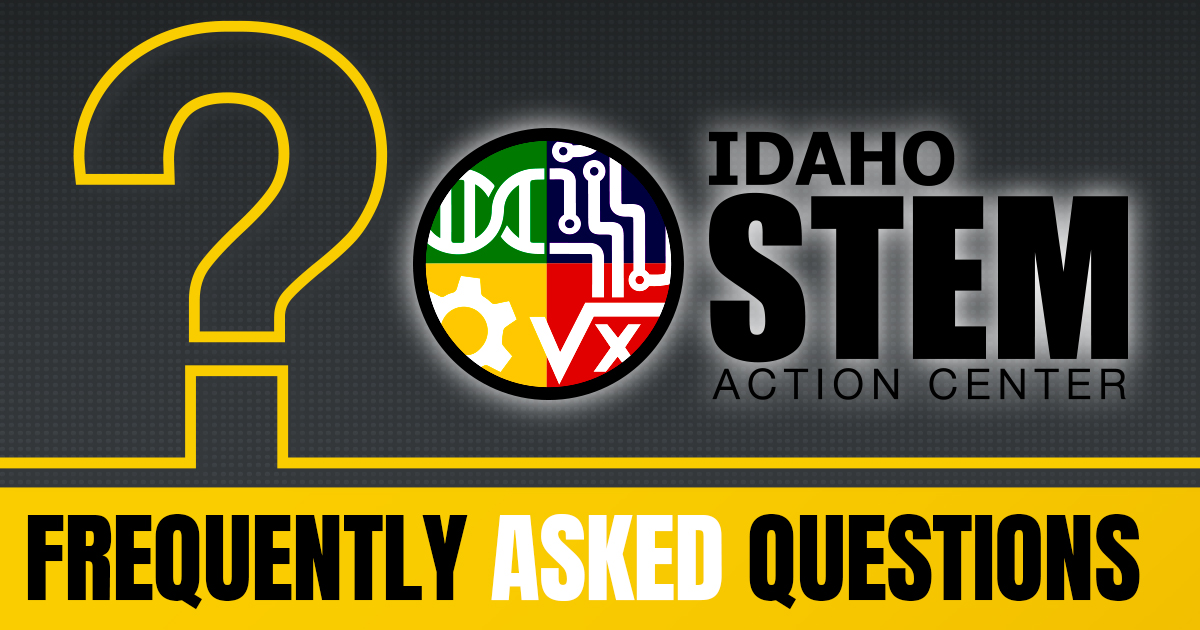 STEM AC AND STEM AC BOARD
PROFESSIONAL DEVELOPMENT, GRANTS, & TRAVEL REIMBURSEMENT
SPONSORSHIPS, CONFERENCE SPONSORSHIPS, AND P3'S
Yes. For Sponsorships, including Conference Sponsorship, under $10,000 go to 
Our Opportunities webpage
; create an account or login to the Grants Portal and fill out the Sponsorship or Conference Sponsorship form. For sponsorships over $10,000 please contact admin@stem.idaho.gov with details about your request. If you have a funding partner and would like to leverage funding, fill out the Public-Private Partnership (P3) Application. The STEM AC could match up to 50% of partner (organizations or industry) funds. Maximum STEM AC funding is $5,000. Funding is competitive and not guaranteed. Note: The Sponsorship, Conference Sponsorship and Public-Private Partnerships are reviewed once a month. Please plan accordingly to your timeline.
STEM AC may have funding available to enhance your program and amplify your donor's funding if your program supports our mission. If you have a funding partner and would like to increase funding, fill out the Public-Private Partnership (P3) Application.
If your application is selected for funding, 100% of your partner donation(s), regardless of whether it is made to the STEM AC or the STEM AC Foundation, will go to your STEM program. STEM AC may match up to 50% of your donor's contribution, up to $5000, unless previously arranged with STEM AC. (The typical maximum request for this opportunity is a $5K STEM AC match of a $10K donation.) 
Eligibility:
Minimum donation: $1,000 from an industry/organization partner (i.e. workforce/businesses, nonprofits/foundations, university/colleges, government agencies, PTA/PTO, etc.)
Donations under $1,000 can be accepted only in addition to the minimum industry donation.
Proposals with primary donations from individuals, rather than from an organization/business, will be reviewed on a case-by-case basis, and may be given lower funding priority.
Publicly-funded or nonprofit organizations are given priority status. Private organizations may be given lower funding priority.
Idaho State Constitution prevents us from funding parochial organizations.
Applicant qualifications:
Applicant is compliant with STEM AC reporting requirements
Program requested takes place in Idaho and serves Idaho residents
Requesting organization is a publicly-funded educational organization (schools, libraries, etc.) or a nonprofit organization providing educational programming (afterschool program, educational nonprofits, community centers, etc.) to receive priority status
Program requested is aligned with STEM AC mission
After eligibility is determined based on STEM AC guidelines for funding, first priority for the Public-Private Partnership opportunity goes to projects aligned to STEM AC's strategic priorities (below) and the plan for measuring project outcomes.

Plan for recruiting/engaging with underrepresented populations
Learning outcomes reflect higher-level learning goals (aligned with Idaho Content Standards)
Sustainability/funding plan (for applicable programs)
Preferred reporting dates for sponsored programs are May or November, and programs should be no longer than 12 months
Teacher professional development and opportunities
College and career STEM pathways
Industry and workforce needs
Note: Public-Private Partnerships are reviewed once a month. Please plan accordingly to your timeline. For more information, please visit the P3 webpage or contact admin@stem.idaho.gov.
W9 AND TAX CREDIT OR DEDUCTION
Most Idaho public school districts or charters do not need to submit a W9. You will be notified if a W-9 form is needed. All new vendors to the STEM Action Center will be required to complete a W-9 form.
The most current revision of the form (2018) is required. Any other forms will not be accepted. Click here to download the 2018 version of the W-9 Form. (This is for new vendors or any vendors that have had a change in address, name, tax classification, etc.)
The completed W-9 form must be dated within 90 days of receiving the form.
All applicable fields on the form MUST be completed and accurate, (i.e. Section 1 must be completed as shown on your taxes and section 2 is required if your name or business name is different than what is shown in line 1. Section 3, if you choose Other, you must fill in whether you are 501 (c)(3), non-profit, etc.)
All forms must be filled/signed with blue or black ink or submitted electronically.
All forms must be signed and include a date with month, day, and year.
W9's may be faxed, 208-332-0306, or you may email your W-9 form to Sondra Chadd; however, if any part of the form is cut off, we cannot accept it. If you would rather send a hard copy, mail to Idaho STEM Action Center, Attn. Sondra Chadd, 802 W. Bannock Street, Ste. 900, Boise, ID 83702.
Donations made to the STEM Action Center qualify for an Idaho Education Tax Credit. If you itemize your taxes, a donation to the STEM Action Center allows income tax deductions on both your state and federal returns, plus a 50% Idaho income tax credit.
Education Tax Credit: Your contribution is tax-deductible to the extent allowed by law; Tax Credit for Charitable Contributions Idaho Code 63-3029A. For the full statute please click here.
Corporate Contributions can earn your organization half of the donation amount or 10% of your organization's income up to $5,000.
Individual Donations can earn a credit for half the donation amount or half of your income tax up to $500 ($1,000 when filing jointly).
Example:
| Contribution Amount | $50 | $100 | $250 | $500 | $1000 | $2000 |
| --- | --- | --- | --- | --- | --- | --- |
| Federal Tax Savings from Tax Deduction | 12 | 25 | 63 | 125 | 250 | 500 |
| Idaho State Tax Savings from Tax Deduction | 4 | 7 | 19 | 37 | 74 | 148 |
| Idaho Tax Credit | 25 | 50 | 125 | 250 | 500 | 1000 |
| Total Savings for the Year | 41 | 82 | 207 | 412 | 824 | 1648 |
| Your Actual Cost of the Gift | 9 | 18 | 43 | 88 | 176 | 352 |
Want to donate to a 501(c)(3) non-profit? The STEM AC Foundation is a 501(c)(3) non-profit. Donations to the foundation are tax deductible for your state and federal taxes.
**Need more information or guidance? Work with your tax preparation expert or attorney to determine which is the best fit for you.**
STEM ACTION CENTER FOUNDATION
This four-day STEM professional development program features strands taught by educators that provide high-quality, relevant and hands-on opportunities for fellow Idaho STEM educators. Participants receive a kit of materials so that they can implement what they have learned into their teaching environments. Strands vary by year but always cover K-12 STEM topics Participants also attend general sessions with keynote speakers and field trips. Professional development credit is available.
When: Last two weeks of June
Where: Six Flagship Idaho Locations (CWI, CSI, CEI, NIC, LCSC, ISU)
Click here for i-STEM or contact our i-STEM Coordinator for more information.
IMPACT, RESOURCES, & STEM AC PORTALS