Summer Externships for Classroom Teachers
The STEM Action Center, in partnership with the Workforce Development Council, is providing K-12 classroom teachers and college and career advisors the opportunity to extern with local businesses over the summer. This pilot program will place selected externs with companies related to their area of certification and require them to complete 200 hours of on-site, experiential learning. The hours must be completed between June 1, 2019, and August 31, 2019 (days/times to be determined by the teacher and the employer). Externs will earn $5,000.00 and also professional development credit, if they so choose. The goal of the program is to give classroom teachers and college and career counselors the opportunity to expand their skill set so that they can better prepare students for life beyond high school.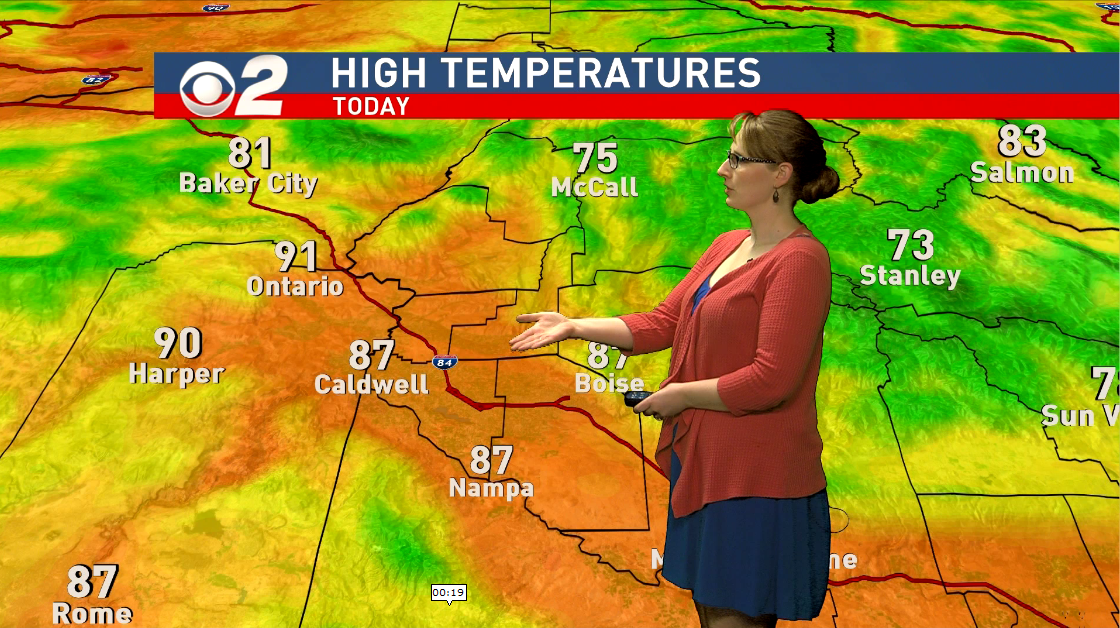 Contact Information

Matthew Thomsen
Business Partnership Manager
Phone: 208.488.7562
Email Matthew Thomsen
Idaho Workforce Development Council
https://wdc.idaho.gov/

John McFarlane
Externship Program Coordinator
Phone: 208-231-1466
Email John McFarlane
Idaho STEM Action Center
Interested in Hosting an Extern for Summer 2020?
summer 2019 Entries
Happy Hat Travels to the STEM Action Center!
When your school orders a lot of iPad cases the company sends you a gift of Happy Hats. At least that's what our school calls them and each summer the staff take their hats on their adventures and then submit pictures to our principal for a fun slideshow to start the year. I'm am thrilled to say that my hat and I have traveled to the STEM Action Center and am truly loving the chance to see how they support all of us in our STEM efforts. From helping to input companies for potential outreach to researching for grants and sitting in on fiscal planning it has all been an eye opener and made me even more grateful for the support and opportunities Idahoans around the state receive from their work.
- Lynnea Shafter
---
Wait... Is This the First Day of School?
The first day of school -- personalized name badges, ice-breakers, personality tests, and maybe even some nervous sweating. I occasionally have students complain on that first day, "But we won't do any of this outside of school, Mrs. McGrady," but in fact, my orientation with Saint Alphonsus encompassed all those 'first day' activities and more. My new colleagues decorated my desk with streamers and a personalized welcome. The first hour of orientation was breaking the ice with my table-mates. We completed a "REAL People" personality test followed by a four-corners debrief. Everything I have ever known about the first day of school came true at Saint Alphonsus -- even the nervous sweating.
- Lainey McGrady
---
Who's your Data?
A little over a week ago I started my externship with Western States Equipment Co., aka Wseco, aka the giant CAT dealership off of I84 in Meridian. I am working with the business insight team to build visualizations and apps to help the company drive towards their vision of making all decisions "data driven". Although the team had some initial questions, ("What even is an externship?"), they quickly got on board, as they have seen first hand how hard it is to hire software developers in Idaho. It is very exciting to imagine my students someday filling an opening like the one that this team currently has.
As with any new job I have ever had, it has been both challenging and exciting to learn new software, skills, team processes, and of course, all of the new acronyms. So far, I have put together reports using power bi and am working through creating an app using powerapps. I look forward to the projects I will work on in the next few weeks, and thinking through how I can bring the lessons learned back to the classroom!
- Maggie Chapman
---
Chemistry Lesson at Micron...
The first week of my summer externship at Micron included participation in the summer "Chip Camp".  Each summer, groups of middle school students spend three days exploring various aspects of the semiconductor industry.  I was able to accompany a group of 25 students as they built rockets, sharpened their coding skills using EV3 robots and Raspberry Pi's, and toured the Micron facility.  Both the students and myself were fascinated by the process used to perform a silver "deposition".  In this activity, we coated the inside of a glass vial with silver.
- Brian Marinelli
---
Reality Meets Virtual Reality

I'm a music teacher at Summit Elementary School in the Jerome District, but music is not the only thing that I teach in my classroom. I teach robotics, coding, 3D printing and other STEM activities. So, when I was awarded an externship from the Idaho STEM Action Center I was excited because I knew this was going to help me learn more about the STEM industry.
With this externship experience I've learned so much that I can take back to my classroom and colleagues. I hope that I can also encourage students through my experience. I hope to also encourage other teachers to implement virtual reality in their classrooms.
Some of the skills I thought I would need are not the ones that this business uses every day. I thought I would need to know how to code, and understand how VR (virtual reality) works. Both were not true. The things I needed to know were how to collaborate, communicate, express ideas, and a willingness to try new things. Yes, knowing how to build in the Blocksmith builder would have been a helpful skill except Blocksmith really wanted someone that had never seen it so they could gauge how each step was being viewed by a beginner. And I fit that part to a tee. Sometimes not knowing anything about what your doing is a good thing. I'm a learner and a teacher and this externship is an amazing adventure in both.
---
Hello from KBOI Channel 2 News!
It is easy to say there is never a dull moment here at the CBS 2 News Station. From the first week, I have seen every person jump up and help each other meet deadlines. The phones seem to ring throughout the day with tips and information from community members. The morning news team is up before the sun rises and yet always have a smile on their faces. The afternoon and evening teams arrive mid-morning and into the afternoon smiling and ready to go. The sounds of reporters recording their stories and the clicking of keys fervently typing add to the steps of reporters leaving for a breaking story. These first three weeks have shown me how a successful newsroom runs 24/7. Every person is on deck and willing to help at any time. Their kindness towards each other, the public and me set an example for the community. In just three weeks, I have learned how to produce a televised news broadcast, learn a new genre of writing, post stories to the web, interview community members, edit videos and learn about the complex field of meteorology. I am excited to work with this team and cannot wait to learn more about broadcasting and journalism from all of them.
- Colleen Lewis
---
Research, Research, Research!
Who would have known that so much research goes into public relations? It seems silly not to have realized this in retrospect, but people working in communications need to have backgrounds and expertise in a lot of different areas. My first few weeks or so at a PR firm in Downtown Boise has been a blur. I've learned about things I never knew existed and things I never would have considered learning, but here we are. I read an entire book over the course of two days, have scanned and read dozens of articles and web pages, and even went to a press event to see how the press impacts the work done here. My observations have also allowed me to see how the people who work here are constantly communicating with clients, sources, and one another; they're continually expanding their knowledge to serve clients better. I've taken away more in the last 10 days than I could have ever learned while researching PR online or out of the office. This experience has confirmed to me that I learn by doing, and it's helping me remember that my students do too!
A little side note, I can't believe how quiet it is here… I'm pretty out of the loop when it comes to working in areas that aren't filled with 30+ 12 year-olds; I can get so much done in one day!
- Hailey Bull
---
Q: When Will I Ever Use This?

A: With Talent Acquisition, Of Course!
As a mathematics teacher I am often posed with the notorious question: "When will I ever use this outside of school?" Typically, my answer includes the terms 'problem-solving' and 'critical thinking skills.' But sometimes, students are still not satisfied. This week at Saint Alphonsus I was excited to help a colleague find a more efficient way to calculate percent change. Often within Talent Acquisition, job candidates ask about pay rates. These candidates want to learn what their pay increase will be working at Saint Alphonsus. Rather than providing a dollar rate (you will earn $1.23 more per hour) giving a percent increase allows the candidate more flexibility to calculate their weekly and monthly gross income.
- Lainey McGrady
---
Adaptation and Evolution in the Workplace
While I teach adaptation in my classroom, I never thought about how it could apply to something besides the change of a species over time. I watch the people around me adapt to the circumstances of their clients in ways I never would have thought possible. When I asked about educational backgrounds, I expected to hear everyone say, "Business!" or "Marketing!" or "Accounting!", but I was wrong. There are many different backgrounds in this building. While there is one employee with an education in communications and public relations, the others focused on poly sci., history, Spanish, education, and graphic design while in school. This has been powerful, and I can't wait to bring these details back to my classroom. I have an opportunity to share this experience with my students and show them that, just because they might go to school for one thing, that doesn't mean that they will be trapped in that career for their entire lives or limited by their experiences. College and career training gives kids the opportunity to go anywhere and do just about anything they want to! Plus, the people in this facility have no problem becoming chameleons in the work that they do. Does a client need help with X, Y, and Z? Then these people are going to learn about X, Y, and Z! Their backgrounds and work ethic have given them the ability to adapt in the workforce; isn't that what I want my students to be able to do as well?
- Hailey Bull
---

iSTEM is a Blast!
This week I had the privilege of being able to help out at CWI iSTEM. It was truly encouraging to see so many teachers from around the state participating for four days in STEM professional development. Rockets, Hover Craft, Fossils, Flames and Butterflies-Oh My! The enthusiasm was contagious and I know many a great PBL and lesson plan are ready to go for Fall.
- Lynnea Shafter
---
Mathematics Class--
Where We Learn More than Mathematics

As students stroll into my mathematics classroom for 47 minutes each day they anticipate learning topics including imaginary numbers, exponential functions, logarithms, etc. Most modern classrooms (hopefully) also integrate 'soft-skills' into each lesson. I imagine that collaboration, communication, and organization are commonly taught soft-skills. Fortunately, my externship has given me the perfect platform to learn which soft-skills are necessary to succeed in the workforce. I was delighted to dive deep into the data and analyze the results I collected from my Saint Alphonsus colleagues. While I already integrate skills like attention-to-detail, organization, and flexibility, other skills surfaced that had never occurred to me. Because of this externship exercise, I plan to include empathy, customer-service, willingness, and stress-management into my lesson planning to better equip my students for future success.
- Lainey McGrady
---
Write, Revise, Repeat!
As a Biology teacher, I love lab days! I don't love reading lab reports quite as much, but I do enjoy seeing my students grow in their technical lab report skills over the year! I mark up their first lab reports with many comments; students can be a little shocked when they see their feedback, but most of them use the feedback to significantly improve their writing. I haven't been on the receiving end of this type of feedback for quite a while...until this summer! My project is writing scripts for tutorial videos of tools that Idaho Power checks out to clients. I chose to start with light meters, researched them extensively, and turned in my first draft. It came back covered in red comments such as "insert difference between lux and foot-candle" and "talk about daylight zones." Hours of research and three drafts later, we almost have the first set of videos ready to film! Not only have I learned way more than I expected about measuring brightness, but I also have a new empathy for my students as they read my feedback and rewrite lab reports. I'm keeping all of my marked-up video script drafts to show my students before they look at the grade and comments on their first lab report in the fall. It's ok to not get everything right the first time!
- Carissa Hale
---
What is anodizing anyway?
While working with Sapphire Metal Finishing in Caldwell, I've learned so much about the process of anodizing aluminum. Anodizing is an electro-chemical process that keeps aluminum from rusting or corroding, ultimately making it more durable. Although it's been difficult at times to see where anodizing fits into "real life," (as my students would say), you'll find anodized aluminum from the carabiner on your keychain to your Apple Watch. While Sapphire works primarily with components of engines and firearms, we've processed everything from bottle openers to a piece of a satellite this summer!
I'm excited to take this work back to my classroom in the fall, and will definitely use the satellite as an example to my students that although our work in the classroom sometimes feels pointless, it will have big impacts later in life.
- Jessie Hearn
---
App Development at Western States Equipment

My externship at Western States Equipment has given me an opportunity to practice the creative and technical skills that I teach in my computer science classes during the school year. I have spent the last few weeks developing apps that the company can use to help streamline internal work processes. In this "real world" project, there is no assessment rubric, no example project, and only vague project requirements. My ability to develop a useful project has been heavily dependent on collaboration with my coworkers, research on google, a little creativity, and lots of trail and error. Each project has gone through multiple iterations based on feedback and testing, and the final products are different than what my coworkers may have created, but no more or less "correct". I look forward to getting my students to complete similar projects this upcoming year! Other highlights at my externship include helping the team interview for a job opening, troubleshooting mind boggling "bugs" with coworkers, taking luxurious hour long lunch breaks, brainstorming student projects, and even taking a break to watch some soccer. I continue to look forward to work, and am extremely grateful to get this STEM externship opportunity.
- Maggie Chapman
---

"Life's like a movie. Write your own ending." — Kermit the Frog
My own ending to my externship at the STEM Action Center is coming to a close but I'm taking this experience and using it as the next chapter in my teaching career. After spending the past 20+ years in the classroom it was great to go back into the business workplace and to remember why I do what I do. I teach to ultimately prepare my students for the world outside our doors.  Fortunately, as an extern here you just never know what's around the corner to experience and today I had the pleasure of visiting Idaho Public Television. We toured the facilities, met producers, education experts and technical advisors as we waited to watch how a narrator lends their voice to scripts written by STEM AC employees for videos created by the STEM AC's graphic designer. The amount of communication, collaboration, critical thinking and creativity that goes into small three-minute videos is truly impressive and it's those 21st century skills that I can reference for my students and use to discuss how they apply in local career opportunities.
- Lynnea Shafter