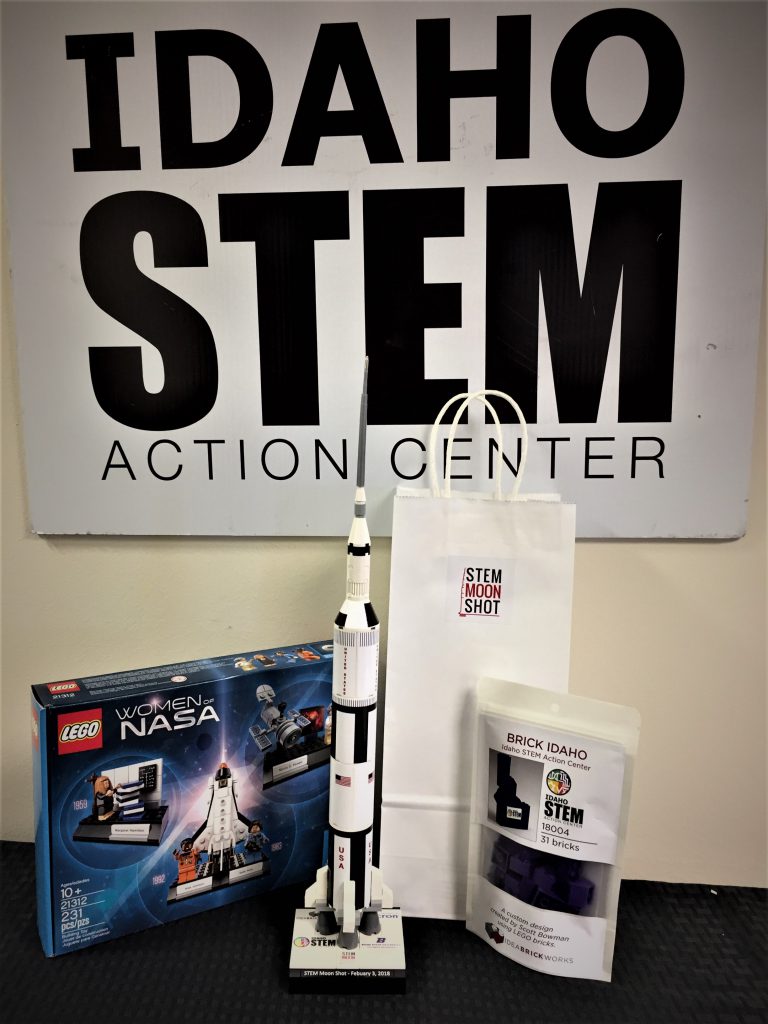 CUSTOM LEGO KITS
Deadline to Enter: May 31, 2018
Winners Announced: First week of June 2018 via Facebook
The Idaho STEM Action Center is offering custom and commemorative Lego kits to one lucky Idaho educator in May!
Micro Apollo Saturn V Moon Rocket
Courtesy of STEM Moon Shot, this 14" replica of the Apollo Saturn V Moon Rocket includes custom stickers and a commemorative launch pad!
Brick Idaho
A custom design created by Scott Bowman of Idea Brickworks, celebrate the great Gem State with a commemorative Idaho figure. This set includes a custom printed Idaho STEM Action Center brick.
LEGO Ideas Women of NASA Set
Explore the professions of some of the groundbreaking women in science, technology, engineering and mathematics (STEM) with the LEGO® Ideas Women of NASA set. It features minifigures of 4 pioneering women of NASA— astronomer and educator Nancy Grace Roman, computer scientist and entrepreneur Margaret Hamilton, astronaut, physicist and entrepreneur Sally Ride and astronaut, physician and engineer Mae Jemison—and 3 builds illustrating their areas of expertise. Role-play space exploration from planning to moon landing, beginning with the iconic scene from Massachusetts Institute of Technology in 1969 of Hamilton with software that she and her team programmed. Build the posable Hubble Space Telescope and launch a LEGO version of the Space Shuttle Challenger with 3 removable rocket stages. The set also includes a booklet about the 4 featured women of NASA, and the fan creator and LEGO designers of this fun and educational set. Also includes printed nameplates for each of the 4 women featured in this set.
Great for role-playing space exploration missions.
Includes a booklet with building instructions, plus information about the 4 featured women of NASA, the set's fan creator and the LEGO designers.
Learn more about this set at lego.com