IDX - Idaho Exhibition of Ideas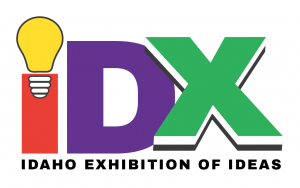 Opportunity Goals & Objectives: The goal of Idaho Exhibition of Ideas (formerly FabSLAM Student Showcase) is to equip students with the practical, technical, and creative skills needed to engage with real-world problems of today and tomorrow.
Brief Description: The Idaho Exhibition of Ideas is a public showcase where teams comprised of students grades 5 through 9 present their solution to a real-world challenge using 3d design and printing technology. Each year a unique theme is announced, and teams of four to six students work for multiple weeks on designing a unique and innovative solution to present to a team of judges at the Exhibition.
View a short video announcing the theme of Accessibility and Equity for the Visually Impaired.
Prizes will be awarded for 1st, 2nd, and 3rd place. A Student's Choice project will also be awarded.
Requirements & Eligibility: Only educators who have successfully completed a FabSLAM 3D Design and Fabrication Workshop are eligible to bring a student team to IDX. Teams are limited to four to six students in grades 5 through 9.
STATUS: Closed
Three Regional Exhibitions
November 16, 2019
Twin Falls, Idaho
Pocatello, Idaho
Lewiston, Idaho
Funding Schedule
Open: August 20, 2019
Close: October 25, 2019
Award date: pending