Drone Designers: Exploring STEAM Careers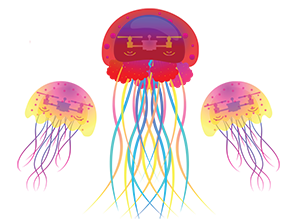 Opportunity Goals and Objectives: The goal of this opportunity is for students to gain theoretical and practical knowledge related to computational thinking, connect learning with drone technology applications, and build interest in and excitement for current and future career opportunities related to computing and drones.
Brief Description: Drones are transforming the world of arts and entertainment, performing alongside artists as diverse as Metallica, Drake and Cirque du Soleil. Follow in the footsteps of the world's groundbreaking drone designers, weaving together the iterative design process and principles of aerodynamics to costume, choreograph and code tiny aerial robots in creative performances. The program's structure emphasizes career exploration and disciplinary literacy through students following the engineering design process according to real-life production team members at the world's leading company specializing in drone performance systems.
The 12 one-hour lessons and extensions in the Drone Designers curriculum provide the perfect introduction to this latest application of drones in concert tours, Broadway musicals and beyond! The training workshop will include a hands-on introduction to the Drone Designers curriculum, as well as support for educators to integrate the lessons into their existing programs. Drone Designers comes with a printed Instructor Guide, digital curriculum resources, and all the supplies needed for 12 one-hour activities.
Recommended Settings:
Classrooms looking for hands-on STEAM activities
After-school programs
Summer camps
Curriculum Topics:
Art and Technology
Autonomous Drone Operations
Algorithms & Programming
Engineering Design Process
Real-World Careers
STATUS: Closed
Training
Dates: TBD
Location: Treasure Valley area (to be announced)
Fees/Costs to Attend: $55 for two-day workshop
Value: ~$3,500
Number of awards: ~35-40
Schedule
Open: February 15, 2021
Close: March 19, 2021
Award date: April 16, 2021
Program Manager: Erica Compton
Eligibility: Educators serving youth in grades 4 through 8, INCLUDING educators who have previously participated in drones programming through STEM AC.
PD Syllabus: One (1) Graduate PD Credit Available; Information Coming Soon
2020 Program Partner:


Technical Requirements:
6 compatible devices (one per drone) running the DroneBlocks app and 6 additional Wifi-enabled devices for accessing music.
The DroneBlocks app requires the use of a Wifi-enabled smartphone, tablet, Chromebook, desktop or laptop running Android, iOS or ChromeOS. (Note: DroneBlocks is not compatible with FireOS, the operating system for Amazon tablets.)
Assessment:
The curriculum includes team challenges to test coding, drone costume design and flight skills.
Logistics & Storage:
Each set is shipped in a sturdy, reusable tub, safely storing materials during the program and throughout the year.
Training Requirements:
Grantees are required to attend 15 hours of professional development to be held summer 2021 (date and location tbd).
One graduate PD credit available through the Idaho STEM Action Center.
Download the 2020 Drone Designers Spec Sheet (includes the above technical requirements)
Materials:
Drone Designers comes with an Instructor Guide, a digital curriculum download and all the supplies needed for 12 days of activities:
Cardstock (white) (250ct): 1
Cardstock (asst. glitter colors) (40ct): 1
Colored pencils (12pk): 6
Construction paper (50 pk): 1
Craft foam (24ct): 1
Digital scale: 1
LED button light (multi-color): 6
LiPo batteries: 12
LiPo battery multi-charger: 4
LiPo safe storage bag: 1
Metal washers: 60
Mini quadcopters: 6
Pencils (#2) (12pk): 3
Pencil sharpeners: 6
Plastic container: 1
Production Team Lanyards: 30
Protective cages (for quadcopters): 6
Safety glasses: 30
Scissors: 31
Storage tub: 1
String (ball): 1
Student booklets: 30
Superglue (6pk): 1
Tape (double-sided-rolls): 6
Tape (masking tape rolls): 6
Team tote bags: 6
Tissue paper (24ct): 1
USB charging cables: 6
USB multi-port wall charger: 1
Velcro fasteners (12ct): 3
Download the Drone Designers Spec Sheet (includes the above materials)